Daily Tours in Fethiye
Having been here, you will definitely change your mind about Turkey, believe me, all stereotypes will be shattered. Already interested?! Then let's hit the road!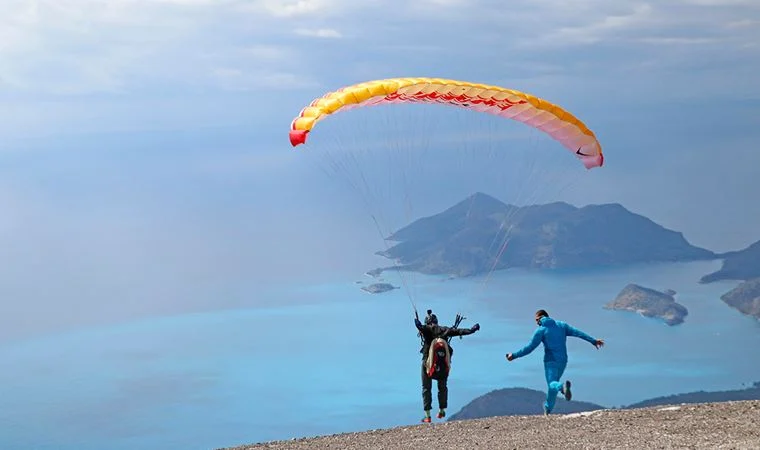 Fethiye is a port city built during the Lycian era, the famous Lycian trails pass here, and in the city center there are huge columns of tombs carved into the rocks in the 5th century BC, traces of Ancient Greece and the Middle Ages, something that was saved later century and despite earthquakes.
To learn more about the history of the city, you can book a sightseeing tour of Fethiye. It passes in one breath, very dynamically, you will visit the ruins of a medieval castle, the tombs of Lycia, the remains of the Roman amphitheater and visit the observation deck, where the whole city is perfectly visible.
Now it is a respectable resort town, more like a cozy Greek village, but the oriental flavor, the widespread mention of Ataturk, Turkish flags will not let you forget that you are in Turkey. The main part of the inhabitants is the Turkish diaspora, since in 1915 there were mass migrations of Greeks to their historical homeland.
But the British diaspora has chosen this heavenly place for the last twenty years, and now it makes up ⅓ of the population. In this regard, not only five-star luxury hotels are popular here, but also apartments, villas for rent with a swimming pool, adjacent territory and other amenities.
Fethiye is located 40 km from Dalaman International Airport. The road from the airport takes no more than an hour along a picturesque road that is simply immersed in the mountains. And indeed, everywhere around the city there are mountains, mountains and again mountains, which are covered with greenery, vineyards and fruit trees.
But this is also due to the fact that the construction of houses higher than 4 floors is prohibited in the city, so as not to cover the stunning landscapes of the area. Smart, isn't it.
What to do in Fethiye? Have you been on two seas at once?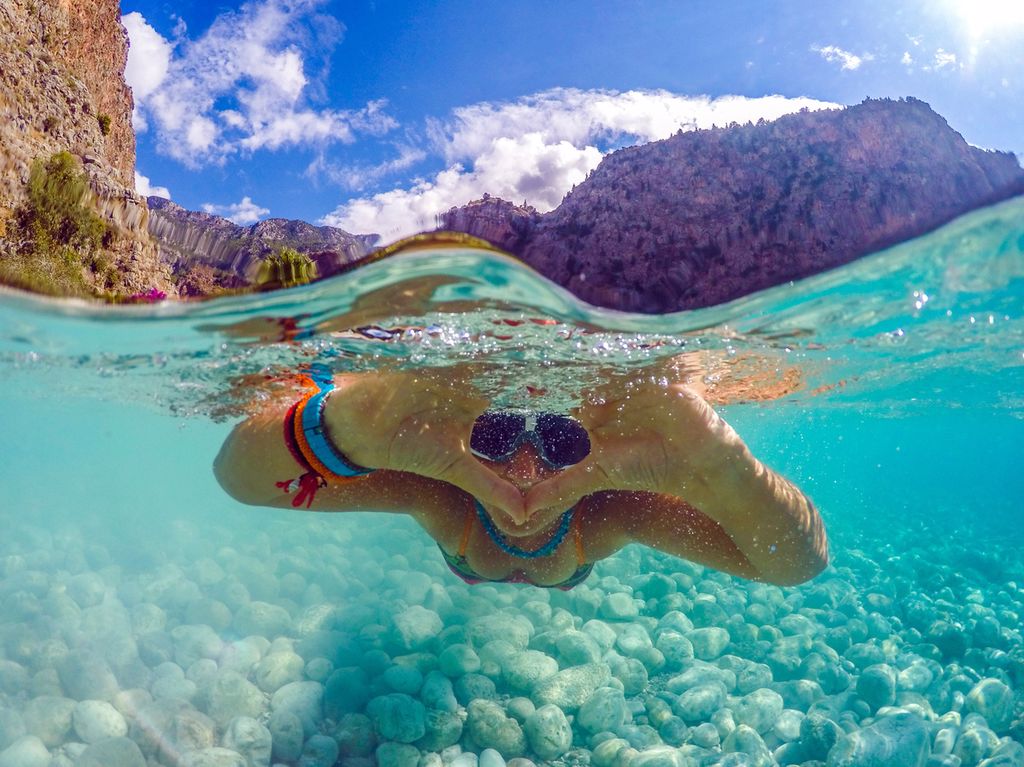 And the city is located on the invisible border of two seas: the Mediterranean and the Aegean. The port in the center is an exhibition of yachts from all over the world, you can take a leisurely stroll and admire the variety and high cost of boats. It is quite possible to organize an excursion – a one-day sea cruise to Dalyan. There is a confluence of two seas, a journey along a mountain river, swimming in mud baths with the smell of hydrogen sulfide, the Lycian tombs and the stunning beauty of the sandy beach of Iztuzu, 5 km long, where the owners are Caretta-Caretta turtles. In one day you will have time to swim on a huge liner, on a small motorboat and test your courage, because the confluence of two seas is something you need to see with your own eyes, at least once in your life!
For adventure lovers
 

 and extreme sports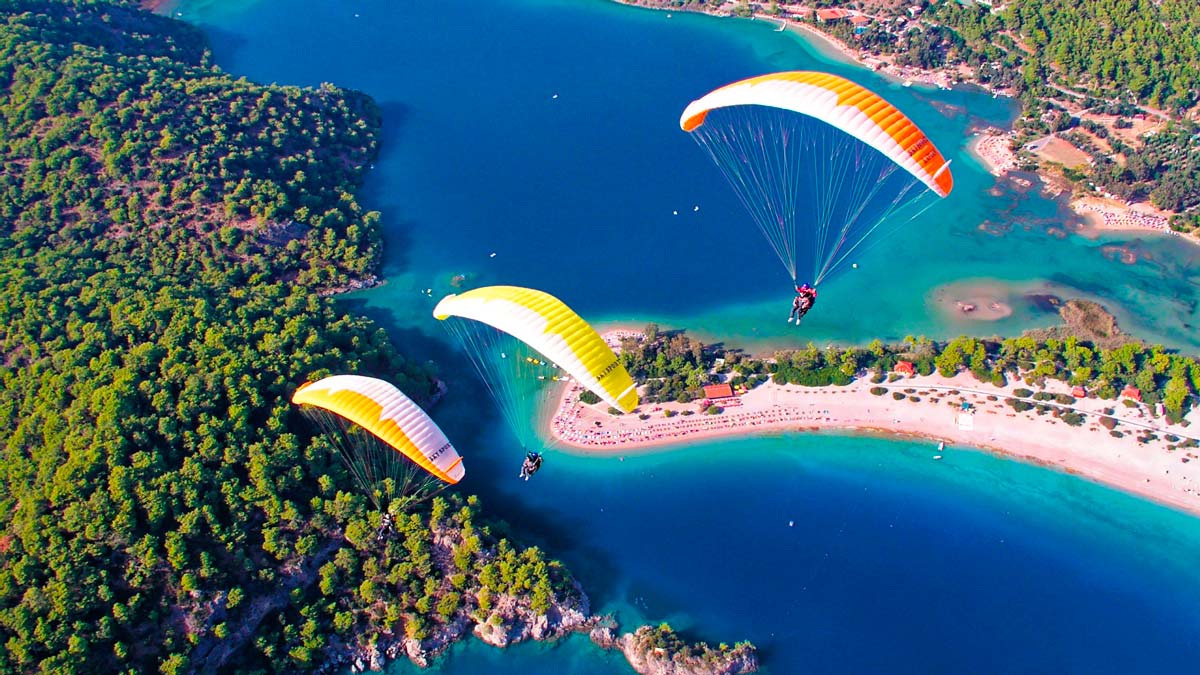 The world center of paragliding is Fethiye, namely the village of Oludeniz. One of the peaks of the local mountains Babadag, which in Turkish means "father-mountain", the height is 1969 meters above sea level.
Many will ask: what is paragliding, and many have already flown once. This is a sports wing designed for human flight from mountain heights, controlled by the direction of the wind. Extreme?! Not that word! Soaring above the ground and seeing everything from a height of about 2000 meters is beyond words, you need to try. This flight excursion is done in tandem with an instructor, in a safe and organized manner.
In the same area, a cable car was opened in 2021, on which you can first reach a height of 1200 meters above sea level, then 1700, and then for the most daring 1900. The views are dizzying, there is no doubt that everyone will like it!
Where is Oludeniz Beach located?
The village of Oludeniz is located 17 km from Fethiye, at a distance of 62 km from Dalaman International Airport. It is a mistake to call Oludeniz beach, because it is a resort village with many hotels of different stars, cafes and restaurants with fast European service and a variety of cuisines, from Turkish street food to a kind of Asian cuisine. There are cafes and hotels for every taste and budget. In the village of Oludeniz there are 2 very famous beaches, one of them is the Blue Lagoon, the other is Belcekiz, the same one that is called Oludeniz.
How to get from Fethiye to Oludeniz?
Literally 20 minutes from Fethiye on the Mediterranean coast, the village of Oludeniz is located, where the sea is turquoise, and the white pebble beach looks gorgeous in a compartment! Nearby there is the Blue Lagoon – it is really an unearthly bright blue color, where you can rent a catamaran, SUP and swim to your heart's content. The pleasures for the eyes and soul do not end there, because in Fethiye, no matter which way you go, there will be cool clean beaches, rich vegetation, centuries-old history and a lot of interesting things everywhere.
You can get there by shuttle bus, the name Ölüdeniz will appear on the sign. Another option is to take an excursion from Fethiye to Oludeniz, or rent a car. The cost of any option can be clarified by contacting us.
Rafting in Fethiye
Here is the famous mountain river Dalaman: active, full-flowing, you won't be bored, but you definitely need to row and not yawn, the faster the better. A dynamic excursion for rafting lovers, the price includes transfer, lunch. It will be satisfying, exciting and exciting!
Butterfly Valley, Blue Lagoon and Pomegranate Juice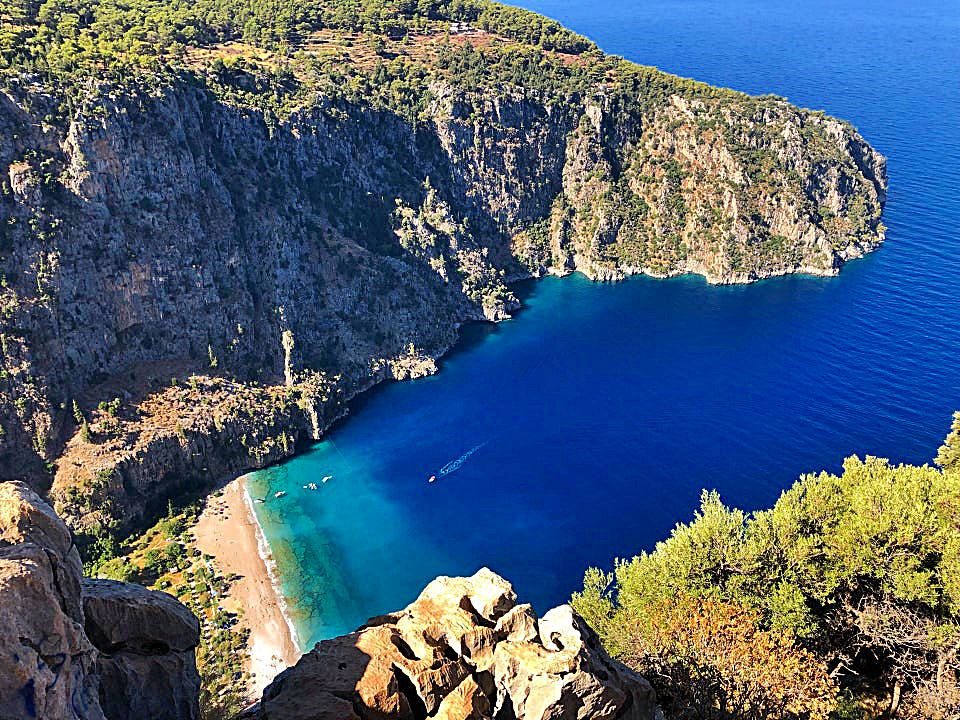 In Turkey, there is definitely a cult of food behind the scenes, including street food. Here you can find everything from a glass of freshly squeezed juice, seasonal fruits to a hearty lunch or three-course dinner and dessert.
Fethiye is no exception: pomegranate juice, pita bread, kokorech, kebab on bread, kebab in bread, and many things that are worth trying at least once while in Fethiye. It is said that the recipes of the national cuisine here have been handed down from generation to generation for several centuries.
Butterfly Valley has become a popular location thanks to english-speaking travelers and bloggers. They began to actively post photos of the unreal beauty of this area and more and more tourists come here. We recommend taking an excursion to the Butterfly Valley by sea on a yacht, there will be a lot of impressions! A whole bunch of photos!
What to do with kids in Fethiye?
In the village of Hesaranu, which is 12 km from Fethiye, there is a water park, the territory is small, the slides are safe, designed for children.
The guys are splashing enough, the entrance is paid on the spot. There is a cafe on site. Enough entertainment for the day!
Depending on the age of the children, you can choose excursions from Fethiye. Basically, from 4 years old you can and should take children with you, it will not be tiring and very informative for both parents and young travelers!
Where to go by car from Fethiye
You can outline an uncountable number of route options, no matter which direction you go, there will be stunning landscapes, mountains, views and pristine beaches everywhere!
For history lovers – the Lycian tombs, the Medieval castle of Fethiye. For lovers of a beach holiday – Chalysh beach, within the city. Beldzhekiz beach, Blue Lagoon, in the village of Oludeniz.
For nature lovers – resort Saklikent. In winter, it functions as a ski resort. In summer you can take a walk or go rafting down the mountain river.
How to get from Fethiye to Saklikent?
You can book an excursion from Fethiye to Saklikent, pick up tours on request. Another option: rent a car, drive yourself, drive along the D400 highway, focusing on road signs. This is an open-air park, a mountain river, canyons and paved paths, the day will be interesting!
Excursions and Daily Tours in Fethiye
And so, to summarize, there are a lot of variations of excursions.
We will pick up on any request:
● Boat Trips; Yacht tour to Butterfly Valley, Excursion to Dalyan from Fethiye, Diving in Fethiye
● Historical;Pamukkale Tour from Fethiye, Ephesus and Pamukkale Tour from Fethiye
● Extreme; Paragliding in Fethiye, ATV Safari in Fethiye,  Jeep Safari in Fethiye
● Mixed; Horse riding in Fethiye
● For two; Quad Safari in Fethiye
● Family, with children; Yacht tour to the Butterfly Valley, Excursion to Dalyan from Fethiye
You won't get bored, daily tours in Fethiye, tandem flights from Mount Babadag, rafting on a mountain river, quad bike safari, horseback riding, a sea cruise to the Butterfly Valley, Dalyan boat trip from Fethiye, Pamukkale, Ephesus and that's not all list.
Once having been here, you will want to return here more than once, as to a good old friend – the original provincial Fethiye.