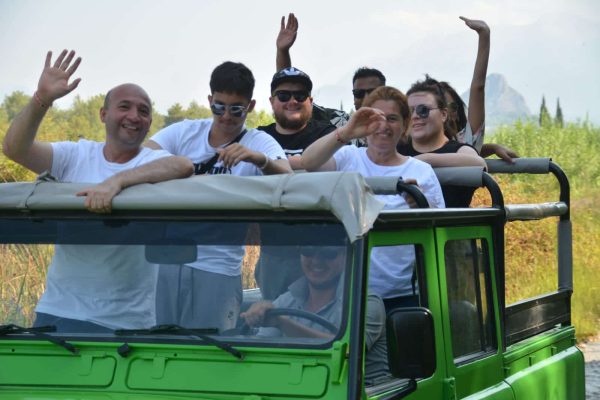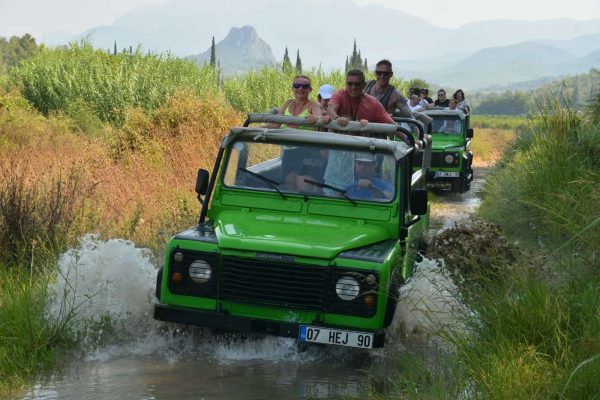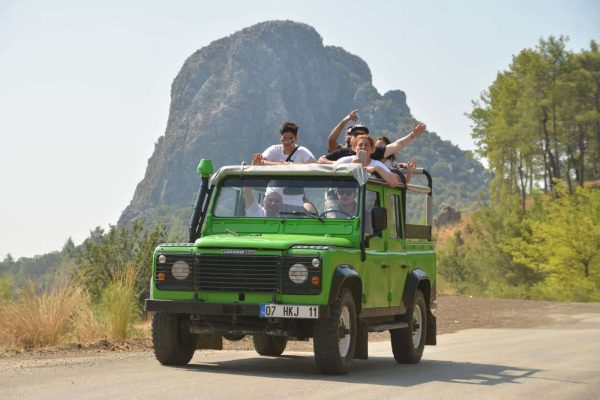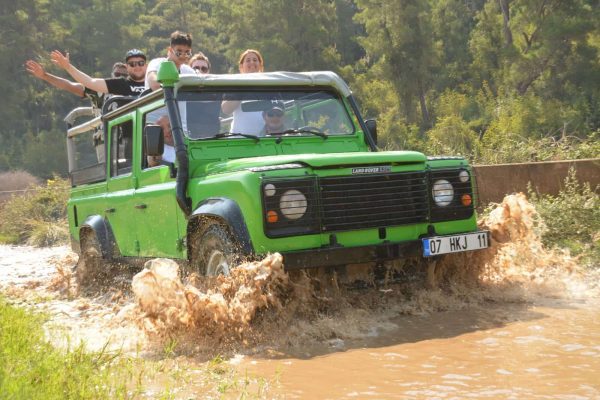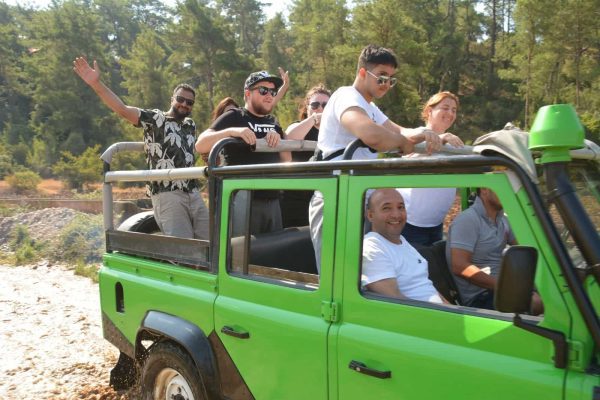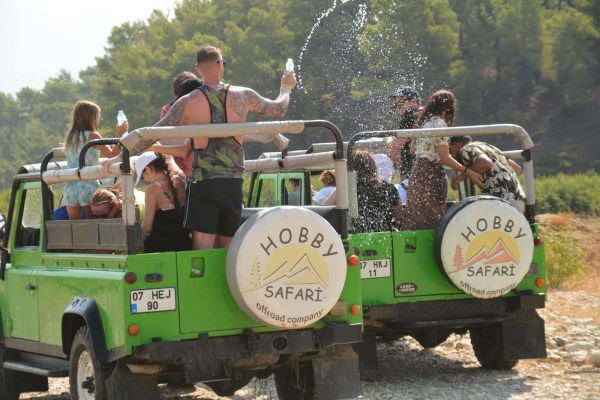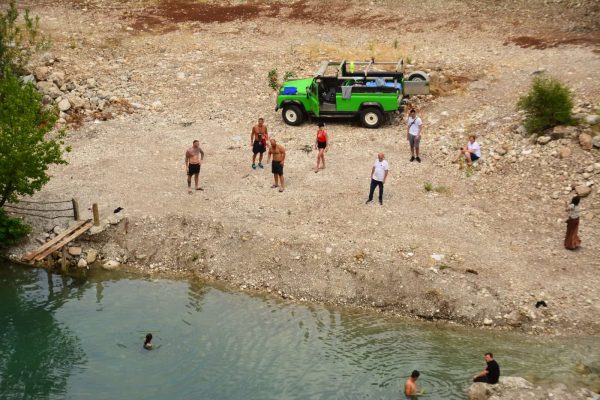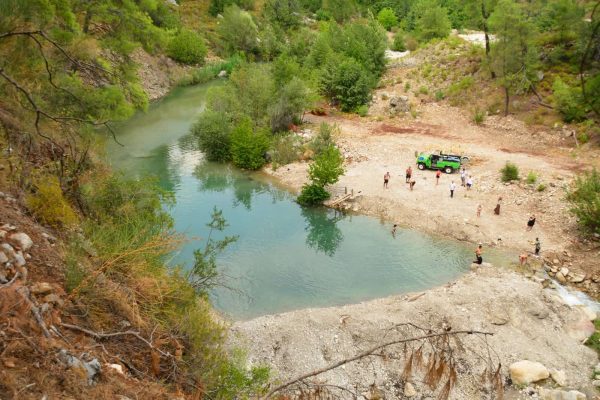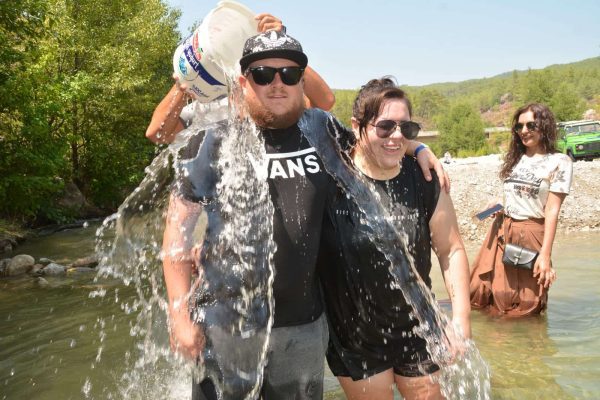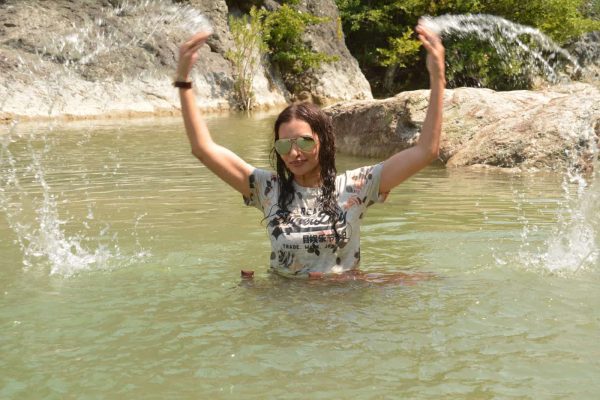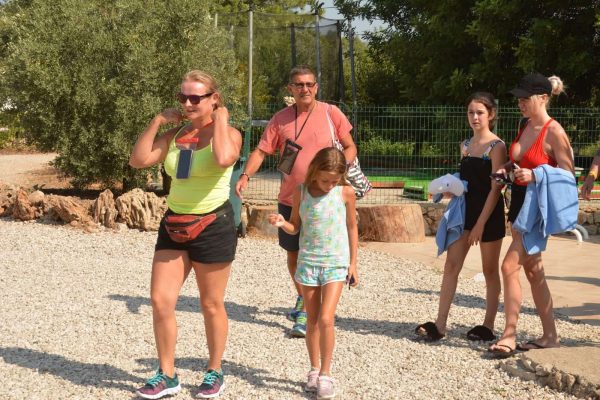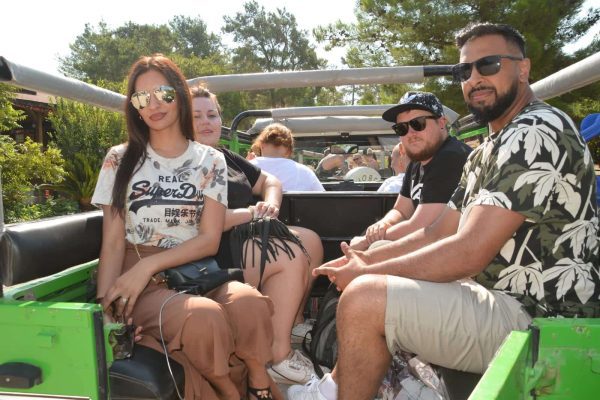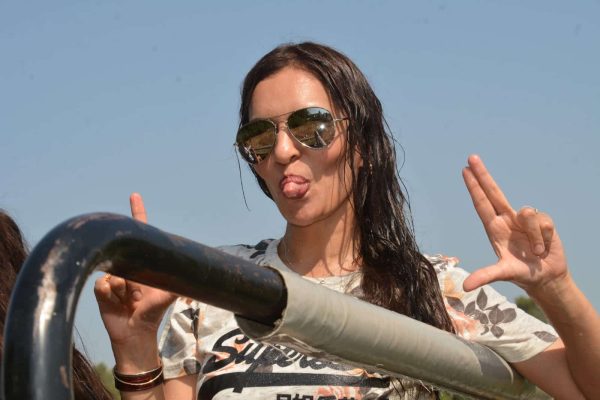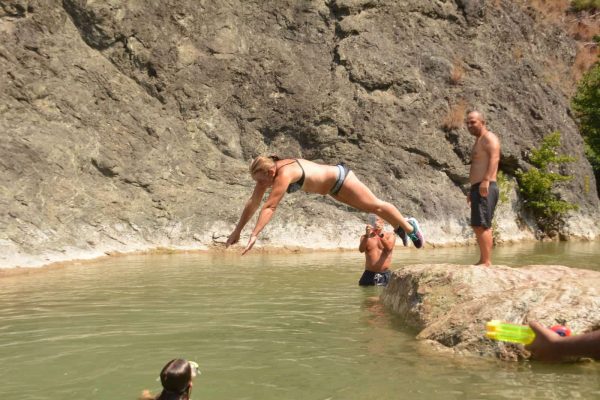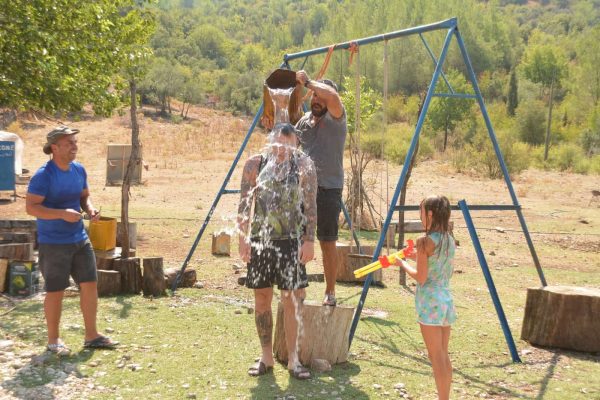 Included

Transfer
Driver and guide
Insurance
Lunch

Not Included

Entrance fee to Saklikent gorge.
Ringo Rafting
Zipline
Personal expenses
Drinks
DVD
Personal expenses
If you consider yourself a nature lover and a traveler with an adventurous spirit, we already know your answer: "Of course yes!" Indeed, this event will be the perfect choice for you. However, even if you are not like that, we are sure that if you sign up for the Jeep Safari In Fethiye and join us, you will say "good luck" at the end of the day.

Because you will have a unique experience that you will remember for years, both along the way and at the stopover points.
Now if you are ready to hit the road, we recommend you keep reading to learn about our full day jeep tour schedule.
Preparation for Jeep Safari In Fethiye
Before going into the details of the Jeep Safari In Fethiye, we would like to share some preparation tips with you so that you do not compromise your pleasure.
First of all, do not forget to put your hat, sunglasses and sunscreen in your bag as your health must be protected at all times: We will travel outdoors in full sunlight.
Don't forget to bring your swimwear and towels (or other equipment you want to use while swimming) to ensure you have full fun throughout our tour.
Finally, please make sure your camera and phone are fully charged and ready to capture the amazing moments you will see during your safari.
Transfer And A Short Tutorial
After picking you up from your hotel, we will go to the starting point of the daily Jeep Safari In Fethiye.
Here, you will be told by our instructors what you need to know and you will be informed about route, process, breaks, itinerary etc. details will be given on the subjects.
However, if you want to know now, we can provide some information: Jeeps are 4 × 4 off-road vehicles and have a capacity of 4, 6 or 8 people. The whole route is 140 kilometers.
With this incredible combination and of course, you will collect wonderful memories with your loved ones during Jeep Safari In Fethiye. Because we will stop by beautiful places and have a lot of fun.
Tlos Ancient City Where History Lived
One of the places that we are likely to visit on our Fethiye Jeep Safari tour is the ancient city of Tlos, which was one of the largest settlements of Lycia in ancient times. The city has hosted a rich history, with the Ottoman and Byzantines settling here in time. It has become quite popular.
Here you can see the ruins left by the Romans and Lycians. You will also have the opportunity to examine the architectural works in the ancient city.
Let us add as a note: During the spring, the hills of the mountains behind the ancient theater are covered with white snow. And its image can make you fall in love with itself.
Xanthos: A Stunning View
Another city we will visit during the Fethiye Jeep tour will be the city of Xanthos, which was thought to be the capital of Lycia in ancient times. The inscriptions and temples you can see here will take you back to those times and you will have a wonderful cultural tour.
Famous Saklıkent Canyon
You must have heard of Saklıkent Canyon: You will be able to see this famous natural wonder and its magnificent view, which is the second longest canyon in Europe, during the Fethiye jeep safari. This canyon, which comes from the Taurus Mountains and has ice-cold waters, makes the region cool at noon so that travelers can rest.
Yaka National Park: A Hybrid of Green and Blue
Of course, we will not pass without visiting Yaka Park, which combines blue and green and is a wonderful natural recreation facility. We can even stop by the famous Trout farm and enjoy eating these delicious fish.
Delicious Break in Patara Beach
Our path to Patara Beach, the name of which we have started to hear frequently in recent years: We have to say that this beach was once named "the best beach in Europe" by a British weekly newspaper. We will not leave you without coming to Fethiye and going to this famous beach …
A Mud Bath Therapy
As the jeep safari in Fethiye tour team, we will stop by a natural spring covered with thermal mud and water at the end of the day. After our break here, we will take our places for our return and set off to our hotels with the slight coolness of the air.
Great Views
Jeep Safari In Fethiye will save you from the boring atmosphere of daily life. It will make you taste adventure and adranal by passing through rugged lands and forest roads. We will use the roads that normal vehicles cannot go and we will see village life closely. You will see a perfect nature away from the city.
We are happy to invite you to Jeep Safari In Fethiye that will attract you with their conditions. You can call us and book to join these tour full of adrenaline and learn more.
For more information about Jeep Safari In Fethiye and other daily tours in Fethiye please check our blog.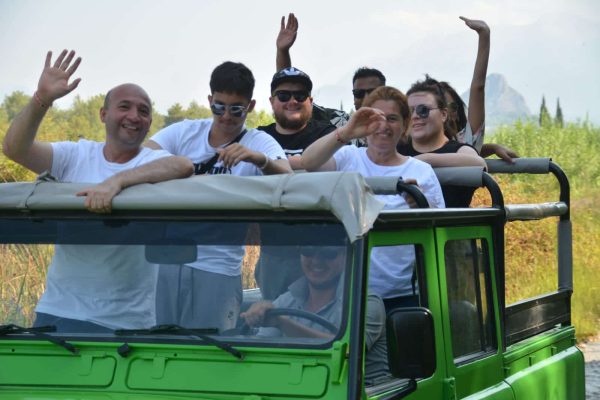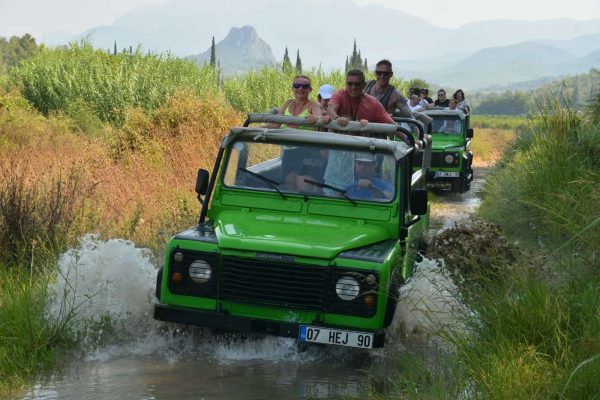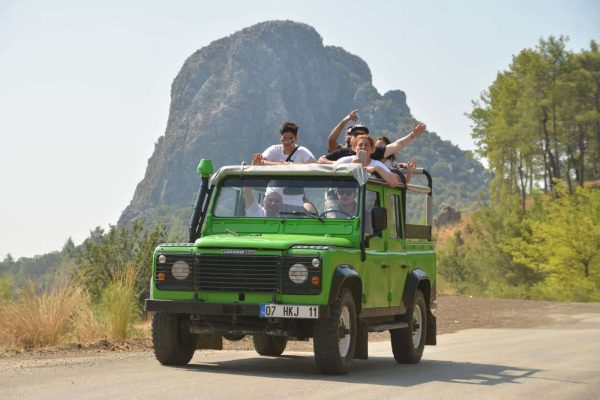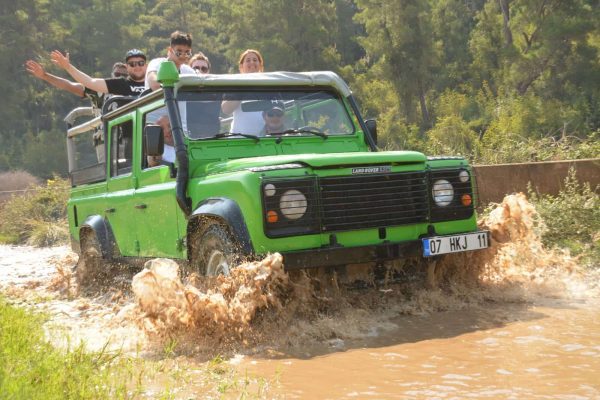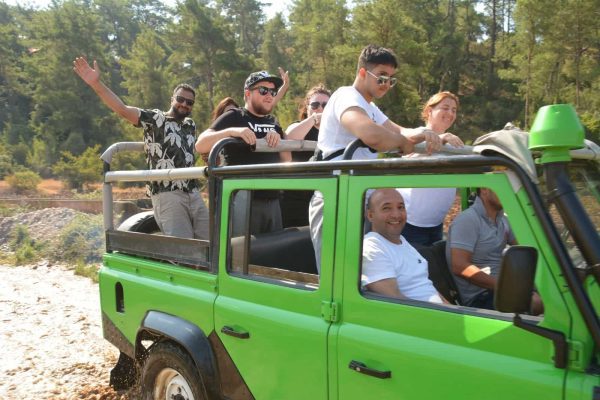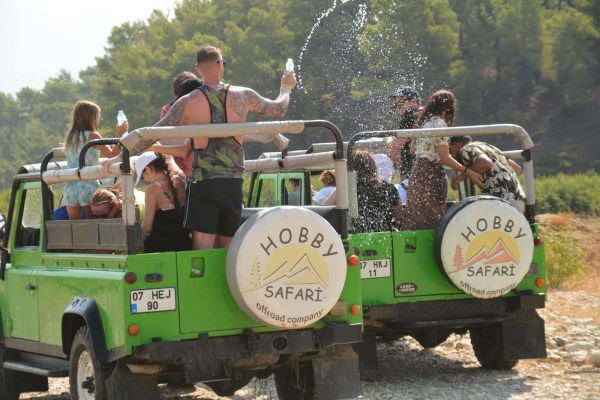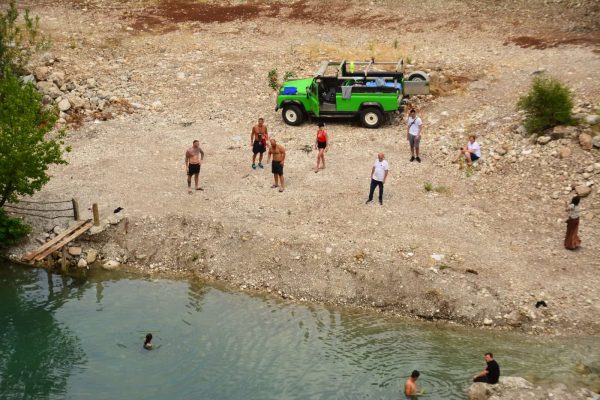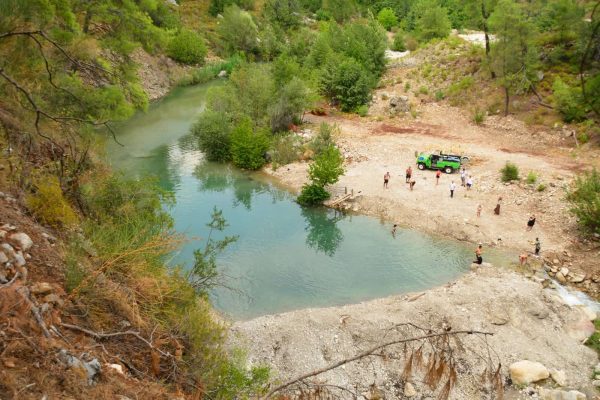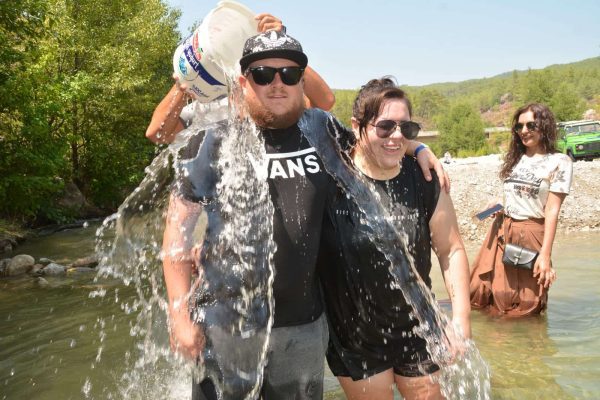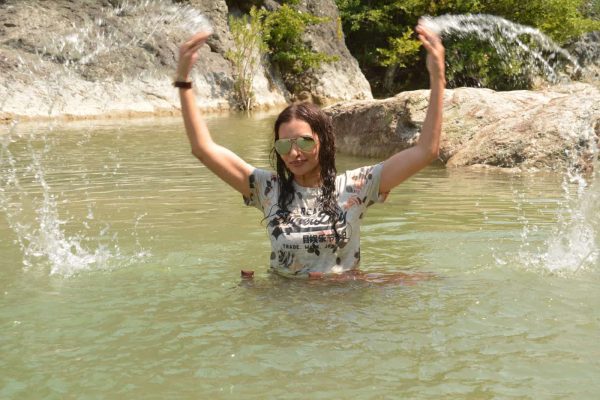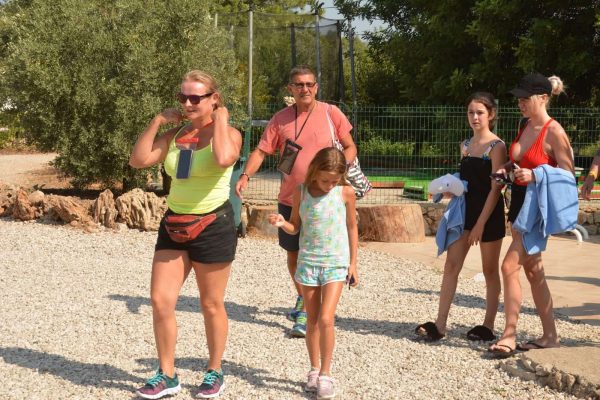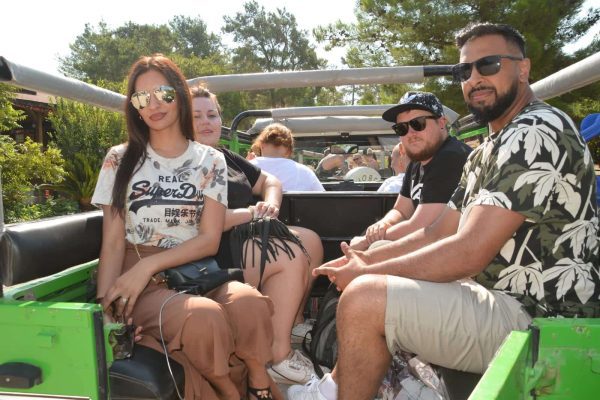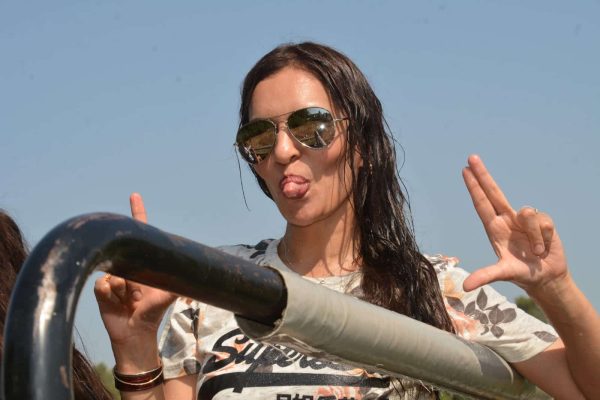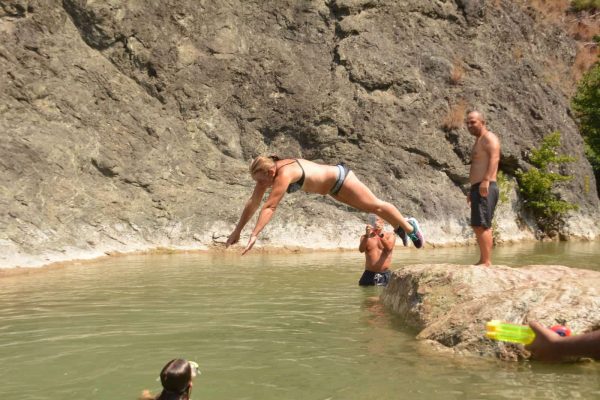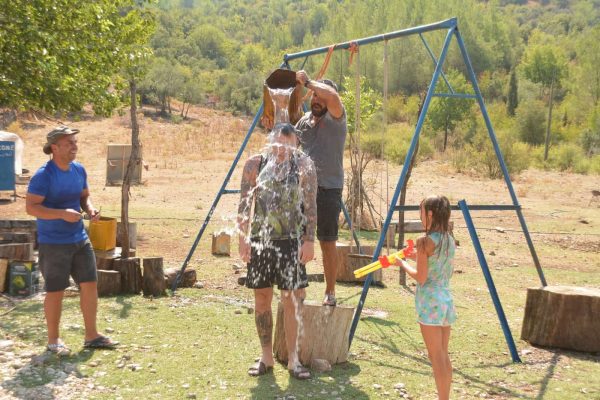 Included

Transfer
Driver and guide
Insurance
Lunch

Not Included

Entrance fee to Saklikent gorge.
Ringo Rafting
Zipline
Personal expenses
Drinks
DVD
Personal expenses
What to bring?

Bring a hat, sunglasses, plastic shoes or slippers (only in the summer season, from June to October), a towel, swimwear (if not in summer, bring thick clothes) .

Similar excursion programs:

Quad Bike Safari in Fethiye
Horse riding in Fethiye
What places will you see
Patara beach
Mud bath
Yaka National Park
The famous canyon Saklikent
Xanthos
Ancient city of Tlos
FAQ
Jeep safari in Fethiye for one person costs €30.
Transfer
Driver and guide
Insurance
Lunch