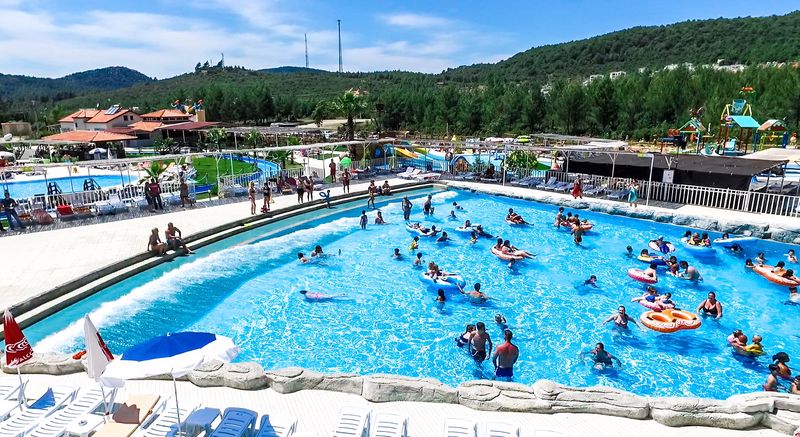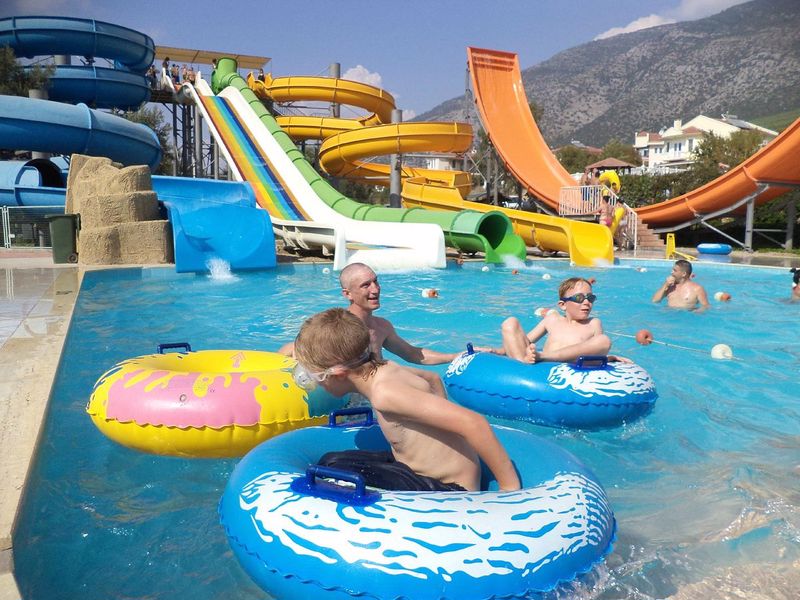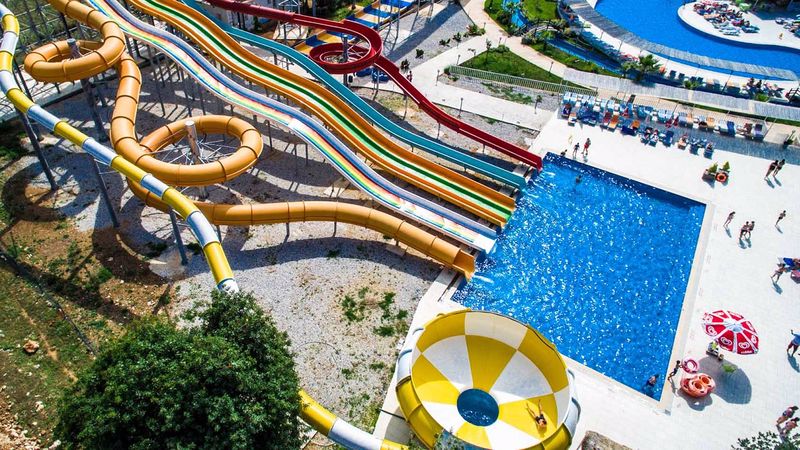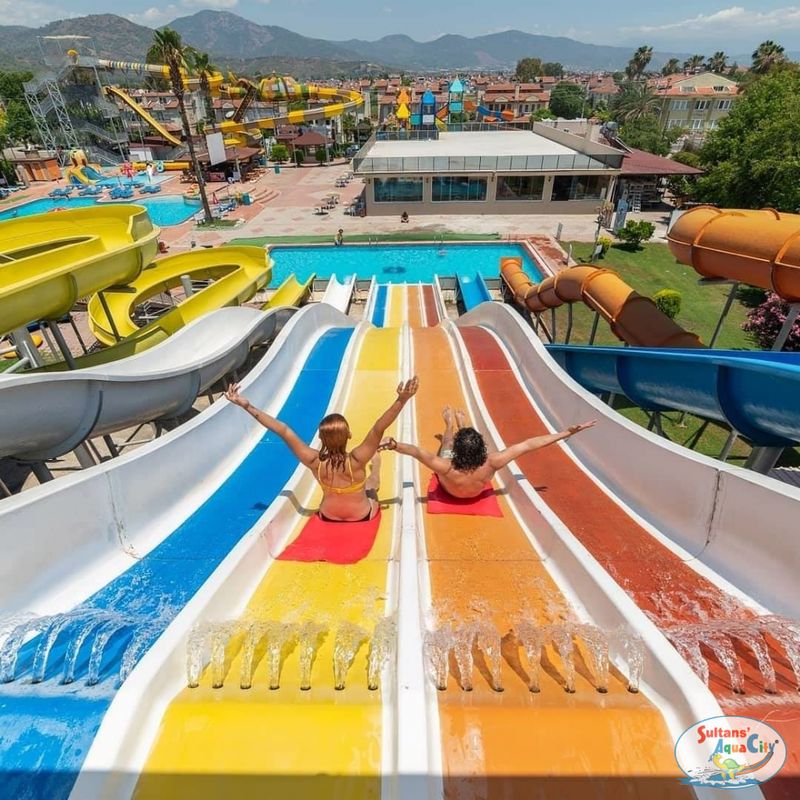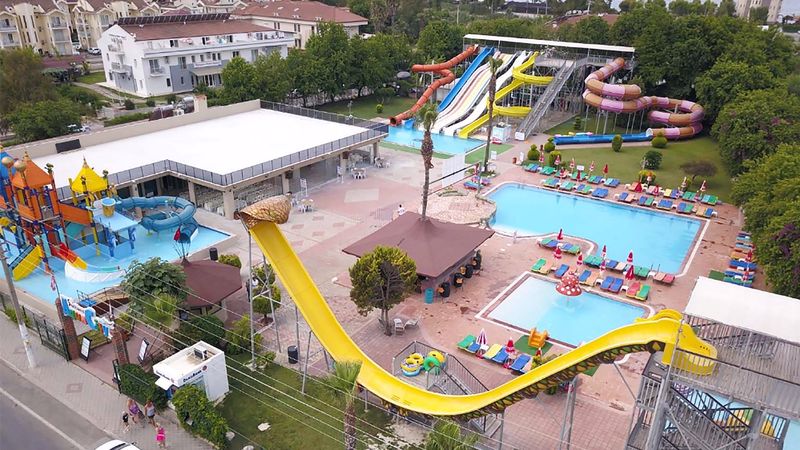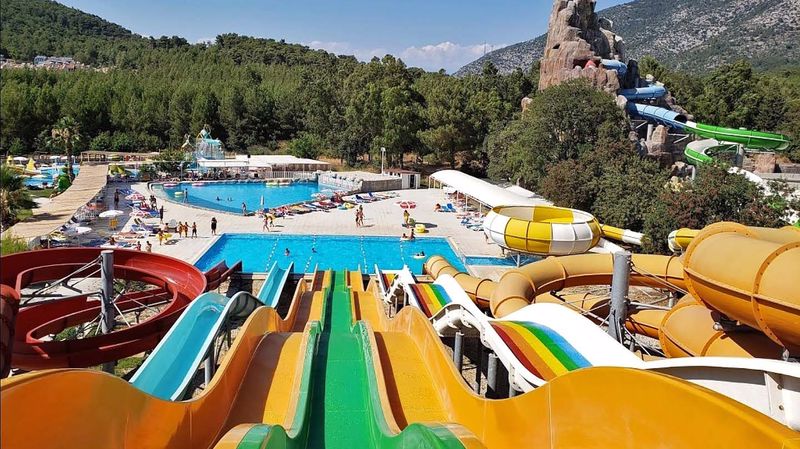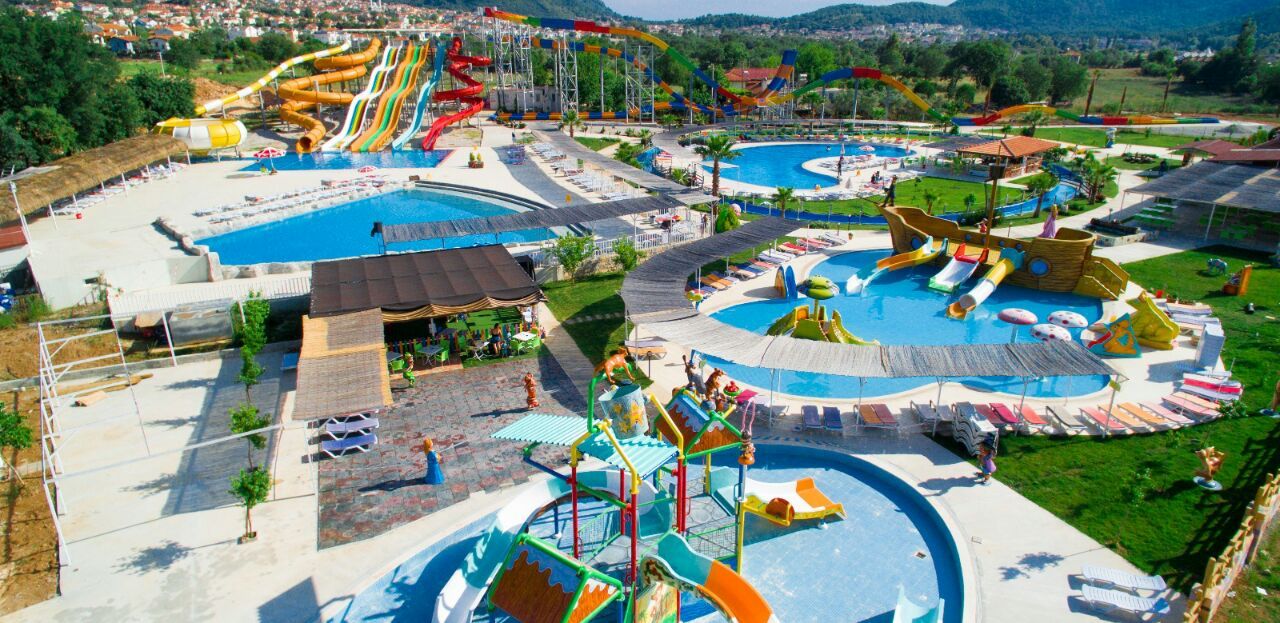 Included

Hotel transfers
Insurance
Lunch
Entrance tickets

Not Included
The water park in Fethiye is rightfully considered the best in the region, there are a variety of slides and attractions, all kinds of pools and fountains, tunnels and high-speed spiral descents, a children's area and restaurants.

Rest in a Mediterranean resort is always a gentle sun, azure waters, sandy beaches, fresh air filled with the scent of pine needles. Only a trip to an open-air water entertainment center can add a holiday, vivid emotions and sensations.
The territory of the entertainment center is compact and comfortable, conditionally it is divided into zones according to interests, in the center there is the largest swimming pool with sun loungers and a bar, along its perimeter there is a long lazy river channel, the descent along which is a favorite pastime for both adults and teenagers.
For lovers of ocean waves, there is a pool with generated tides, in different parts of it there are different depths – even children can splash in shallow water, and the deeper, the waves become higher and more powerful. Thrill seekers will find an outlet on high-speed descents and steep slides, spiral and tunnel rides, get an adrenaline rush on the black hole slide or the U-shaped rafting track on inflatable circles.
Little visitors will not be left without work either, for them, in the water park in Fethiye, a whole area is equipped with shallow pools and fountains, bright slides and giant mushrooms emitting rain. The most active adventurers will feel like treasure hunters and brave captains on a pirate ship with masts and cannons, sails and powder kegs.
A professional team of multilingual animators works on the territory of the complex, therefore, entrusting their children to their caring hands, parents can enjoy a relaxing holiday or remember their childhood and dive headlong into the maelstrom of entertainment.
A variety of attractions in the water park in Fethiye
It is better to go to the water park in Fethiye with a group of friends or with your family, because the variety of slides and attractions will allow everyone to find something to their liking. Fans of a calm measured rest will be able to sunbathe and swim, jump on the waves and ride along the long lazy river channel, enjoy the exotic taste of cocktails or drink a cup of aromatic coffee while sitting on a cozy terrace.
Admirers of extreme sports will get an adrenaline rush on high-speed descents and spiral tunnels, on a hill with the effect of a free flight "kamikaze" and in a frightening "black hole", where the state of fear alternates with the delight of passing steep turns at high speed. The park has both single slides and those that several people can go down at the same time, there are rafting on inflatable circles and arched open tunnels for rafting.
Thanks to such a variety, time will fly by unnoticed, and you will not have time to blink an eye as several hours pass, however, a day spent in the Water Park in Fethiye will leave only vivid emotions and will be remembered for carefree fun and joy.
Paradise for children.
Time will fly by for the youngest visitors of the water park in Fethiye, because from the first minutes they will be involved in exciting games and contests, searching for pirate treasures and conquering obstacles in the form of slopes and slides, fountains and rain mushrooms.
Children, under the supervision of caring animators, will be able to climb onto the deck of a pirate ship, jump on the waves and swim in shallow pools, climb the "octopus" slide and briskly descend into the water along its "legs".
Safety and comfort are the main rules for the operation of the water park in Fethiye, and the professional team successfully copes with these tasks. From year to year, the amusement park delights its guests with new modern attractions, a children's show program and animation.
Rescuers and guides, animators and employees of the water park constantly monitor safety on the territory of slides and pools, conduct briefings before descents, provide assistance and assistance to visitors. For the comfort of vacationers, safes and showers, changing rooms and recreation areas are located on the territory of the water park.
In a cozy cafe you can enjoy ice cream, and in the bar you can drink a cocktail or a glass of cool wine, and at the same time you do not need to carry a card or cash with you, just top up your balance and get a special bracelet, and when making purchases, money will be automatically debited from your personal account.
A visit to the water park in Fethiye, even if for a short time, will bring you back to childhood, help you escape from the routine and spend the day carefree, fun and active.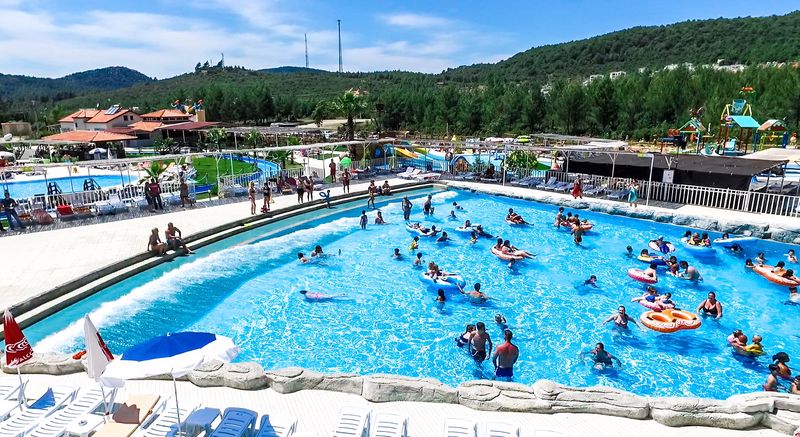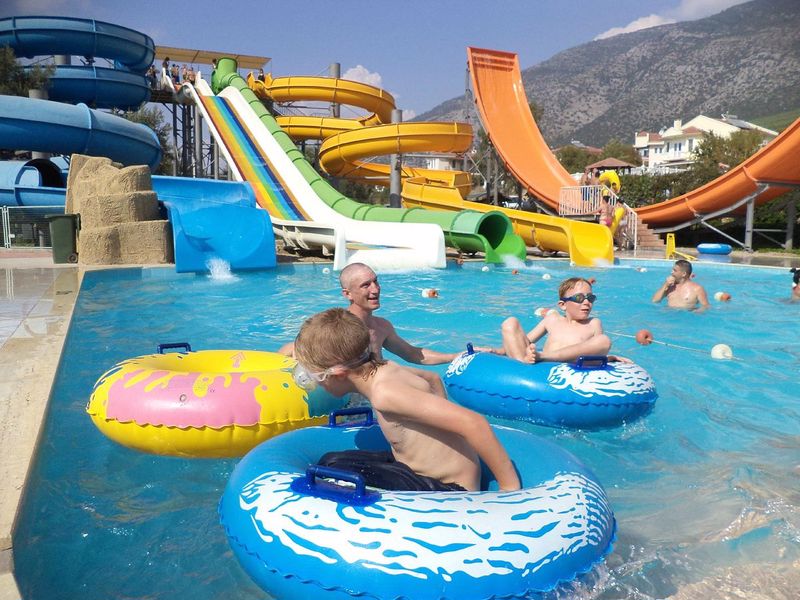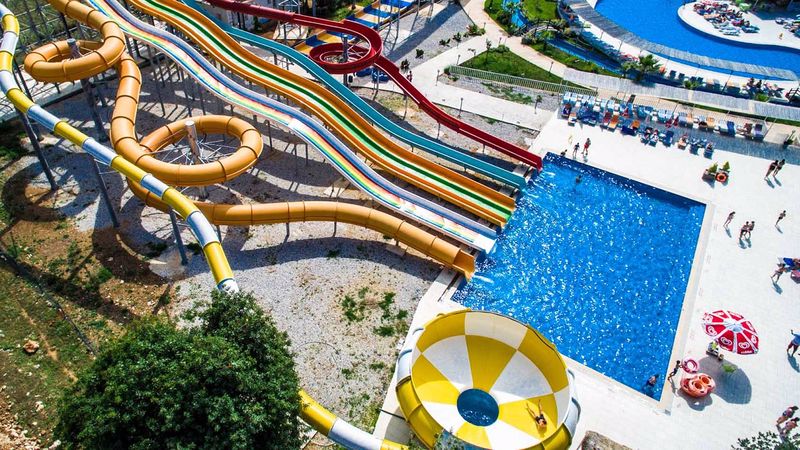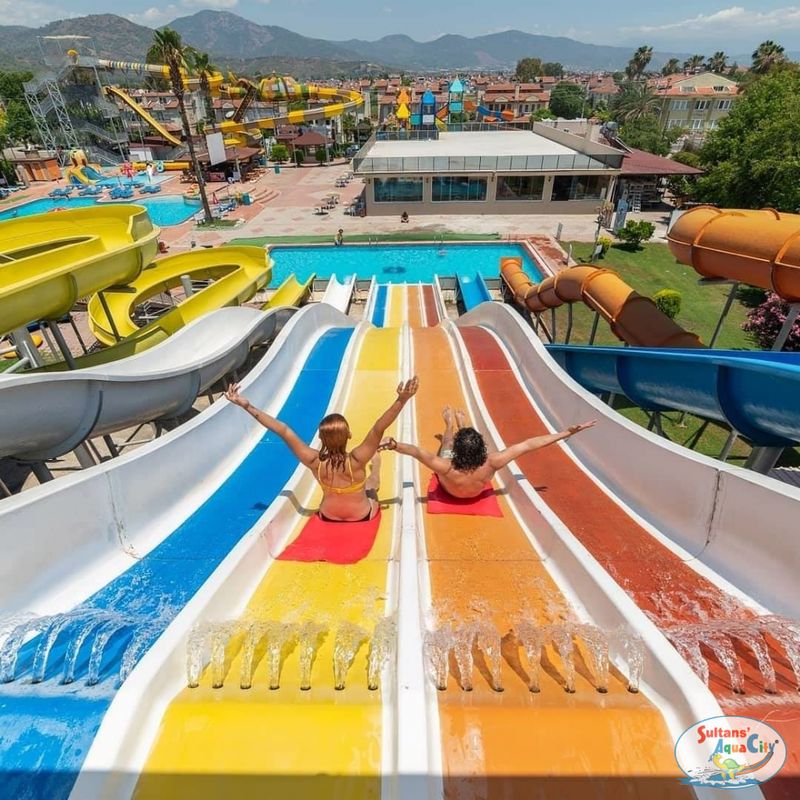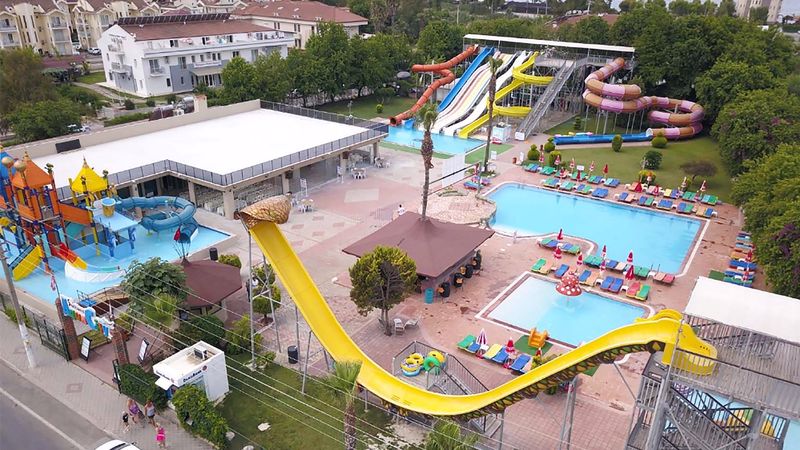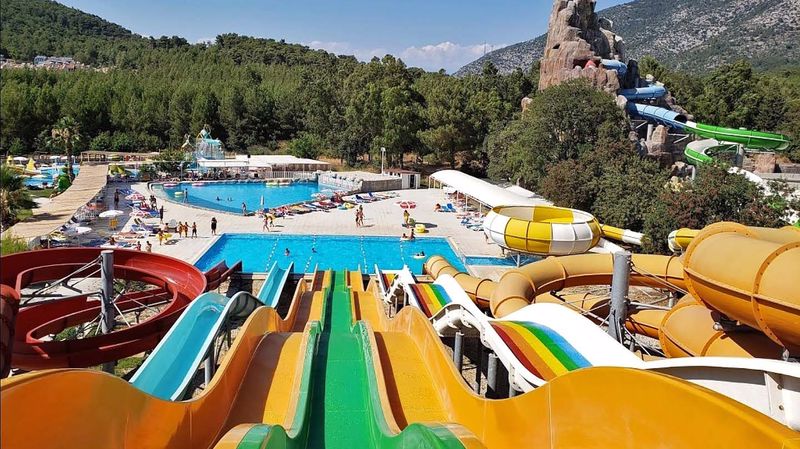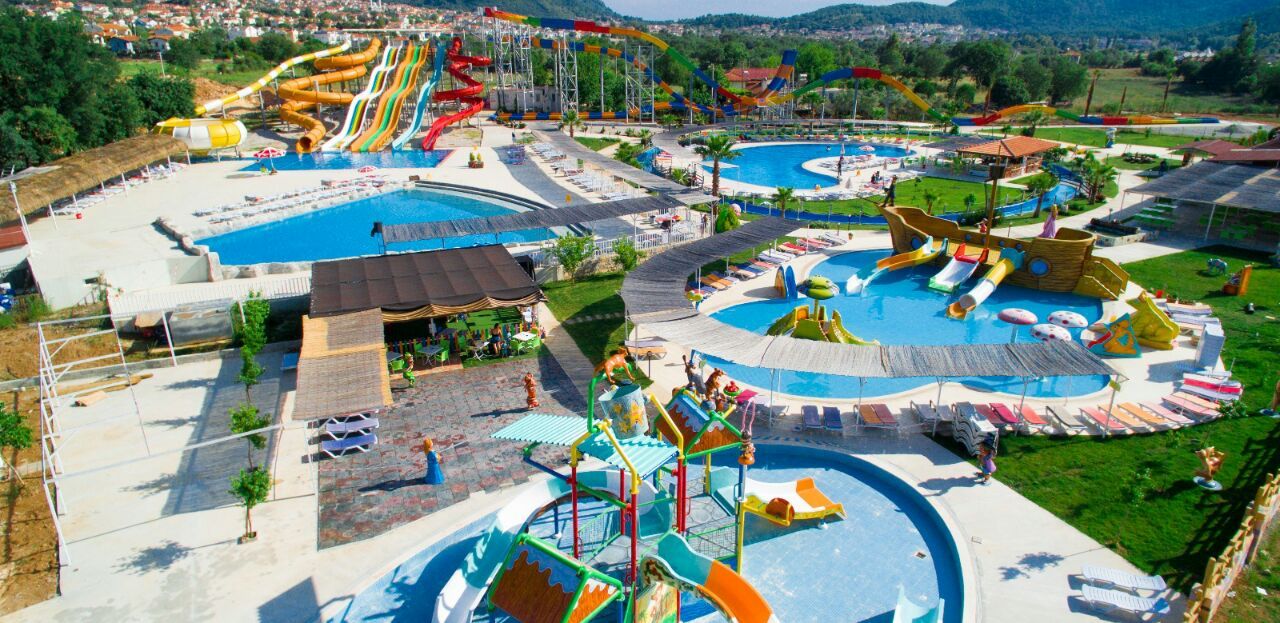 Included

Hotel transfers
Insurance
Lunch
Entrance tickets

Not Included
What to bring?

Please bring your own towel, swimwear, sunscreem, hat, goggles and your own snorkeling equipment.

Similar excursion programs:

Fethiye Yacht Charter
Diving in Fethiye
Saklikent and Tlos from Fethiye
FAQ
Water park in Fethiye per person 20€
Transfers from / to the hotel
Insurance
Lunch