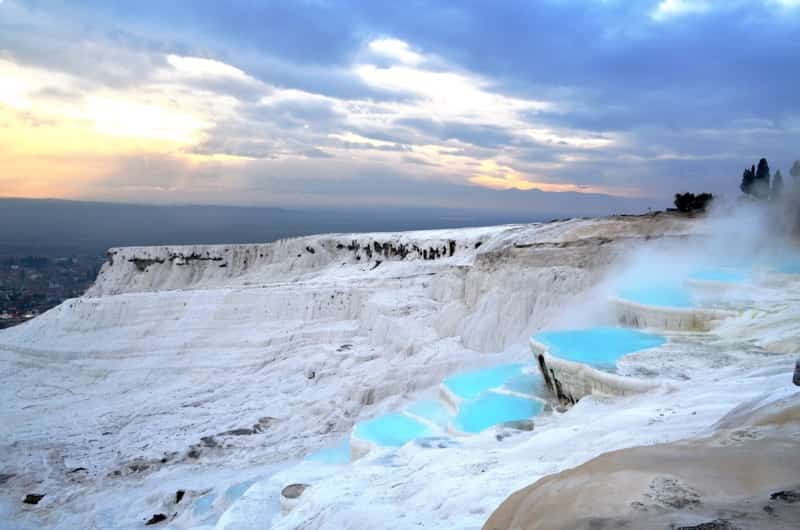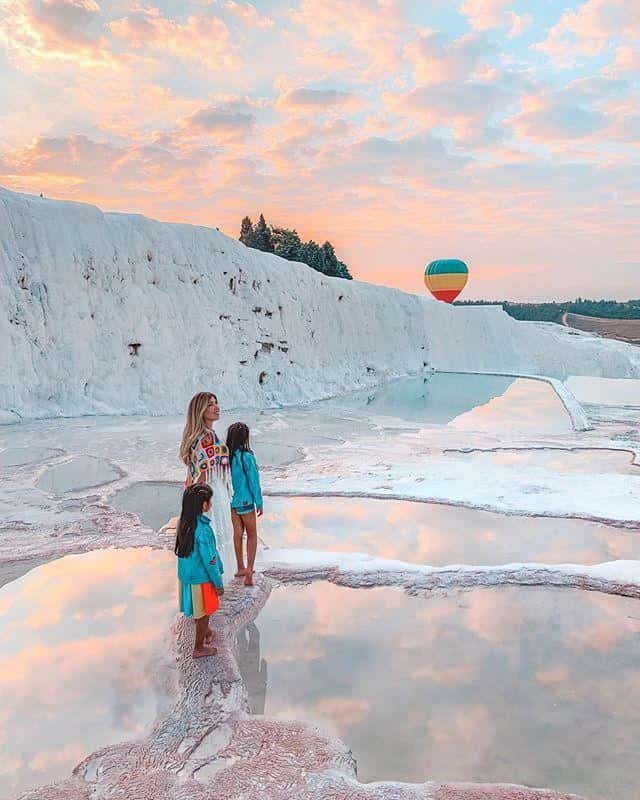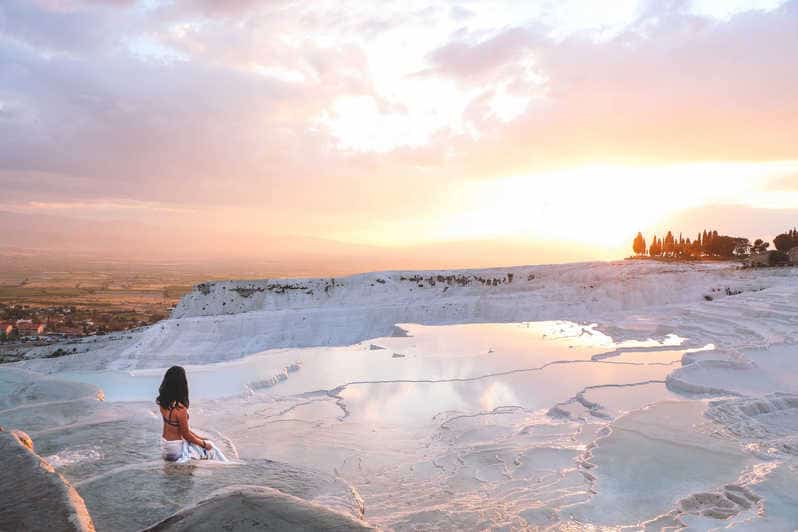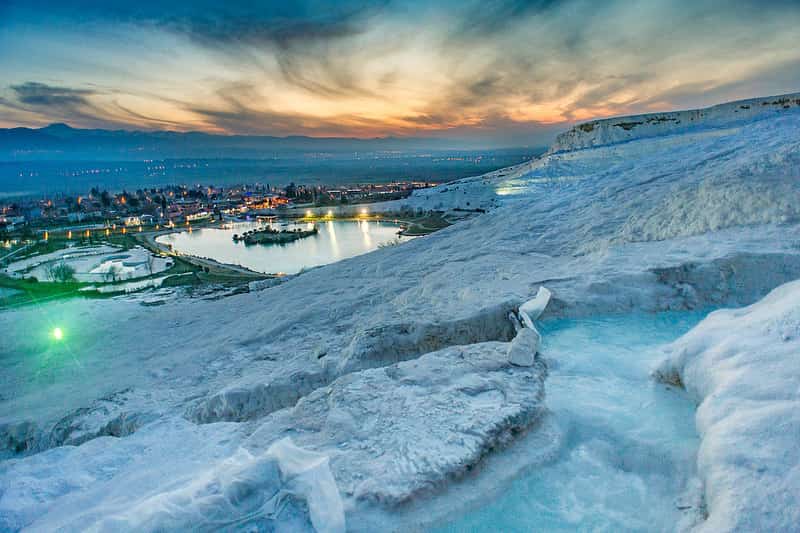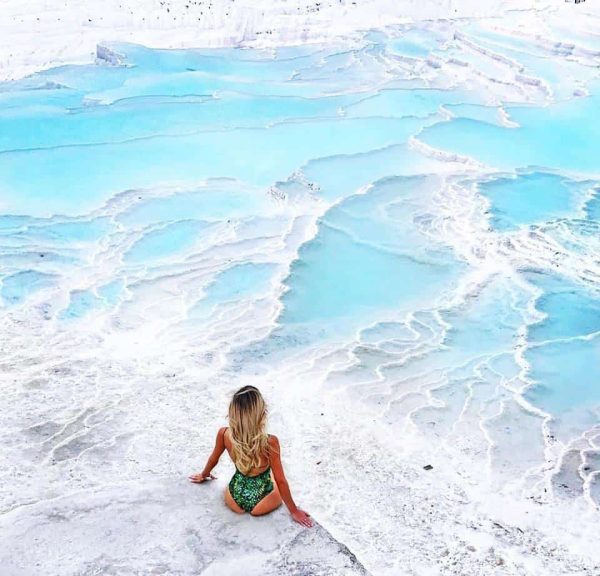 Included

Pamukkale & Hierapolis Tour
Entrance tickets
Lunch
Transfer
Live tour with commentary in English

Not Included

Drinks
Pamukkale Antique Pool
With a Pamukkale tour from Fethiye, you can visit the snow-white travertines like cotton, beautify with a mud bath, and get the healing of thermal water. Add Pamukkale to the list of places to visit now.

If you haven't seen Pamukkale before, which is a natural wonder flooded by thousands of tourists every year, then now is the right time to start from Fethiye with Pamukkale day tour. Pamukkale tour from Fethiye, which is indispensable for cultural tours, is waiting for you to enjoy this unique experience and the beauty where nature and history meet to the fullest.
Our Pamukkale tour from Fethiye starts with our transfer vehicle picking you up from the hotel early in the morning. Since the pick up time of each hotel is different, our tour salesperson will tell you the exact pick up time at the time of booking.
Pamukkale is 200 km away from Fethiye. We have a short breakfast break halfway down the road. After a journey of about 3,5 hours, we reach Pamukkale.
Onyx Stone And Onyx Workshop
Pmukkale is not only famous for its travertines and ancient city. It is also famous for its onyx stone. Therefore, there is an onyx stone workshop visit in the Pamukkale tour program. Onyx, which contains many minerals, has been formed as a result of time petrification of fossil remains under various heat and pressure for centuries, just like many stones.
Onyx has been used in the production of various ornaments and jewelry since ancient times due to its workability and aesthetically elegant appearance.
Lunch
After completing the factory visits, we go to the restaurant for lunch. Here, an open buffet with many dishes from different cuisines awaits you. There are many varieties from meat dishes to vegetable dishes, salads and desserts. You can take as much as you want.
Pmaukkale
After lunch, we visit the ancient city of Pamukkale with our guide. Your guide tells you the history of Pamukkale and shows you its most important places like Amphitheatre,Travertines, Kleopatra Pool, Museum.
You also find the opportunity to swim in the ancient pool. However, the ancient pool fee is extra.
Returning To The Hotels
After about 3-4 hours, we set off to meet on the bus and return to the hotel. You arrive at the hotel around 20:00-21:00 in the evening.
Pamukkale tour from Fethiye is among the indispensable holiday routes. We are sure that you will be satisfied.
Travertines of Pamukkale
The first place you should see in Pamukkale, the meeting point of nature and history, is Pamukkale travertines with its natural beauty and aesthetic appearance. The travertines, which you will admire with their white appearance, first turn into a gel when the healing waters come to the surface and the calcium carbonate contained in it precipitates, and then it hardens to form white travertines.
Pamukkale travertines, which were formed as a result of earthquakes 400 thousand years ago, attract attention with their thermal springs. The travertines, which have been used as a thermal spring for over 1000 years and serve the same way today, consist of carbonate minerals precipitated from the hot spring water.
Pamukkale travertines, which are on the UNESCO World Heritage List, also constitute an important natural resource in terms of iron, sodium, potassium and magnesium. You take spectacular photos, Turkey's Pamukkale tour from Fethiye you can see the cultural discoveries will be one of the most beautiful places.
If you are dreaming of a wonderful holiday where you can enjoy natural beauties, visit and see ancient cities and historical buildings with Pamukkale tour from Fethiye , and if you want to organize an economical holiday by taking advantage of early booking opportunities, this tour is for you. You can contact with us for Pamukkale Tour or for other daily tours in Fethiye.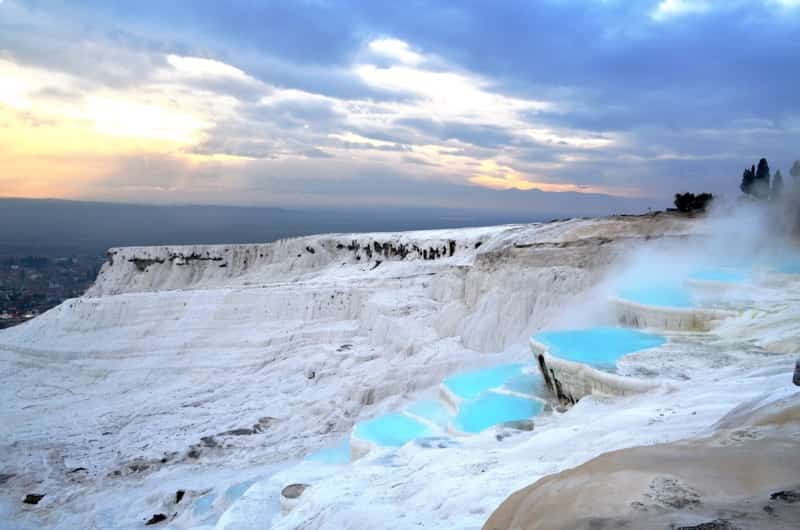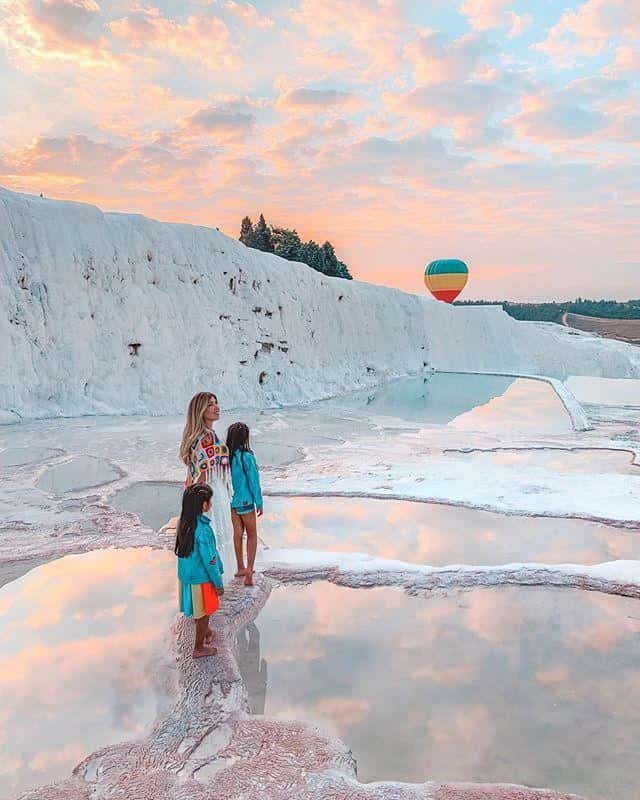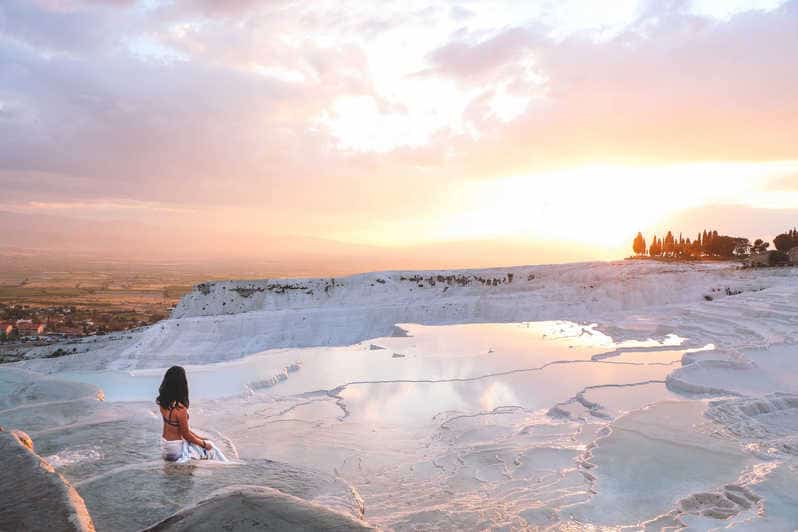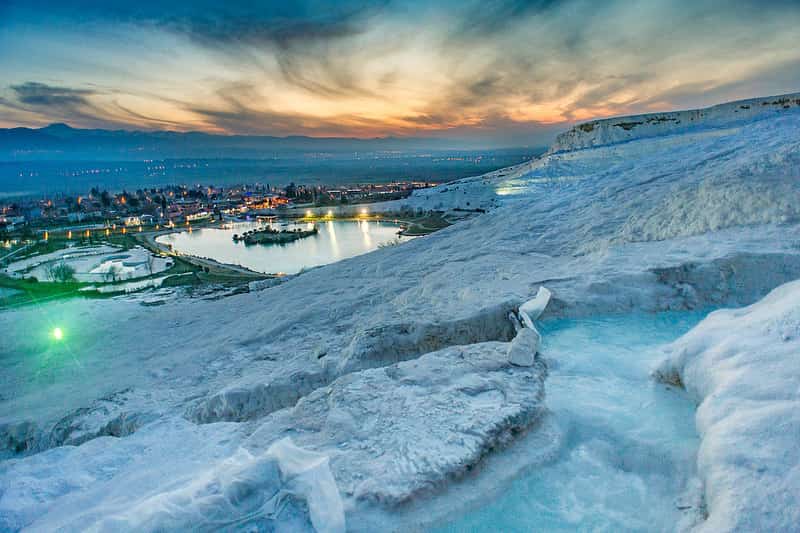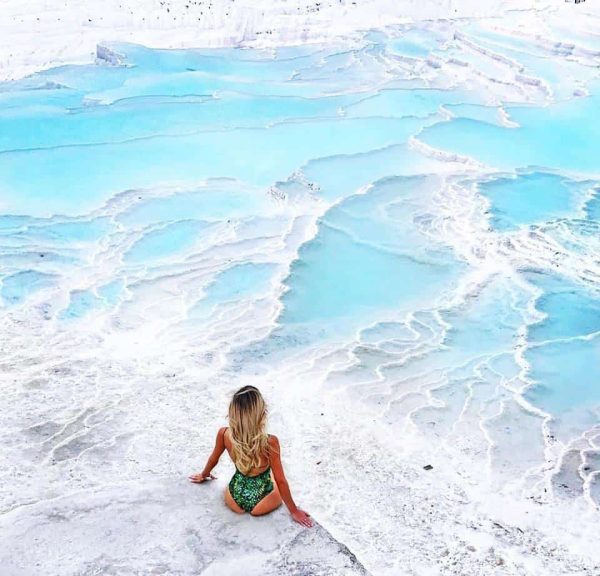 Included

Pamukkale & Hierapolis Tour
Entrance tickets
Lunch
Transfer
Live tour with commentary in English

Not Included

Drinks
Pamukkale Antique Pool
What to bring?

You can bring a hat, sunscreem and sunglasses.
Also swimwear in case you swim in an antique pool
Drinks.

Similar excursion programs:

Ephesus and Pamukkale Tour from Fethiye
Excursion to Dalyan from Fethiye
What places will you see
Pamukkale
Hierapolis
Theater
Travertines
FAQ
Excursion to Pamukkale tour from Fethiye per person  costs 60€.
Tour of Pamukkale and Hierapolis
Entry tickets
Lunch
Transfer
Live tour with commentary in English