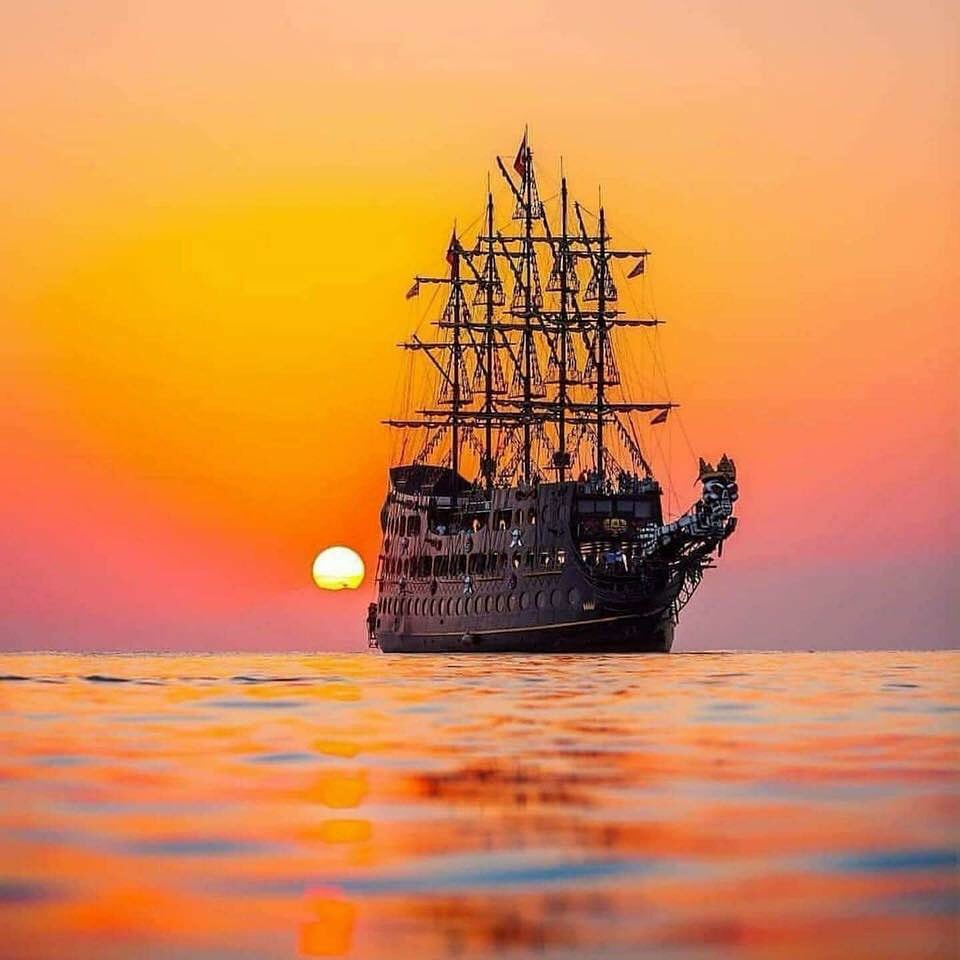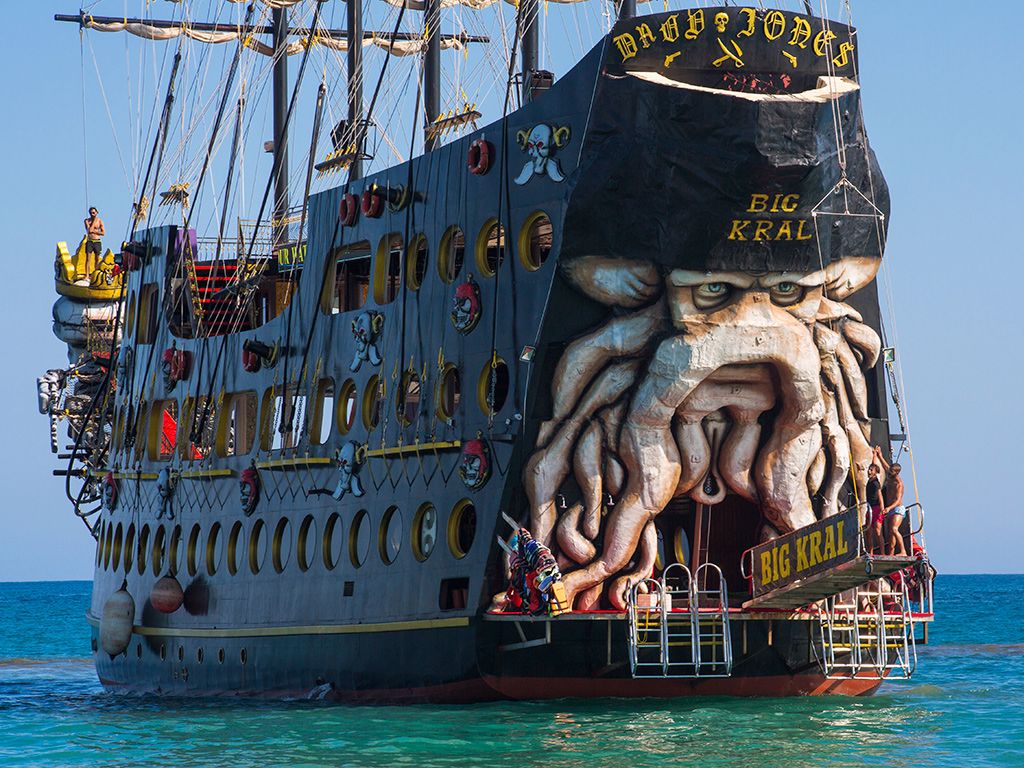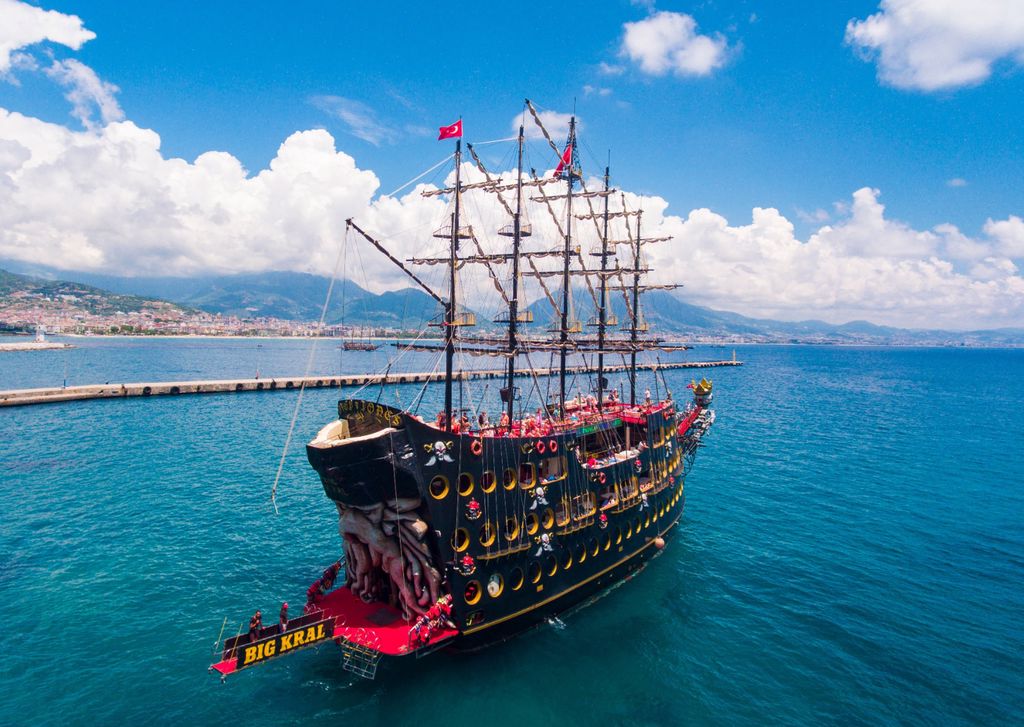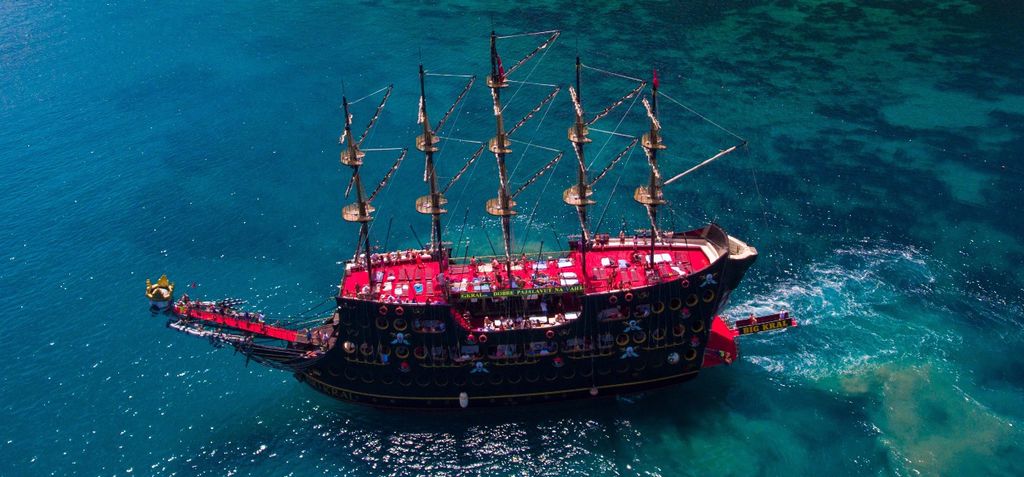 Included

Group transfer
Full support of English-speaking guides
Insurance
Lunch
Unlimited soft drinks
Pirate Games
Foam party and disco

Not Included
Pirate ship Big Kral in Alanya is a real exciting trip for lovers of fun, adventure and thrills, as well as for fans of the movie "Pirates of the Caribbean". If you have ever dreamed of trying on a sea robber costume, feeling like a brave captain conquering stormy waves, standing with a telescope on the mast of a pirate ship, you will get real pleasure from this sea voyage.

The life of corsairs is full of romance and adventure – chases and bloody battles, treasure hunts and riots on ships, resisting storms and battles with sea monsters. During the tour on the pirate ship Big Kral in Alanya, you will completely immerse yourself in the atmosphere of pirate life on a real medieval ship.
Traveling along the Mediterranean Sea, you explore its secret caves and bays, quiet harbors and beaches of extraordinary beauty. Like real pirates, cutting through the waves, you will overcome the path along the entire coast of Alanya, and, if you are lucky, you will meet dolphins and turtles, as well as other numerous inhabitants of the deep sea.
Pirate ship Big Kral in Alanya: features and advantages
Pirate ship Big Kral in Alanya is a real find for children and adults. This luxurious vessel is the largest in Turkey and has everything for a comfortable stay on its decks – TVs and air conditioners, quiet areas for sunbathing with comfortable sun loungers, restaurants and bars.
While the children will be busy with sea battles and searching for gold, lovers of a relaxing holiday will be able to sunbathe, swim in the emerald waters, enjoy the picturesque views and take a lot of bright photos against the backdrop of the sea and shores immersed in greenery. Fans of active pastime will enjoy jumping from a yacht, exploring mysterious sea caves, walking along the most beautiful beaches.
Attuned to a romantic mood and unity with nature, tourists will be able to enjoy the views of sea bays, coastlines, rocks and islands rising from the water. A light breeze, refreshing splashes of waves, gentle sun will only complement the atmosphere of a paradise holiday.
Young travelers will especially enjoy the tour on the Pirate Ship Big Kral in Alanya.
The entire huge 4-deck liner is an exact copy of a real pirate ship with masts, a captain's bridge, gunpowder barrels, cannons, a steering wheel and sails. Upon boarding, everyone will try on the image of pirates – stylists will select an image for everyone, and make-up artists will make a frightening make-up.
A fascinating sea show will last throughout the journey – saber battles, hunting for hidden treasures, acrobatic performances with spectacular flights above the deck and jumping into the water from the side will not leave time for boredom. Without exception, all young pirates will take an active part in the program and receive special prizes, and then they will arrange an unforgettable foamy disco.
What does a trip on a Pirate Ship Big Kral in Alanya include?
When going on an excursion on the Pirate Ship Big Kral in Alanya, you only need to take towels and sunscreen, the organizers have taken care of the rest. Transfer on a comfortable bus to the port and back to the hotel, Russian-speaking guides and professional animators, an exciting show program and incendiary music – all this awaits you on the ship. In the bar you can refresh yourself with soft drinks, and during lunch you can taste dishes of national Turkish cuisine.
Description of the tour "Pirate Ship Big Kral in Alanya"
The path of the Big Kral pirate ship runs along the entire coast of Alanya, during which you can jump from a yacht, dive and swim in crystal clear waters. On one of the most beautiful beaches in Turkey and the world – Cleopatra's Beach, you will walk along the snow-white sand, brought by order of the Egyptian queen from the banks of the Nile, soak up the emerald water, breathe in the aroma of huge cedars framing the bay.
Stopping near the caves hidden from prying eyes, you can lift the veil of secrecy and explore all their corners, see the heart-shaped cave of lovers, the phosphorus cave glowing in the light of the moon, look for happiness in search of gold stolen by sea robbers in the pirate cave.
A walk on a yacht is simply created for aesthetic and moral pleasure, contemplating the beauty of untouched nature, inhaling the aroma of pine needles and the sea, feeling the touch of waves on your skin, you feel harmony, peace and a desire to enjoy the moment. A fascinating show program and incendiary music on a pirate ship will create an atmosphere of holiday fun.
Note: We have free pick up only from Konaklı, Türkler, Avsallar, Okurcalar, Payalar and all Side hotels.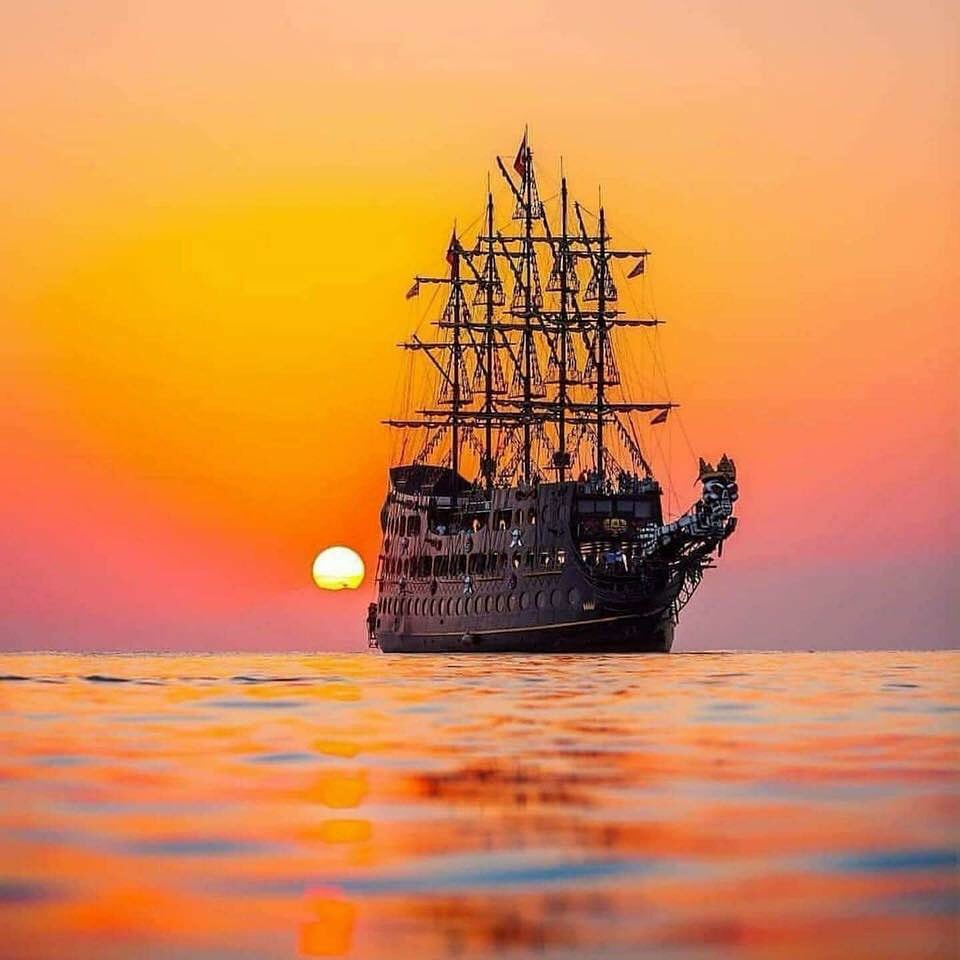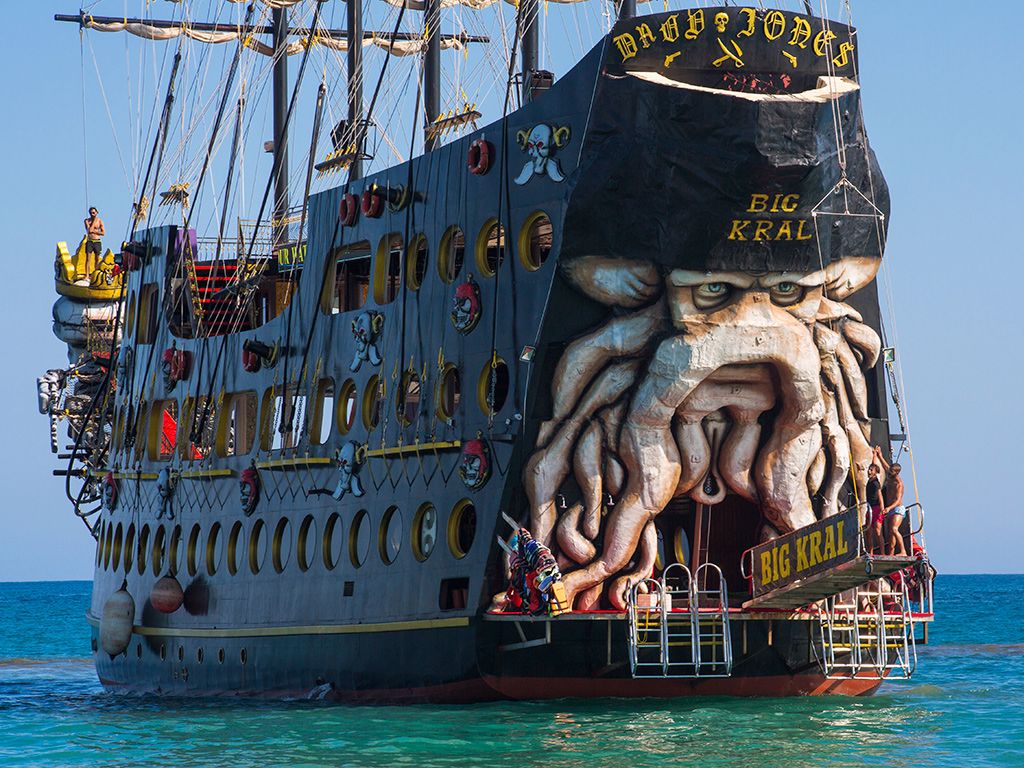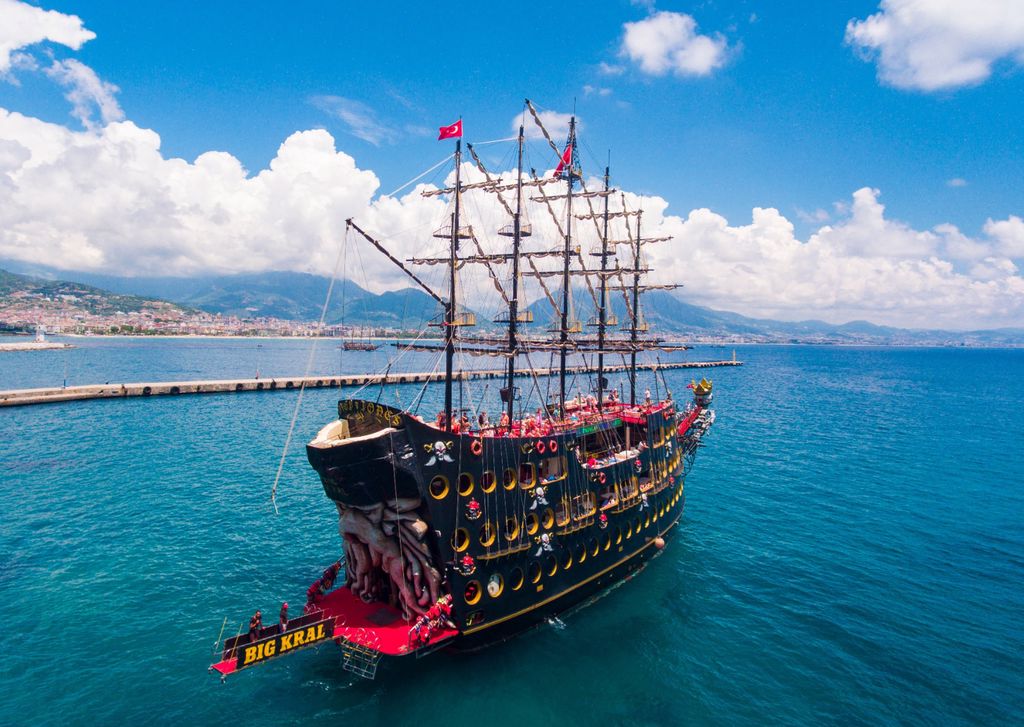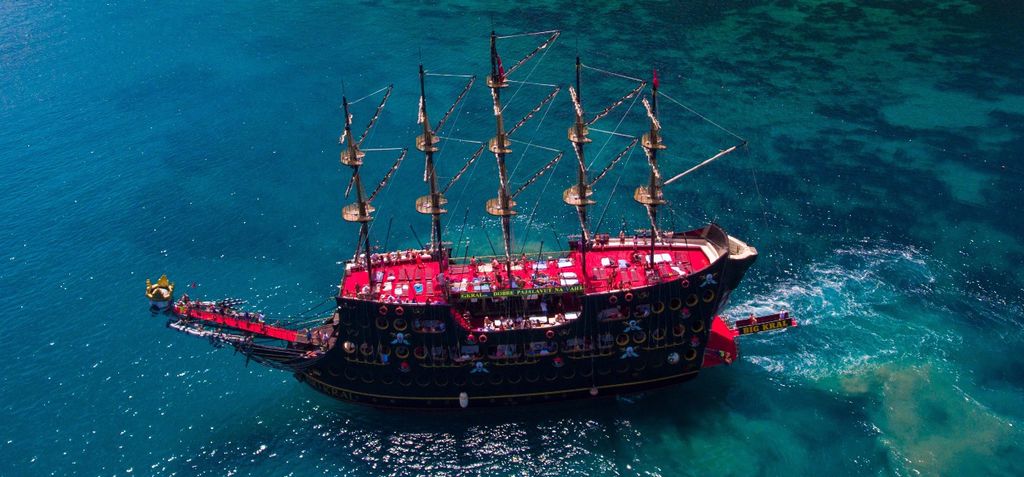 Included

Group transfer
Full support of English-speaking guides
Insurance
Lunch
Unlimited soft drinks
Pirate Games
Foam party and disco

Not Included
| | |
| --- | --- |
| What to bring? | Please bring your own towel, swimwear, sunscreem, hat, goggles and your own snorkeling equipment. |
| Similar excursion programs: | |
FAQ
First swim break in front of Alanya Red Tower and Alanya Shipyard.
Pirate Cave
Lover's Cave
Jump show
Watching fish in the aquarium bay
Second swim break at Cleopatra Beach in Alanya
Cruise on the open sea
Children's Animations
Pirate ship Big King in Alanya for one person 35€
Excursion Hours of Pirate Ship Big Kral in Alanya: Starting at 09:30 to finish at 16:00.
Pirate Ship Big Kral in Alanya takes about 6 hours.