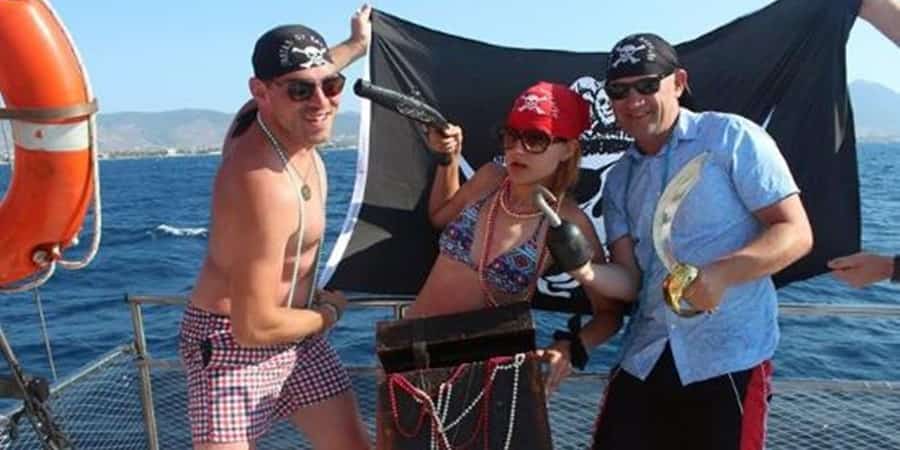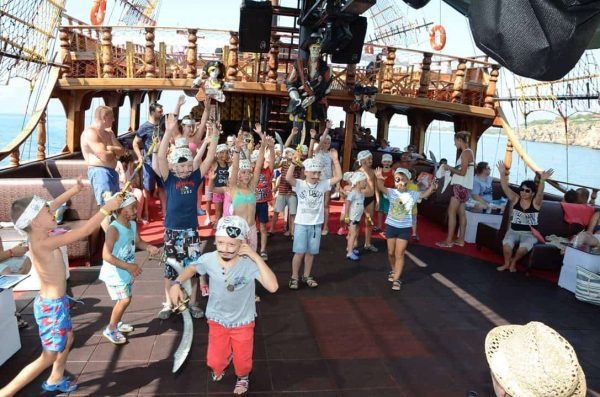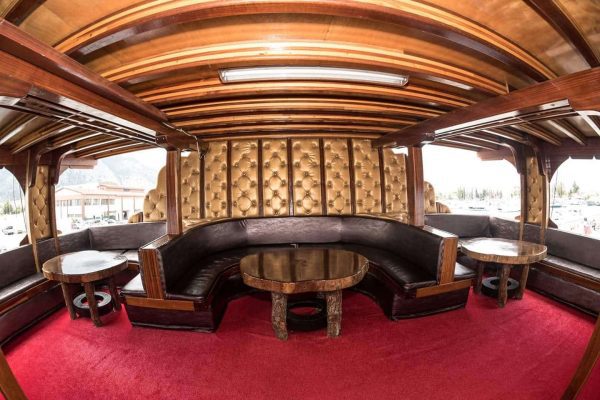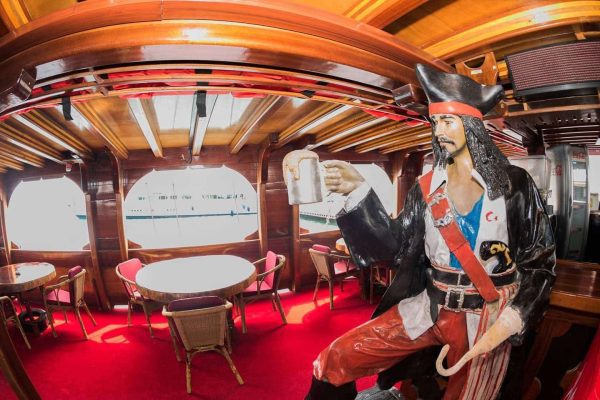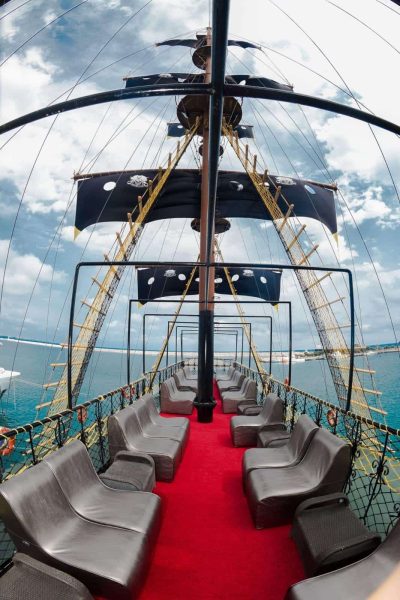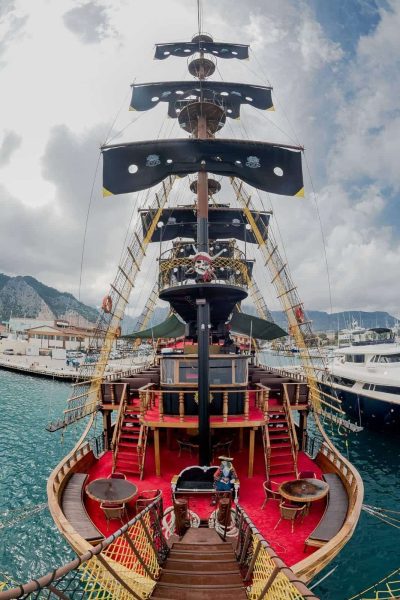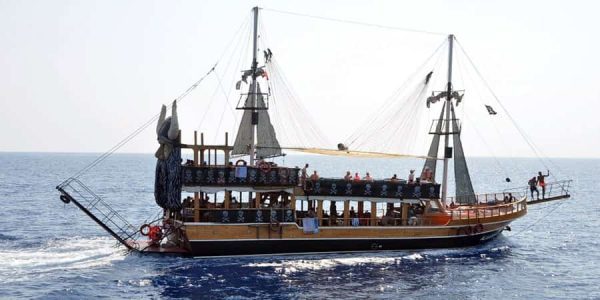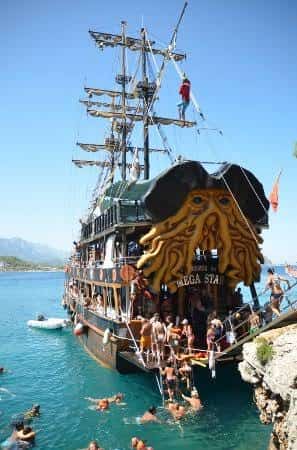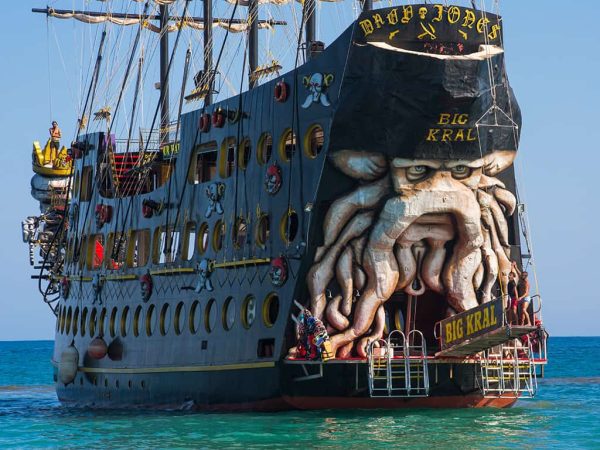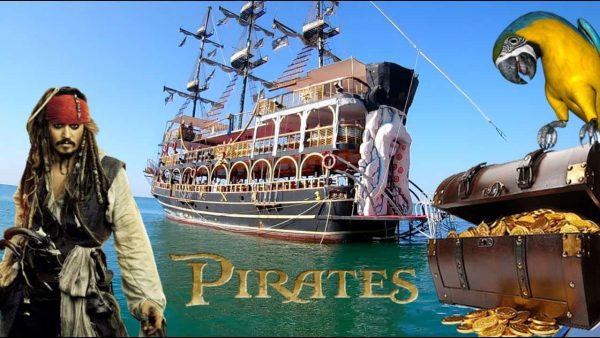 Included

Group transfer
Full support of english-speaking guides
Insurance
Lunch
 Soft drinks

Not Included
The choice of a vacation spot is influenced by many factors – natural beauty, weather conditions, comfort and safety, availability of activities and excursion programs. Millions of tourists come to Turkey for good reason, because there is everything for a holiday for every taste – historical sights and high-quality service, luxury hotels and budget apartments, sandy beaches and bays lost in the rocks.

Tourists who prefer active recreation will find a lot of extreme excursions for themselves, lovers of a calm measured pastime will be able to enjoy the pristine nature on the shores of mountain lakes and deserted beaches, adventure seekers will not miss the chance to explore the ruins of ancient cities.
Turkey is also the best option for a family holiday. A lot of activities, children's animation and water parks will give delight to kids and peace of mind to parents. It is at an early age that emotions are the most sincere, and the task of each parent is to leave only bright and positive moments in children's memory.
Resting in Alanya, you can give your child a fairy tale and make your cherished dream come true by going on an exciting journey on a real pirate yacht.
Adults will also like this Alanya Pirate Boat Trip, because bypassing deserted islands and rocks in the middle of the sea, the ship leads its way to the most beautiful beaches and mysterious caves. This trip is unusually romantic, exciting and picturesque. Traveling on a pirate yacht in Alanya has not left anyone indifferent.
Tour program "Alanya Pirate Boat Trip"
Alanya Pirate Boat Trip takes the whole day, you can enjoy the light sea breeze and the gentle sun, jump from the yacht, walk along the white sand of Cleopatra Beach, explore the caves lost in the coastal lines. Pirate's Cave, Phosphorous Cave, Devil's Cave, Lover's Cave – this is not all that you have to visit.
In the middle of the day you will make a stop at the New Port, where you will have a traditional lunch. The rich Turkish cuisine will amaze you with its variety of tastes, and some national dishes will certainly be included in your favorite list.
"Alanya Pirate Boat Trip" is a day without worries and hassle, even parents with many children will be able to relax, passing their children into the caring hands of Russian-speaking animators. The children's program is active and exciting, because what could be more interesting than a treasure hunt, and an unforgettable day will end with a foam show and a disco.
Pirate cave.
The pirate cave, shrouded in mystery, still attracts thousands of treasure hunters, because according to legend, it was here that the corsairs hid all the stolen wealth. Gold and precious stones, valuable utensils and trophies obtained in battles were brought to caves and stored here for many centuries. True or not, it is not known, but it is worth trying your luck, and maybe someone will be able to find pirate gold.
Cleopatra beach
Cleopatra Beach in Alanya is not in vain considered one of the most beautiful in the world. Emerald water, giant cedars, rocks protecting from the winds, picturesque islands and, of course, unusual sand – everything in this heavenly place is conducive to peace, tranquility and harmony.
They say that the Egyptian queen herself chose this fabulous place, she liked everything here – gentle waves, shores buried in greenery, the scent of pine needles … only the sand is too fine. Mark Antony, who adores his wife, even ordered to bring sand from Cairo in order to please her. It may not sound realistic, but laboratory studies of the sand have shown that its structure corresponds to that of sand from the banks of the Nile.
One way or another, Cleopatra's beach is simply created for enjoyment, and a day spent in this paradise will forever remain in your memory.
Lover's Cave
The route of the excursion "Alanya Pirate Boat Trip" follows the cave of lovers. Maybe the cave got such a romantic name because its shape resembles a heart, or maybe because in ancient times lovers were hiding here, whose relatives were against an unequal union. There is an old belief that if a couple in love, holding hands, jump from a yacht at the entrance to a cave, their life will be long and happy, and the union strong.
Having a tour on board a Alanya Pirate Boat Trip, you will not only visit the most beautiful corners of the coast, but also have a great time, and bright photos against the backdrop of the azure sea, snow-white sea foam and picturesque rocks will be the subject of admiration for all friends and acquaintances.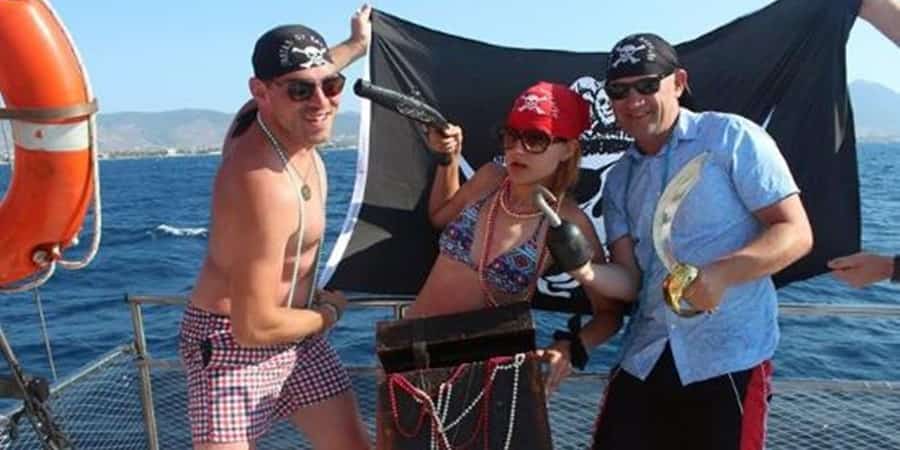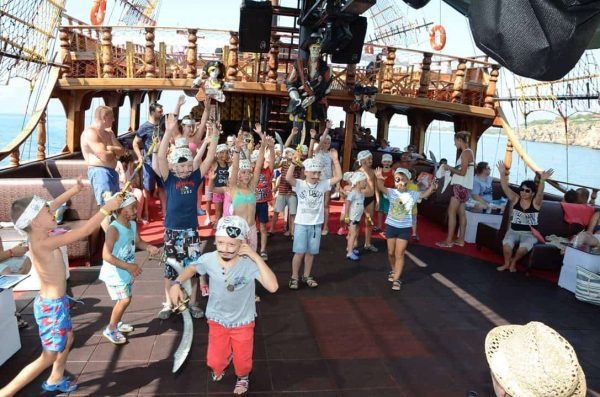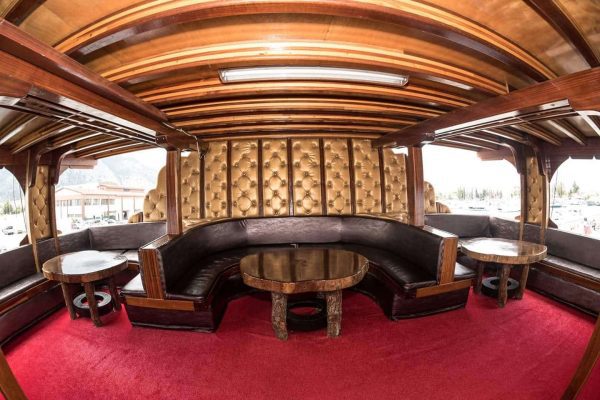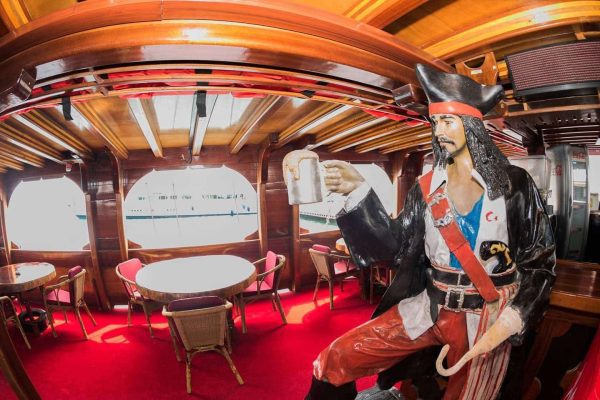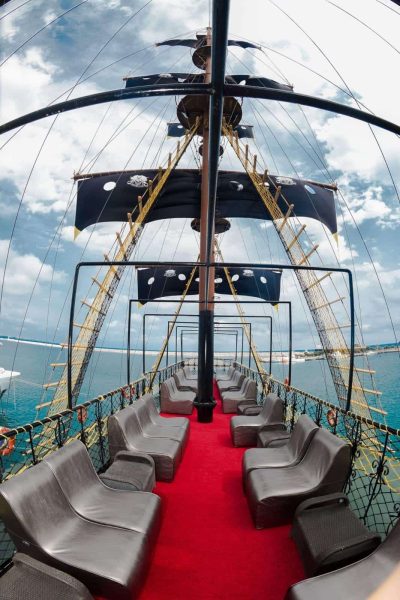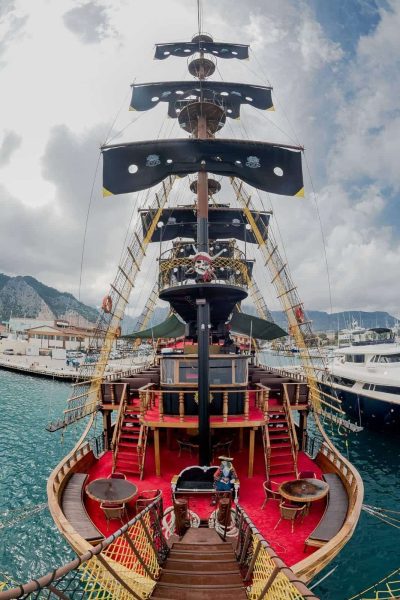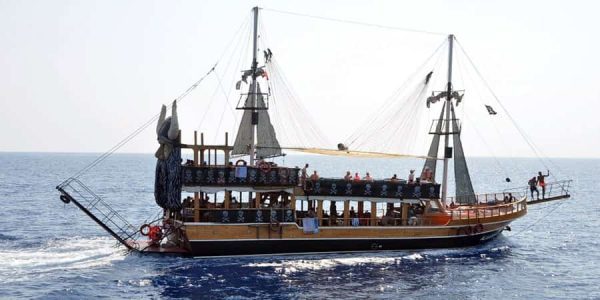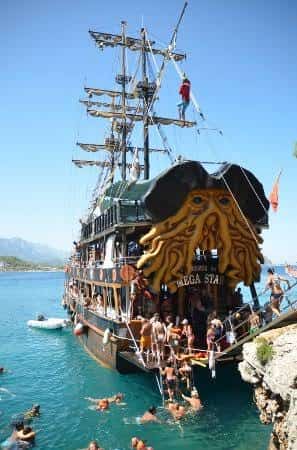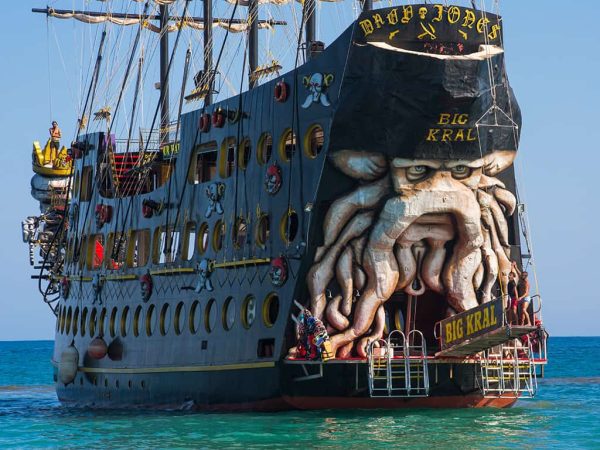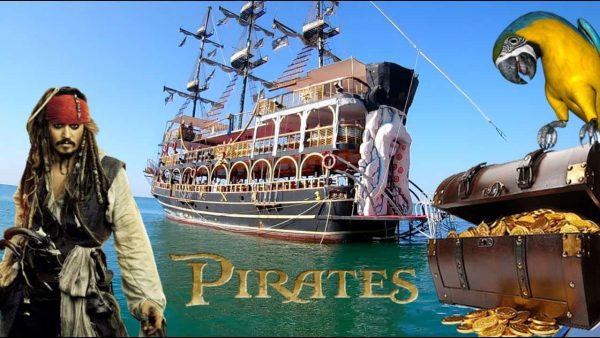 Included

Group transfer
Full support of english-speaking guides
Insurance
Lunch
 Soft drinks

Not Included
| | |
| --- | --- |
| What to bring? | Please bring your own towel, swimwear, sunscreen, hat, goggles and your own snorkeling equipment. |
| Similar excursion programs: | |
FAQ
First swim break in front of Alanya Red Tower and Alanya Shipyard.
Pirate Cave:
Lover's Cave:
Watching fish in the aquarium bay.
Second swim break at Cleopatra Beach in Alanya
Cruise on the open sea.
Children's Animations
Excursion Hours of Alanya Pirate Boat Trip: Starting at 10:30 to finish at 15:30.
Alanya Boat Trip takes about 5 hours.