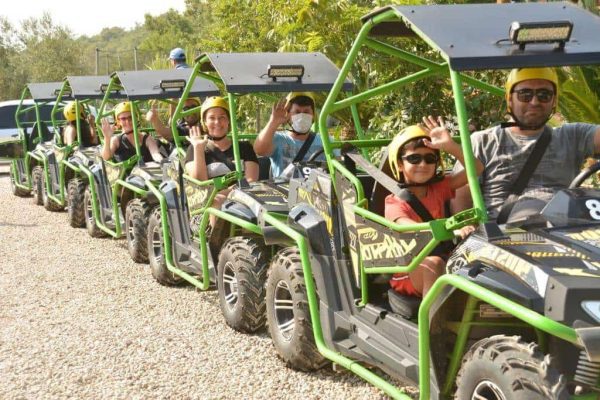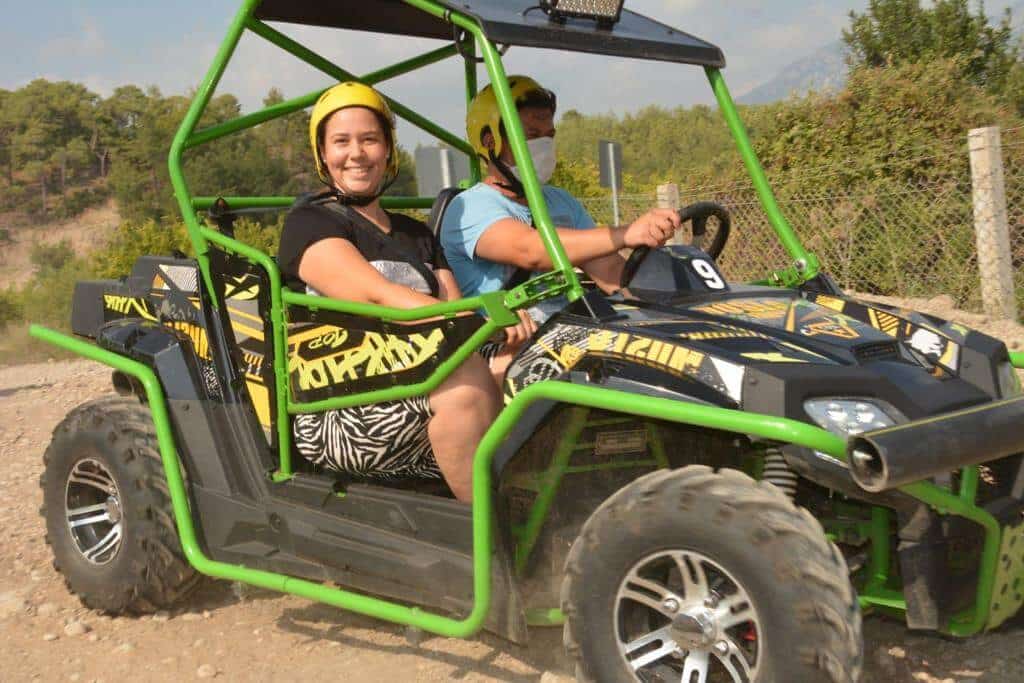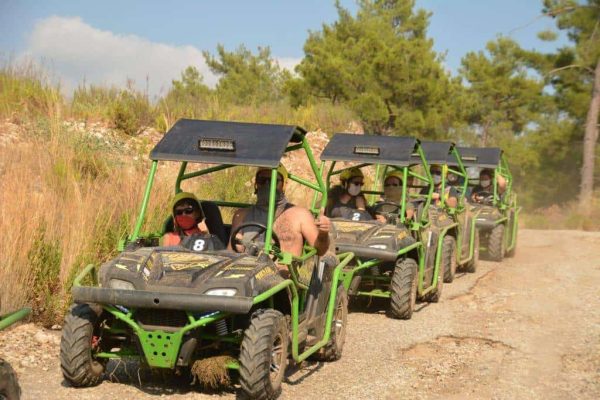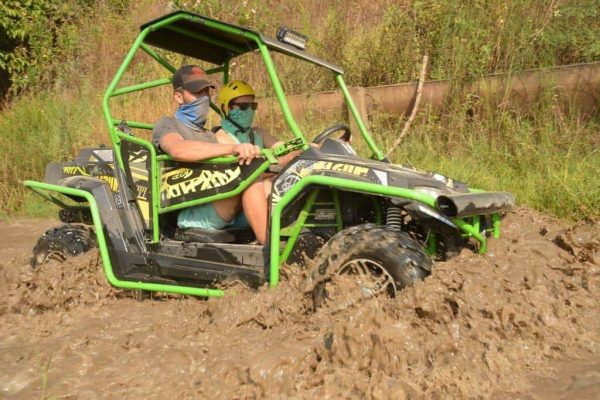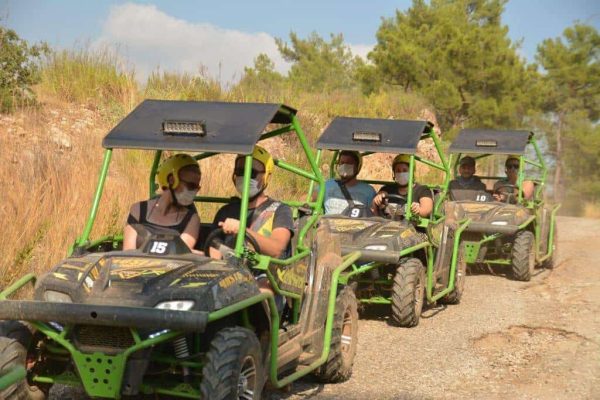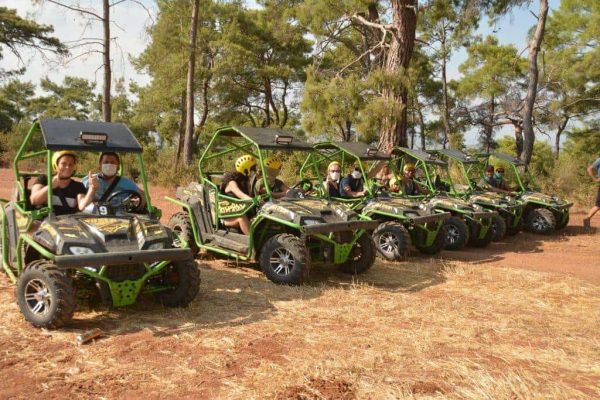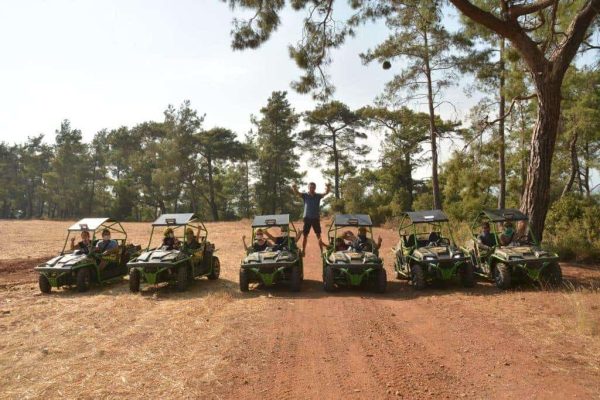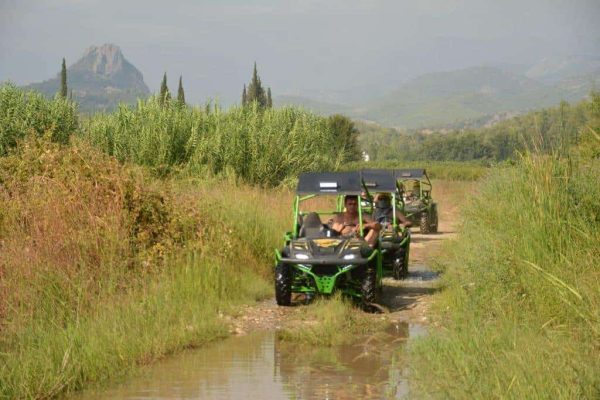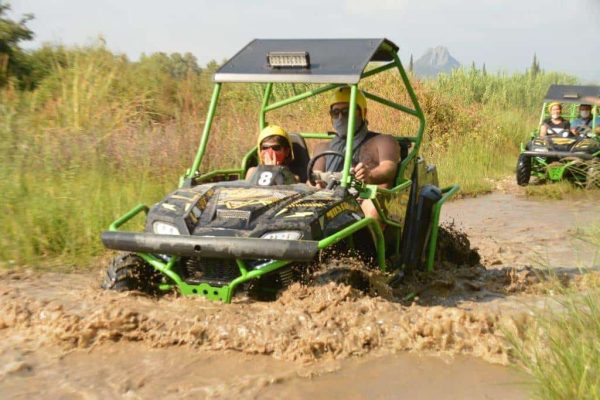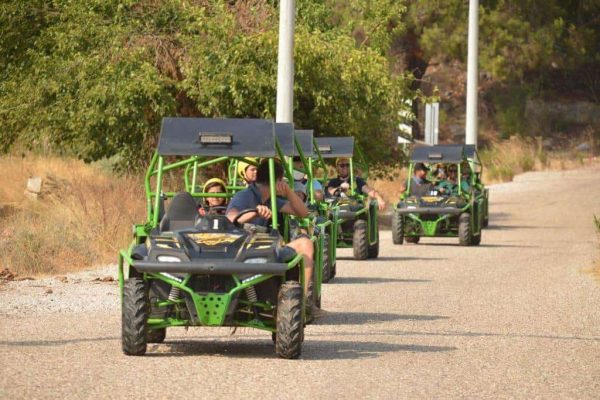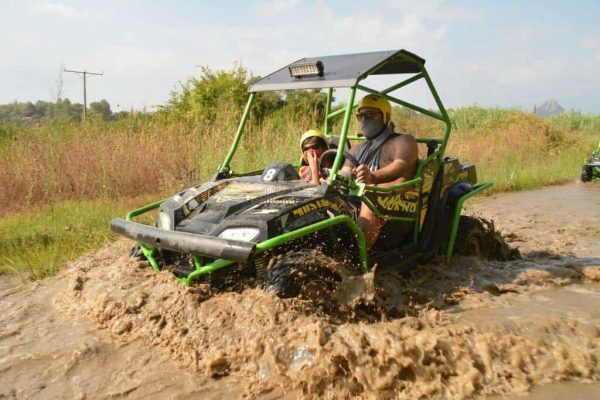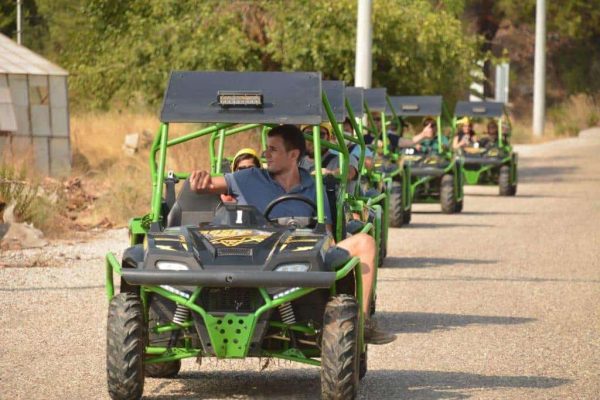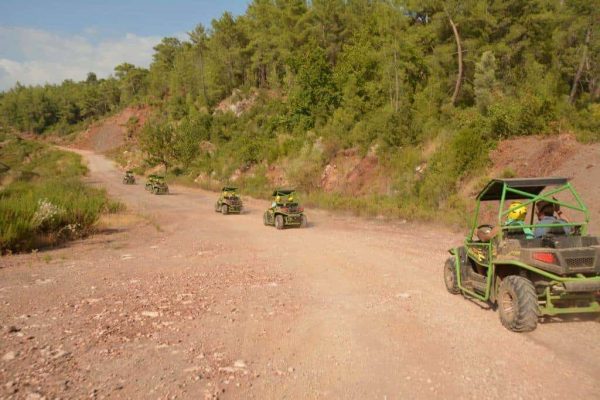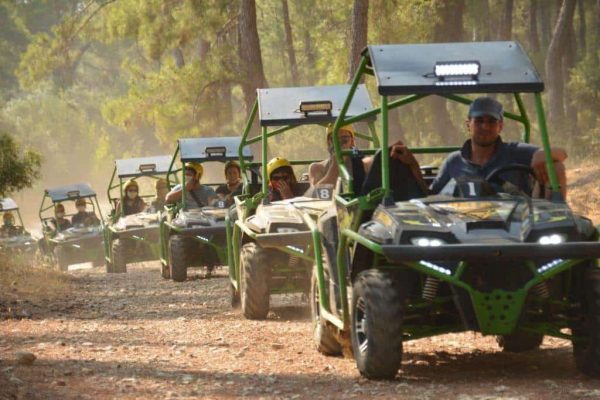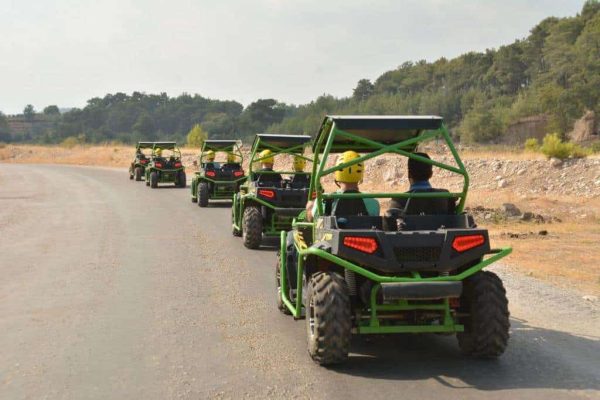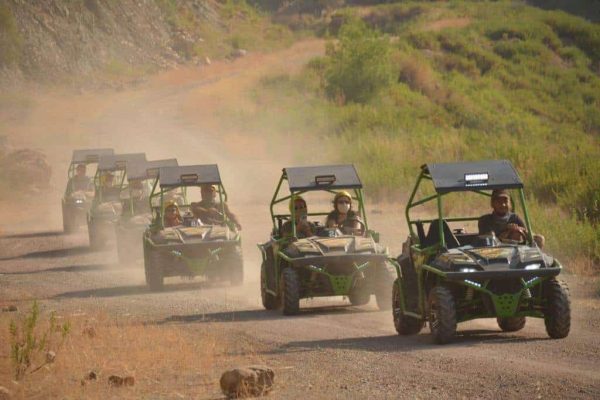 Included

Pickup from hotels
Buggy safari tour duration 1.5 – 2 hours

Not Included

Drinks and personal expenses
Photos and videos
Face mask (protection from dust and dirt)
Buggy safari in Side
Buggy safari in Side is a relatively new type of leisure activity, it is not as extreme as a jeep or quad bike ride, but no less interesting and exciting, and also the safest. If you have already tried paragliding and diving, rafting and horseback riding, buggy safari will seem calm, but closer to nature.

During the Buggy safari in Side you will visit untouched forests and wild groves, mountain slopes and canyons. Climbing to the peaks, you will see sandy beaches and lagoons, bays and islands growing straight from the depths of the sea, giant rocks and green coniferous forests in full view.
On a buggy safari in Side you will have the opportunity to see groves hidden from human eyes, impenetrable thickets, beautiful viewing platforms. You can be alone with nature, breathe in the air filled with the aroma of pine needles, feel the light fresh breeze.
What is a buggy?
Such a type of transport as a buggy is just beginning to become popular, but those who are lucky enough to encounter it have already managed to appreciate its safety and ease of operation. Now many hotels, golf clubs, municipal institutions use buggies as the main mode of transport, because this small light car has high traffic and is ideal for off-road driving.
There are several types of buggies, some of them are used for technical purposes, and some of them are used in professional sports competitions, such as a trophy raid or a rally raid. A feature of the buggy is that they are incredibly durable and stable, and easily overcome difficult tracks, which gives the driver even more confidence, drive and excitement.
Program of Buggy safari in Side
Buggy safari in Side – a short tour, it begins with a transfer on a comfortable bus to a closed area for training. Before the trip, you will go through a detailed briefing, learn how to drive a buggy and get acquainted with the route. You will also have the opportunity to get comfortable behind the wheel and get acquainted with the device of a mini SUV.
After that, you will set off on a journey to conquer mountain peaks and slopes. During the trip, you will make several stops in picturesque places for photos and videos, swimming in a mountain river, communicating with wildlife. At sunset, when you already feel a little tired, you will go to the hotel to share your impressions of the tour.
Buggy safari safety
Safety is the main rule of any excursion, especially the extreme one. All vehicles are subject to mandatory inspection and are in excellent condition. Throughout the trip you are accompanied by a professional instructor who cares about the safety and comfort of the group, and also helps in any non-standard situation.
Before departure, each participant of the tour is instructed about the rules of safety and behavior on the road, and also puts on special protective equipment. Following the simple rules and instructions of the instructor, you will avoid unnecessary stress and anxiety, and get the most out of the buggy safari.
Who can drive a buggy and do I need a driver's license?
The buggy safari route in Side passes through remote routes and off-road, and crossing with other cars is extremely rare, so a driver's license is not required to drive an SUV. However, persons under the age of 17 may only take part in the tour as passengers and under adult supervision.
Buggy safari route in Side
Going on a buggy safari in Side, you will visit the amazingly picturesque surroundings of the city, conquer the peaks of the Taurus Mountains, ride through mountain gorges and canyons. In the forest thickets you will meet waterfalls and clear mountain streams, natural pools with crystal clear water and turbulent rivers.
The coniferous forests of the Mediterranean coast will amaze you with the richness of flora and fauna, as well as the fresh air filled with the tart aroma of juniper and cedar. Far from noisy beaches and tourist places, you can relax, listen to the rustle of the wind and the rustling of leaves under your feet, enjoy the peace and tranquility.
The most active tourists will get a real delight from the drive through the forest thickets and overcoming obstacles in the form of mountain streams and cliffs, thickets and small canyons.
Buggy safari in Side is a unique excursion that combines unity with nature and adrenaline rush, a sense of peace and drive, contemplation of the surrounding world and unbridled delight. This tour will give the most vivid emotions and will be remembered for a long time as one of the most fun and adventurous.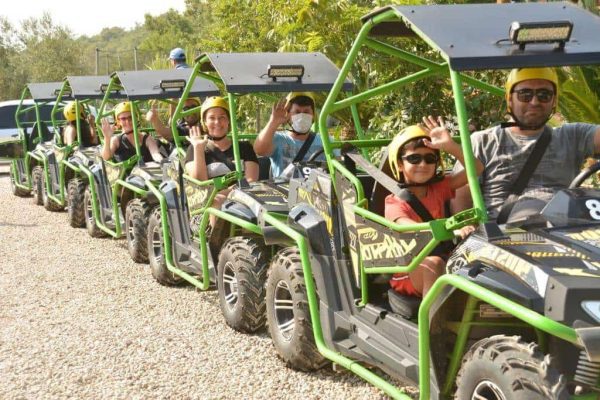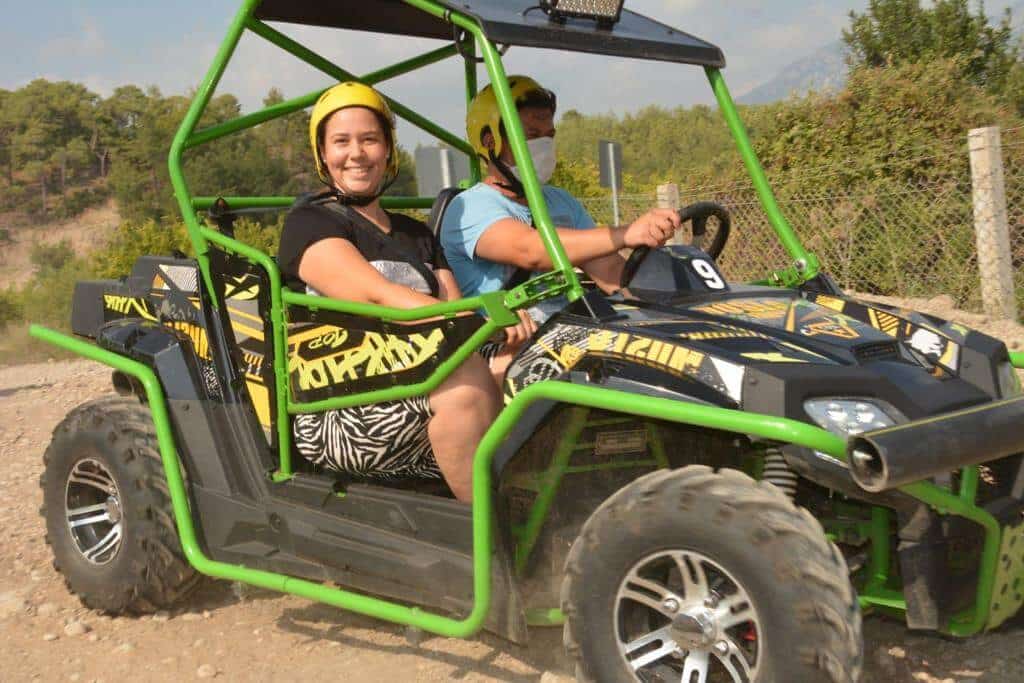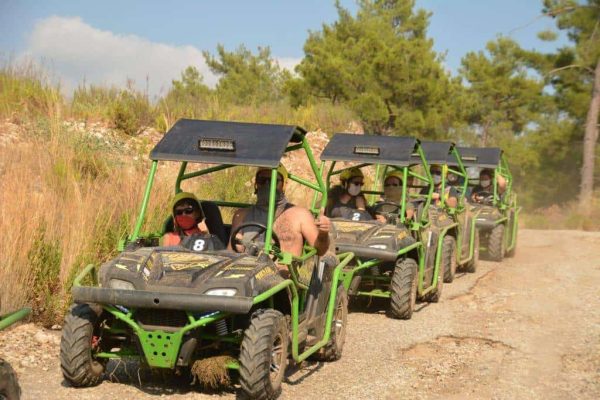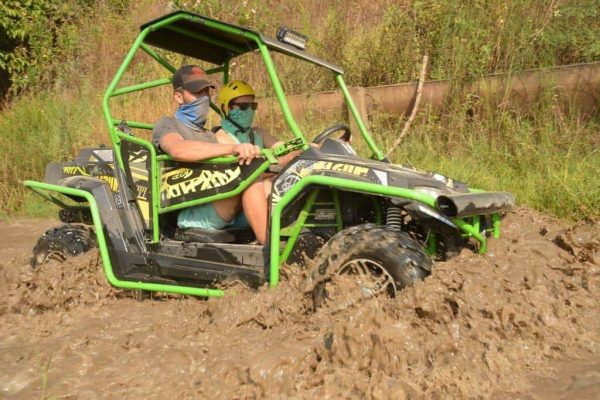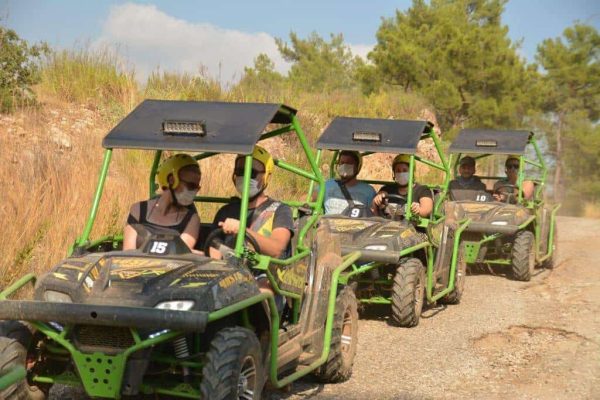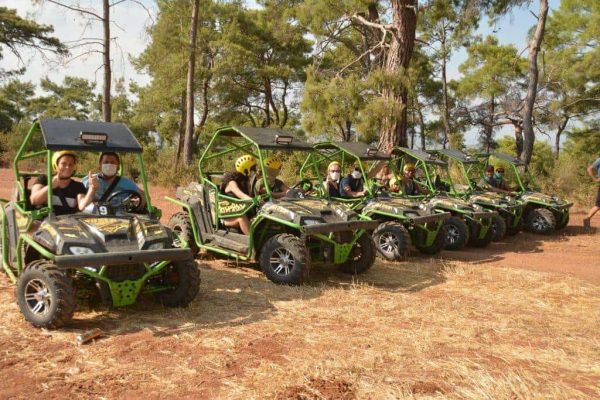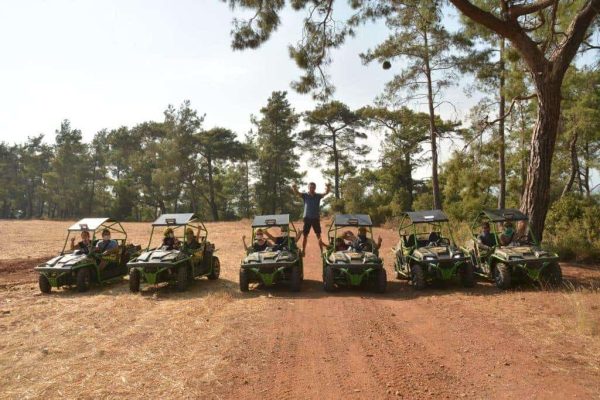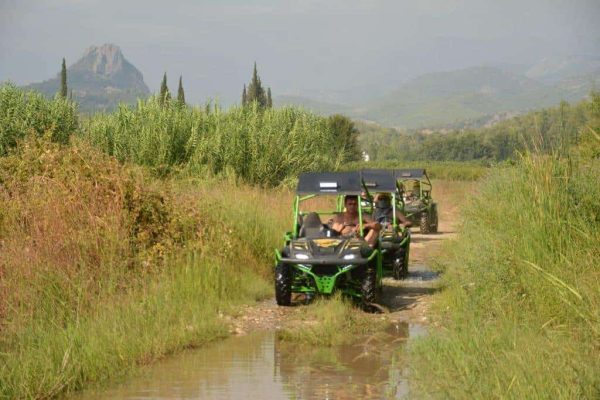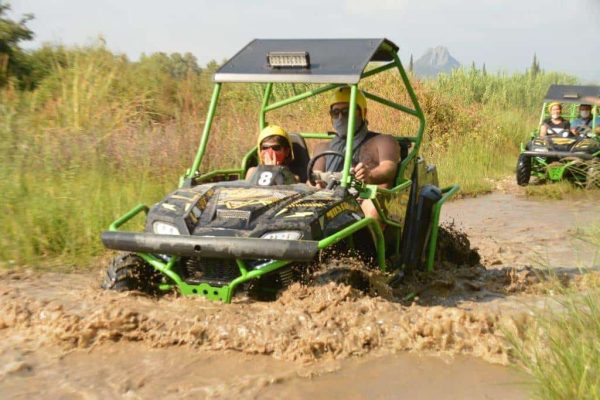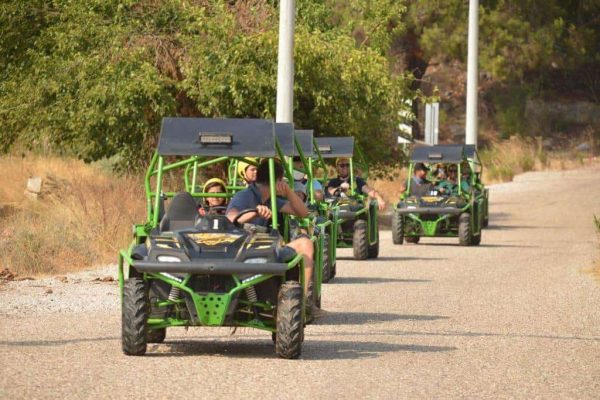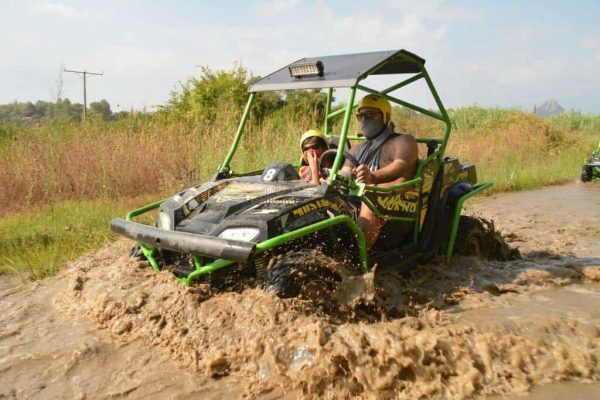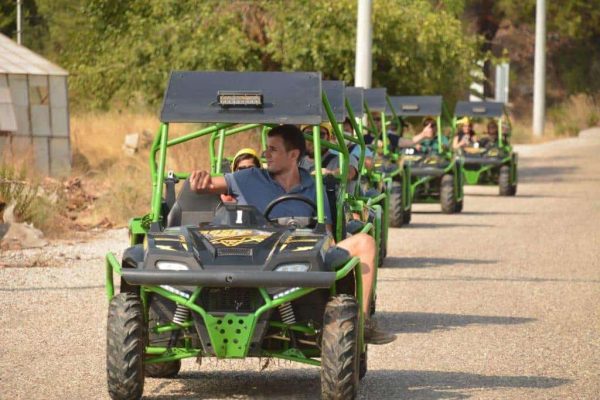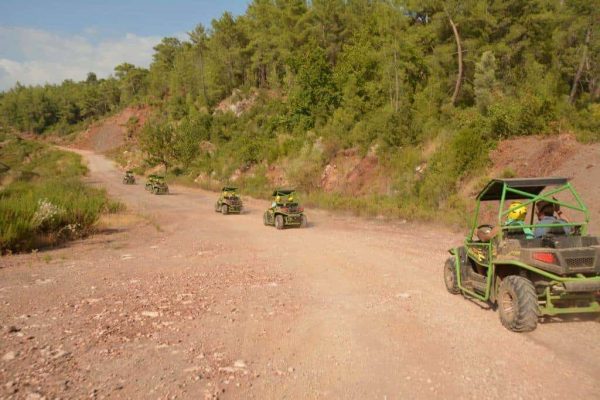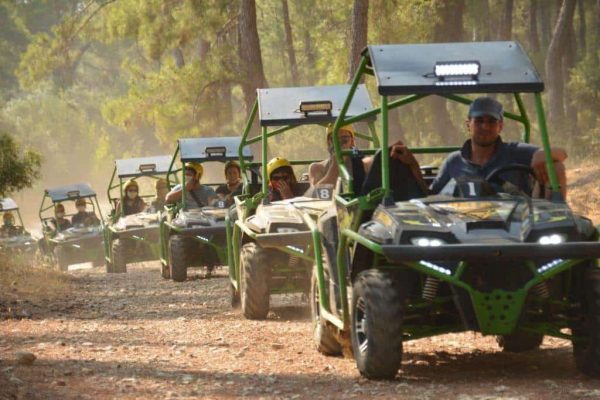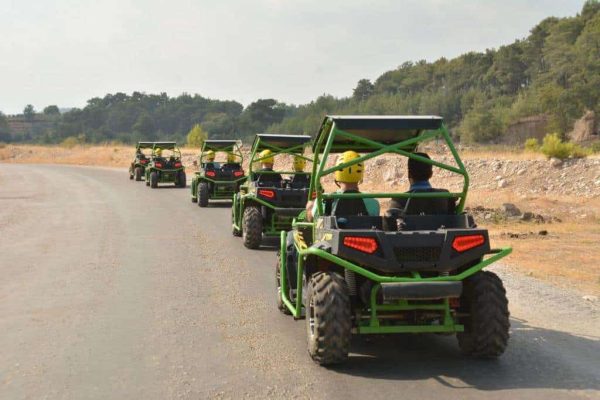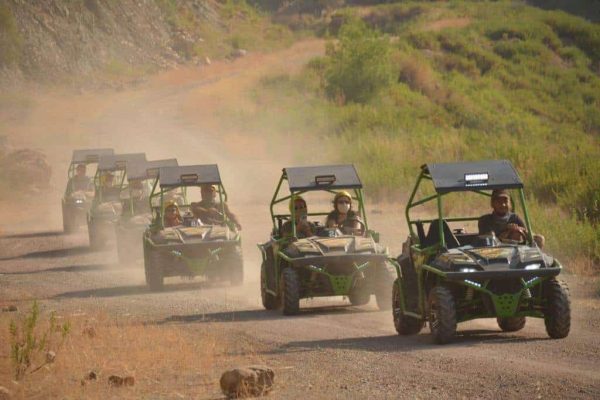 Included

Pickup from hotels
Buggy safari tour duration 1.5 – 2 hours

Not Included

Drinks and personal expenses
Photos and videos
Face mask (protection from dust and dirt)
What to bring?

You can bring a hat, sunscreem and sunglasses.
Drinks.

Similar excursion programs:
FAQ
Buggy Safari in Side for one person 35€.
Transfer from hotels
Buggy safari tour duration   2 hours