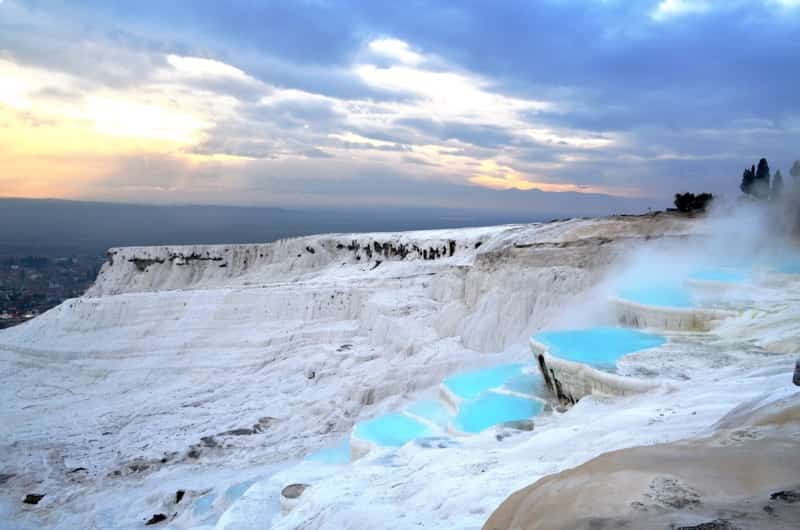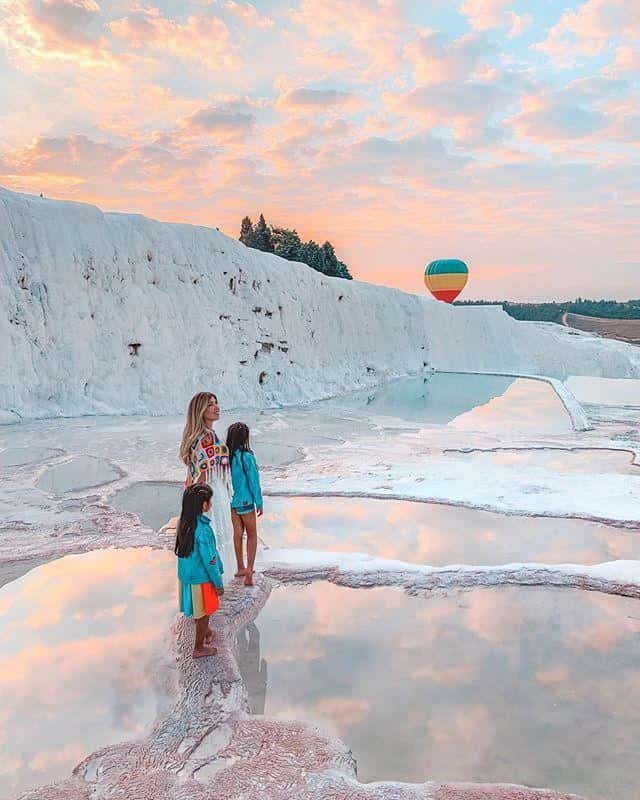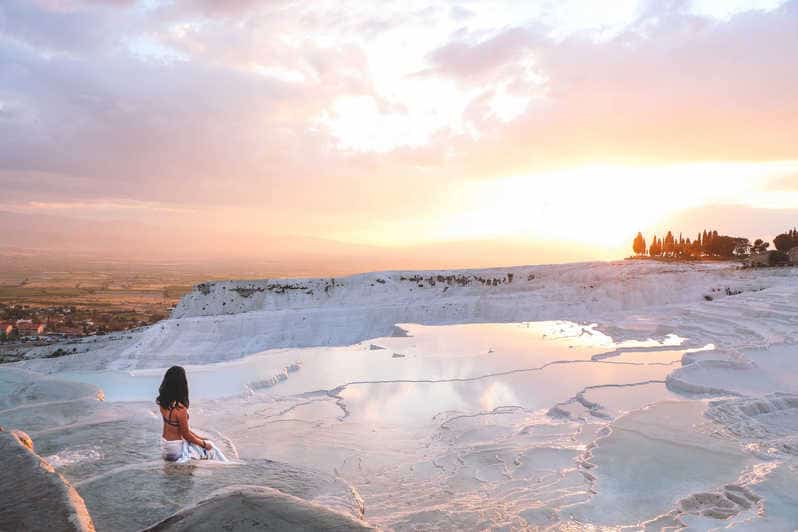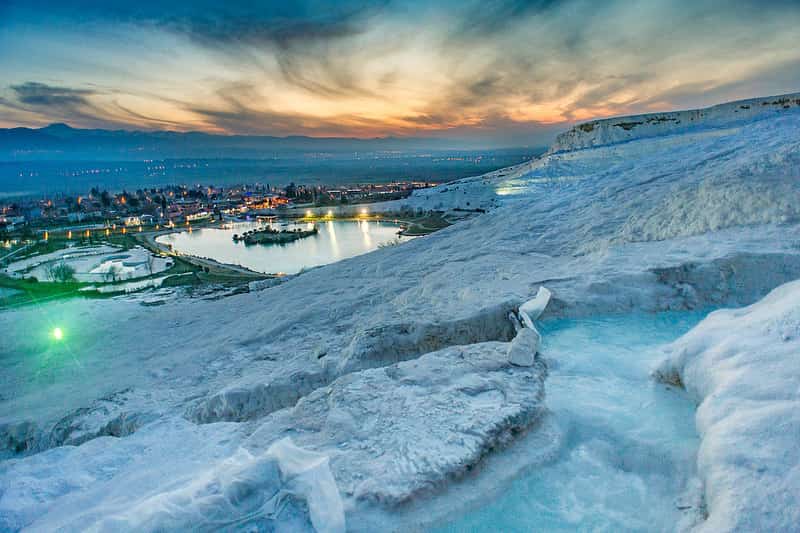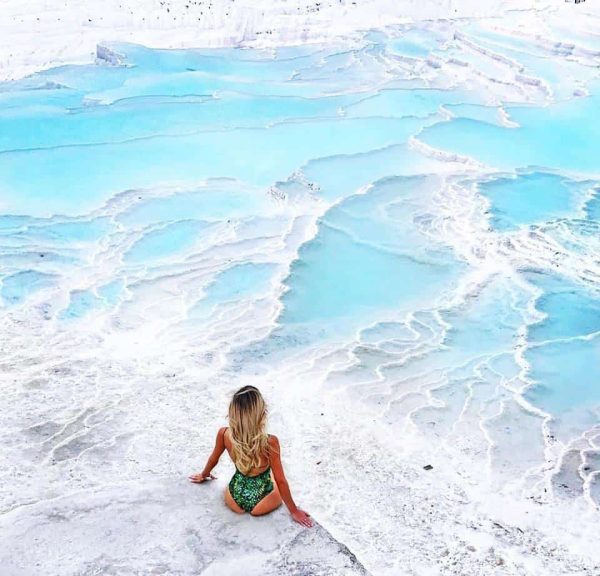 You can discover Pamukkale, one of the preferred destinations for travel lovers, seeking historical and cultural travel, at discounted prices.

During the Pamukkale Tour from Antalya, you can visit snow-white travertines like cotton, get healing with thermal water and mud bath.
If you haven't seen Pamukkale before, which is a natural wonder visited by thousands of tourists every year, now is the perfect time to start your day trip from Antalya.
An excursion to Pamukkale from Antalya is a unique opportunity to enjoy the beauty where nature and history meet to the fullest.
Pamukkale Tour From Antalya and Travertines
The first thing you should see in Pamukkale, the combination of nature and history, are the Pamukkale travertines with their natural beauty and aesthetic appearance.
Admired for their white appearance, travertines first gel when the healing waters come to the surface and the calcium carbonate they contain precipitates, and then it hardens to form white travertines.
The travertines of Pamukkale, formed by earthquakes 400,000 years ago, attract attention for their thermal springs, which have been used as hot springs for over 1,000 years and serve in the same way today.
Inscribed on the UNESCO World Heritage List, Pamukkale is also an important natural resource in terms of iron, sodium, potassium and magnesium. During the tour in Pamukkale, you will be able to take breathtaking photos and see cultural discoveries, which will become one of the most beautiful places for you.
Program of Pamukkale tour from Antalya
The Pamukkale tour from Antalya starts with our transfer bus picking you up from your hotel early in the morning. Since the pickup time varies from hotel to hotel, our staff will inform you of the exact pickup time at the time of booking.
Pamukkale is located at a distance of 240 km from Antalya. We have a short break for breakfast halfway through. After about 4 hours of travel we reach Pamukkale.
Pamukkale is famous not only for its travertines and ancient city. It is also known for its textiles, wine and onyx stone. Therefore, program of  Pamukkale Tour from Antalya  includes a textile workshop, a wine cellar and an onyx stone workshop.
Pamukkale has had very rich agricultural areas since ancient times. Turkey's best quality cotton is grown here.
And there are many textile factories here. Thus, we will visit the largest of these workshops.
We recommend trying Pamukkale wines. These wines are not like those sold in ordinary markets. We stop at a wine cellar to taste wines made from fruits grown in the region.
In wine cellar you can teste different type of wine. What's more, it's free. And also you can buy wines.
After lunch, we will visit the ancient city of Pamukkale with our guide. Your guide will tell you the history of Pamukkale and show you its most important sites such as the Roman amphitheater, travertines, Cleopatra's pool, museum.
You will also find the opportunity to swim in the ancient swimming pool. However, the fee for the ancient pool is additional.
Returning Back To Hotel
After swimming in the ancient pool, our time in Pamukkale comes to an end. And meet at the parking lot to return to the hotels.
You arrive at the hotel around 8-10 pm. The guide has the right to make changes to the tour program if necessary.
Excursion to Pamukkale from Antalya is one of the irreplaceable tourist routes. We are sure that you will be satisfied.
If you are dreaming of a wonderful vacation where you can enjoy the beauty of nature, visit and see ancient cities and historical buildings, as well as organize an economical vacation, then the tour to Pamukkale from Antalya meets your requirements.
What to bring?

You can bring a hat, sunscreen and sunglasses
Also swimwear in case you swim in an antique pool
Drinks

Similar excursion programs:
What places will you see
Hiearapolis
Pamukkale
Travertines
Cleopatra's pool
FAQ
How many days to spend in Pamukkale, Turkey? One full day should be enough to see all that Pamukkale has to offer.
The cheapest way to get to Pamukkale from Antalya is to join a group tour that costs 30€.
Pamukkale is undoubtedly one of the most impressive natural landscapes in the world and one of the most popular tourist destinations in Turkey, attracting over 2 million visitors every year.
Winter in Pamukkale is quite cold, the temperature drops to 5 degrees Celsius. It may even rain, but the weather can be quite unpredictable, so every 9-10 days there will be intermittent rain. So it's really better to bring warm clothes with you.
Excursion to Pamukkale from Antalya for one person $28.
Cleopatra's pool is located in Denizli.
Of course, you can go to Pamukkale from Antalya. You can go to Pamukkale on your own or the easiest way is to join an excursion in  from Antalya.