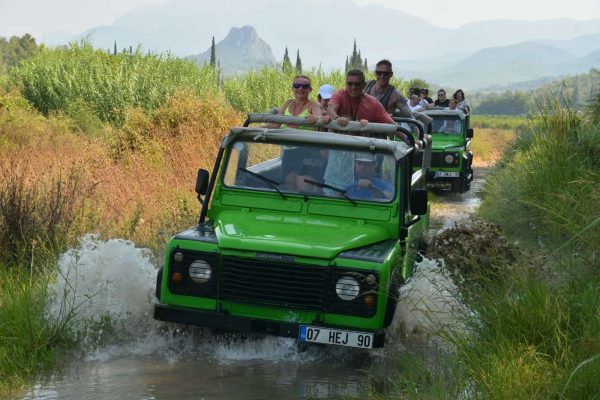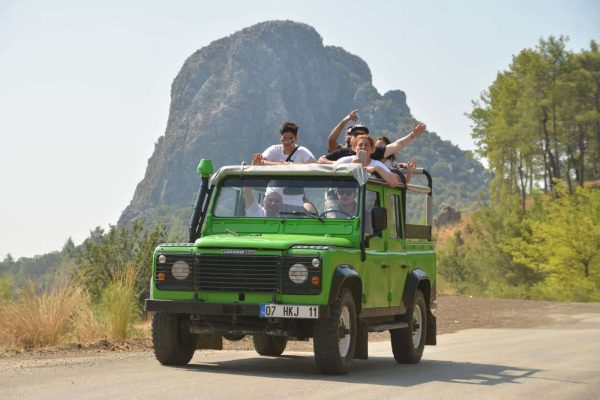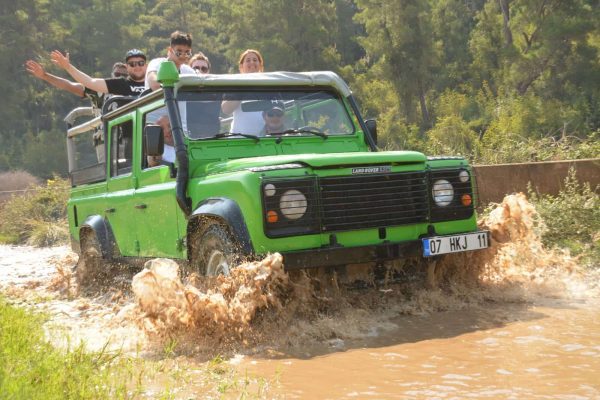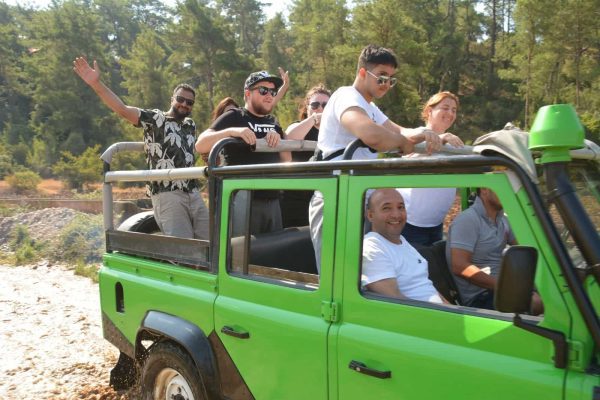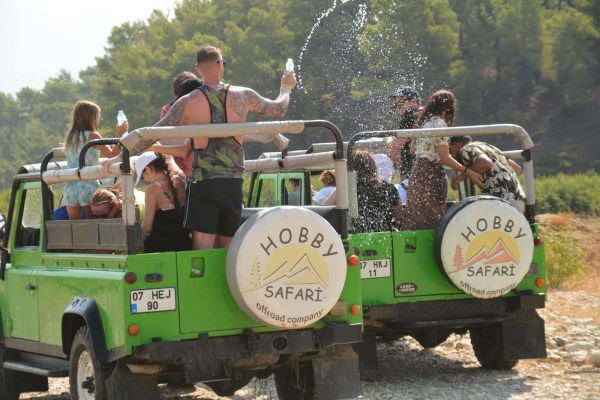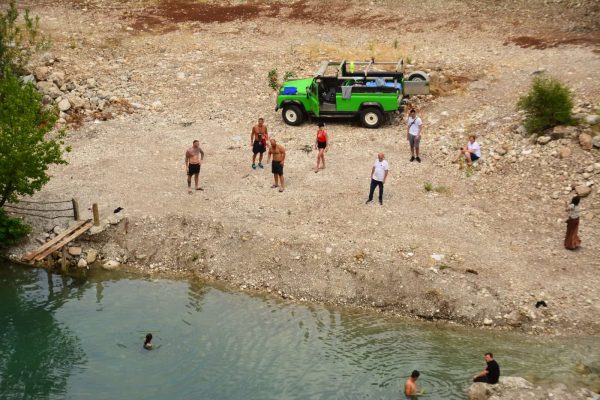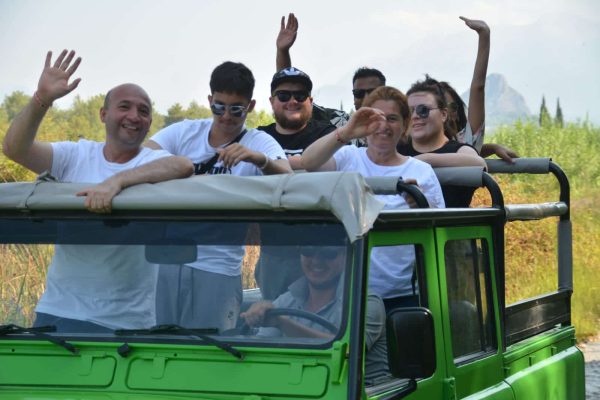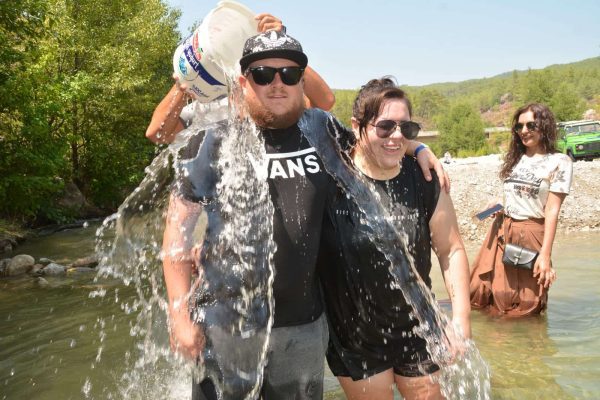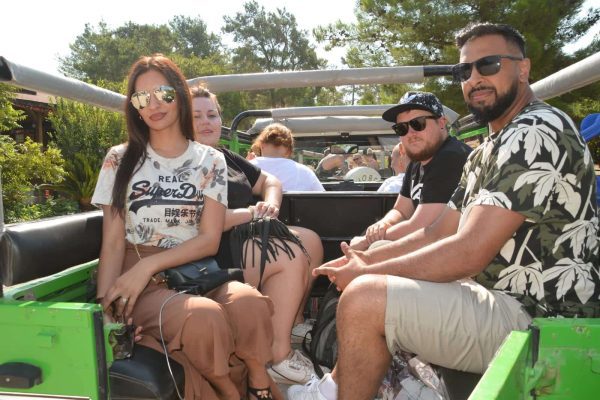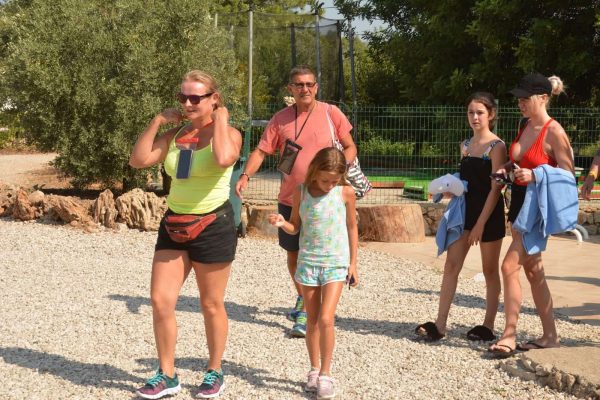 Included

Hotel pickup and drop off
Jeep safari
Full insurance
Free guide

Not Included

Drinks
Personal expenses
Souvenir photos (available for purchase)
Jeep safari in Bodrum is a unique combination of extreme sports and outdoor activities with the contemplation of nature, it is not surprising that this tour is very popular. Off-road SUV travel is one of the safest and fastest ways to get to know the incredible nature of the Aegean coast, because over a distance of 130 kilometers you will pass fishing villages and farms, conquer steep serpentines and impenetrable forests, see peaceful rural landscapes and turbulent streams mountain rivers.

The "Jeep Safari in Bodrum" tour will take you to authentic settlements and forest clearings hidden from prying eyes, introduce you to the rich flora and fauna, and allow you to look at the life and customs of the local population. You can go on an adventure both alone and accompanied by family or friends, because everyone will find something to their liking.
Overcoming obstacles in the form of mountain streams, steep turns and forest thickets, water battles, swimming in a cool mountain river, an exciting walk along the streets of an underground city – not all that one should expect from a jeep safari in Bodrum.
Program of Jeep safari in Bodrum
The route of the jeep safari tour in Bodrum has a length of more than 130 km, thanks to the high off-road capability of the off-road vehicle, you can easily overcome obstacles in the form of bumps and cliffs, impenetrable forest thickets and turbulent mountain streams. Climbing steep serpentines, you will see a panorama of cities and valleys, coastlines and blue lagoons in all its glory.
The road is laid through very contrasting landscapes – past authentic villages and fruit plantations, juniper groves and pine forests, mountain rivers and picturesque waterfalls. Overcoming distances and moving further from the coast, you can see hidden corners of nature inaccessible to tourists, secret forest glades and mountain rivers hidden from prying eyes, canyons and gorges, caves and bays.
In one of the picturesque villages you will get acquainted with the life and customs of the local population and visit the carpet production center known throughout Turkey, and near the Mazyköy settlement you will explore the underground city, go down into the caves and pass through the ancient streets and secret tunnels. In a cozy rural restaurant you will taste national cuisine and in your free time you can sunbathe on the beach and swim in the emerald waters of the picturesque lagoon.
Coast wildlife
The dense forests surrounding the Aegean coast are home to over 5,000 species of animals and birds. On the way of the jeep safari in Bodrum, you are likely to meet foxes and squirrels, hares and martens, porcupines and hedgehogs. If you are lucky, you will be able to see lynxes, wild boars or deer, as there are many of them in this area, and they are not at all afraid of people.
Marshy lands and river banks overgrown with reeds became a haven for pheasants and herons, ducks and pelicans, quails and guinea fowls. On the forest paths, the trills of nightingales and thrushes, the singing of jays and goldfinches, and soaring eagles and falcons can be seen above the mountain valleys.
The flora of the Aegean coast is no less rich, the main pride of these places are perennial coniferous forests, where red pines and spruces, Lebanese cedars and cypresses grow. On the mountain plateaus, located at an altitude of 600-800 meters above sea level, there are olive and laurel, almond and pistachio groves, there are also many strawberry trees, wild plums, myrtle and oleander in the mountains.
Driving along the jeep safari route in Bodrum, you can stop at forest glades and in river valleys, listen to the rustle of leaves and birdsong, breathe clean air filled with the aromas of fir and juniper, admire the corners of nature untouched by civilization.
Center for the production of famous Turkish carpets
In one of the oldest villages, the center of carpets, famous throughout Turkey, is located. They are made from silk or wool, and sometimes it takes several months to produce one handmade product.
The price of such masterpieces is quite high, but, despite this, suppliers from all over the country rush here to buy high-quality carpets made from natural materials, each of which has a unique design and its own history. In the workshop, you will have the opportunity to observe the work of the masters, get to know the customs and life of the Turkish people.
Mazıkoy village
The small village of Mazıköy is known not only for its picturesque bay with crystal clear waters and picturesque surroundings, but also for its underground settlement founded over 3,000 years ago. Going down the tunnels and stairs, you can see arches and bas-reliefs, gates and cave churches.
Surprisingly, the city was fully equipped with a ventilation system, warehouses and utility rooms, and secret tunnels had outlets in various parts of the settlement.
Jeep safari in Bodrum is a rare chance to stop the moment and enjoy the beauty of pristine nature, recharge with vigor and energy, get a dose of adrenaline from an extreme off-road trip, open the veil of secrets of ancient underground cities and get to know the hospitable Turkish lands a little better.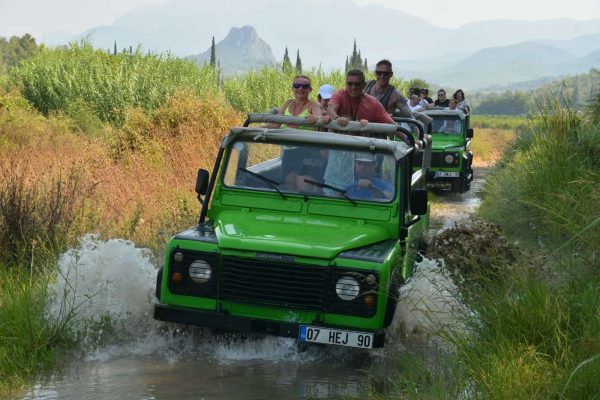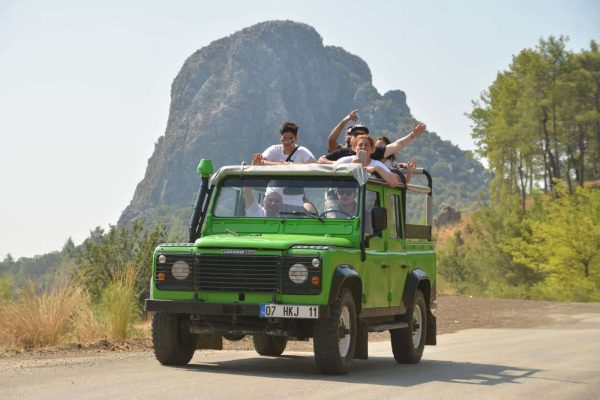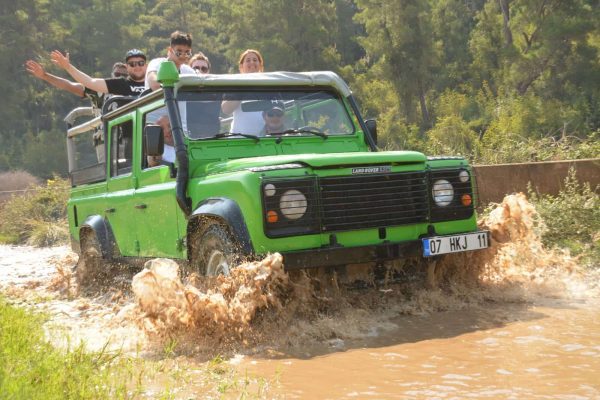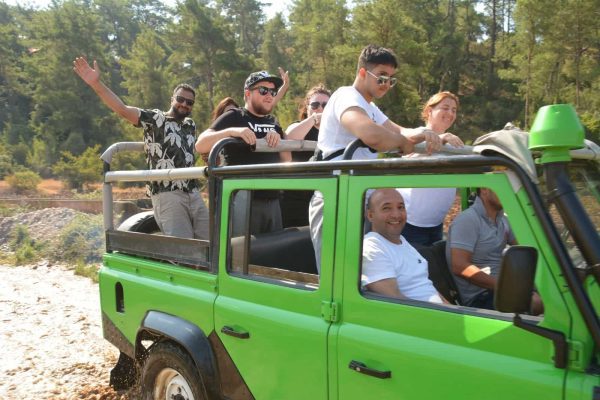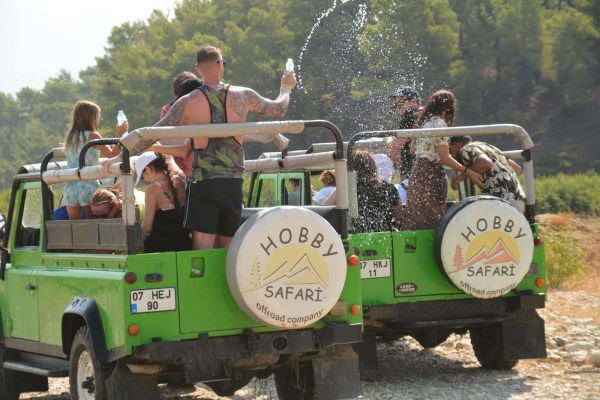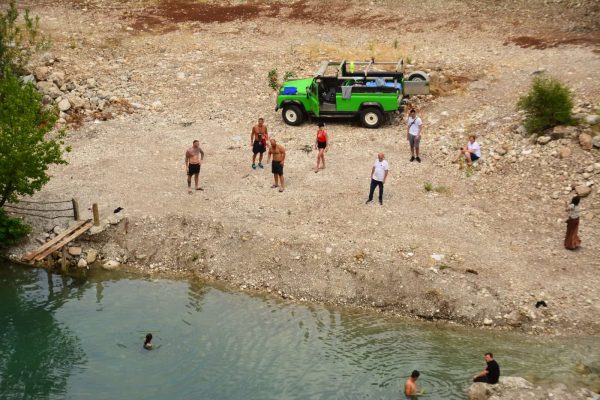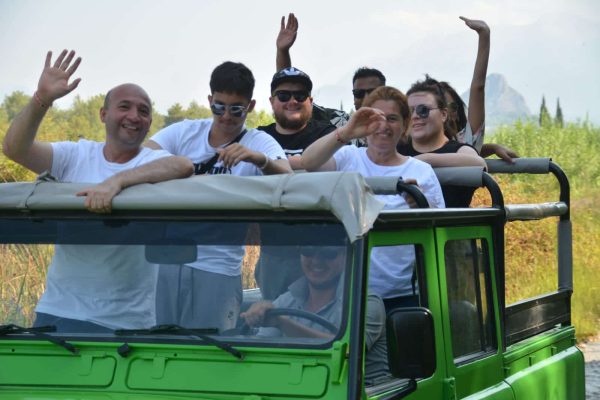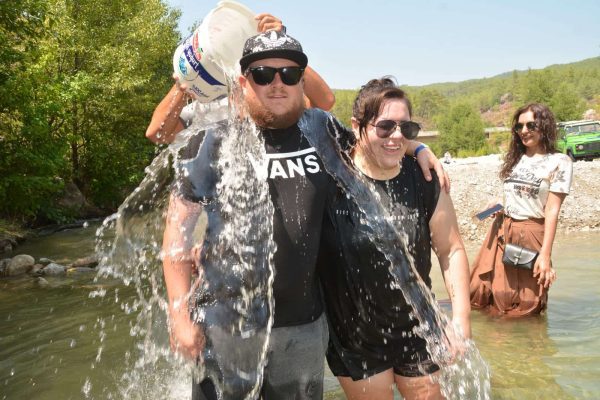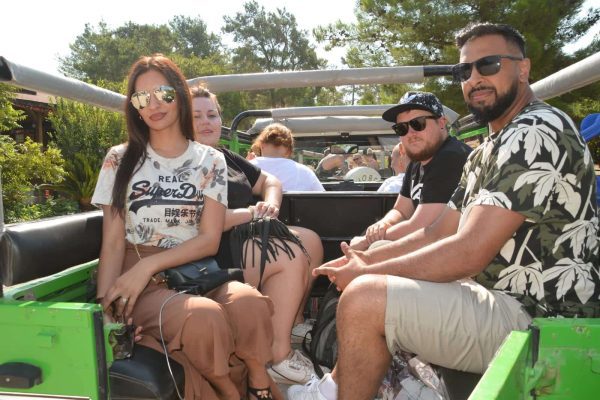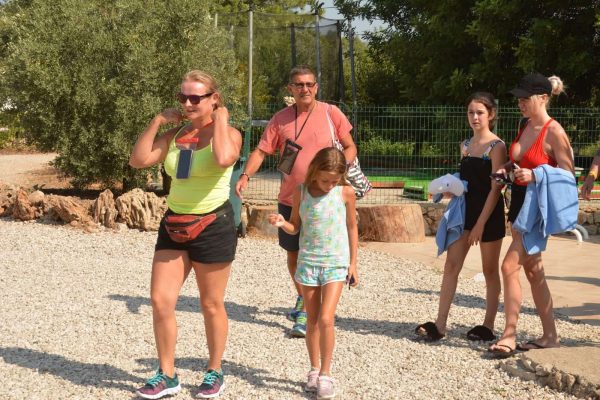 Included

Hotel pickup and drop off
Jeep safari
Full insurance
Free guide

Not Included

Drinks
Personal expenses
Souvenir photos (available for purchase)
What to bring?

Bring your hat, sunscreem and sunglasses, swimwear.

Similar excursion programs:

[at icon icon="td-link"] Bodrum Buggy Safari
[at icon icon="td-link"] Bodrum Quad Bike Safari
FAQ
Jeep safari in Bodrum for one person 40€.
Hotel transfer
Admission ticket
Full insurance
Free guide