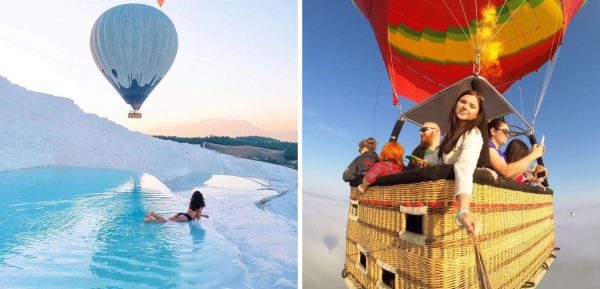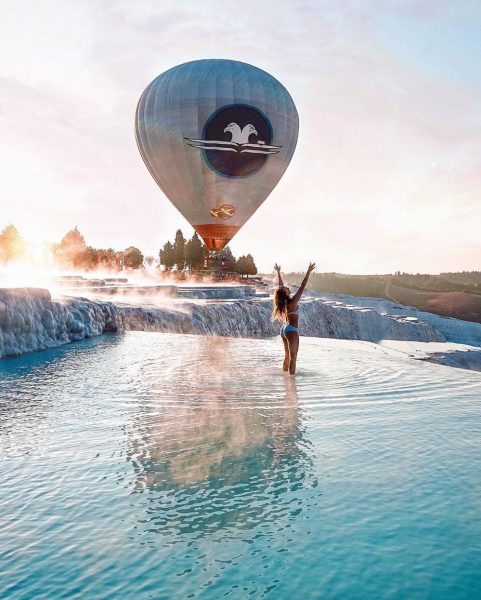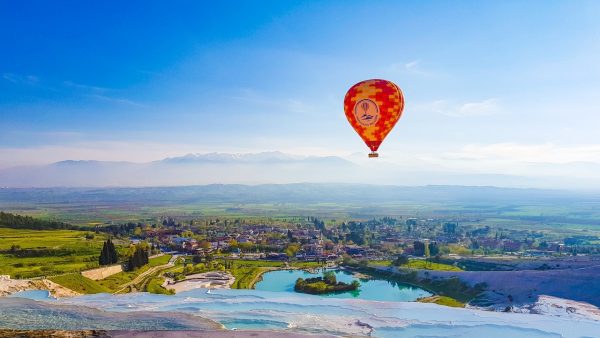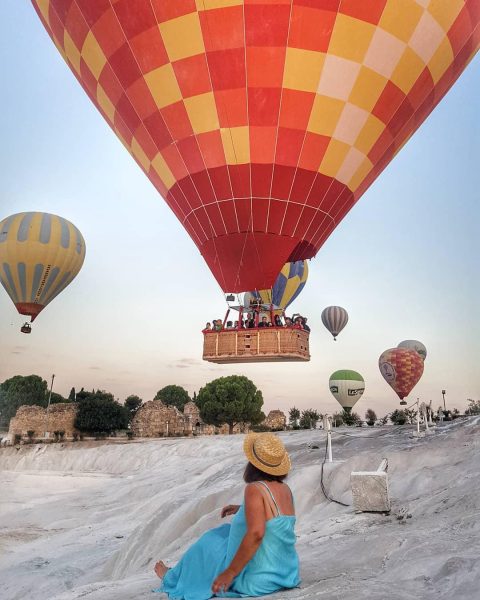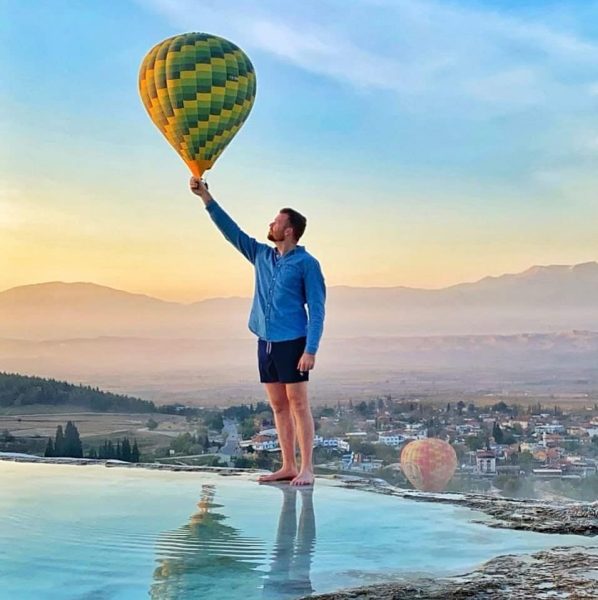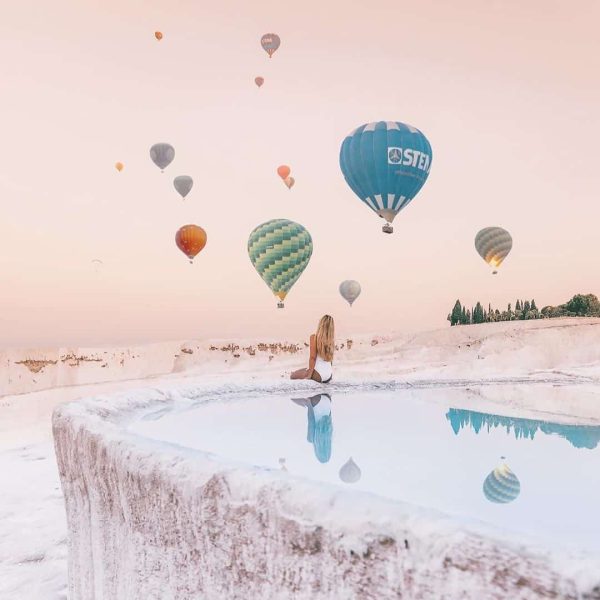 Included

Hot air balloon ride
Insurance
Hot air balloon certificate
Champagne after the flight
Breakfast

Not Included

Personal expenses
Photos and videos
Transfer from the resort where you are staying.
Bodrum is the pearl of the Aegean coast and one of the most popular resorts in Turkey, vacation in this center of tourism and entertainment can never get bored, however, if you lack emotions, if you want to try something new or realize an old dream, Bodrum Hot Air Balloon Tour is what you need.

The lucky ones who have already done paragliding or skydiving unanimously claim that the feeling of flying cannot be described in words or compared with something, the feeling of lightness and freedom, pleasant dizziness and delight do not leave even after landing, and the panoramas of valleys and cities still stay in front of your eyes for a long time.
When planning your first flight, it is important not only to choose a comfortable and safe means, but also the most picturesque place in order to get the maximum pleasure from an exciting adventure. Bodrum Hot Air Balloon Tour is the best for both beginners and experienced travelers, as it takes place in one of the most beautiful locations in Turkey – the Pamukkale Open Air Museum.
Program of Bodrum Hot Air Balloon Tour
The best time for hot air ballooning is dawn, when nature wakes up and the sun's rays flood the valleys with soft light. For this unforgettable spectacle, it is worth sacrificing sleep and going on a trip in the very early morning. The distance from Bodrum to Pamukkale is 270 kilometers, so before the flight you can sleep in a comfortable bus or view the surrounding landscapes from the window, replacing each other with incredible speed.
Arriving at the take-off site, an experienced instructor will tell you about the safety rules, the device of the aircraft and the route, as well as the specifics of take-off and landing. It should be noted that the air temperature at altitude is much lower, so it is recommended to stock up on warm clothes.
The flight will last about an hour, and it will be the most unforgettable time in your life, every breath of the wind, every angle and panorama of the snow-white valley will make an indelible impression on you. From a height of 1000 km. You can see the ruins of the ancient city of Hierapolis, the luxurious pools of Cleopatra, snow-white travertines, panoramas of endless valleys and slopes covered with cedar forests.
Upon landing, you will receive a certificate stating that you have successfully completed a balloon flight and celebrate this bright event with a glass of champagne. On the way back to Bodrum, you can enjoy the picturesque views, stop at the most beautiful viewing platforms, review the photos again and share your impressions of an unforgettable adventure.
Bodrum Hot Air Balloon Tourt at sunrise
Bodrum Hot Air Balloon Tour takes place at dawn for several reasons, firstly, at this time there is still no flow of tourists, and you can fully enjoy the panoramas of pristine nature. Secondly, at sunrise, the first rays flood the valley and snow-white travertines play with all the colors of the rainbow, and the mountain slopes and cedar groves acquire rich colorful hues.
And, finally, nothing can compare with the feeling when the balloon rises into the air at the same time as the sun, a feeling of lightness and freedom, delight and unity with nature overwhelms at such moments. Taking a photo and video camera with you, you can capture the endless valleys, slopes immersed in greenery, dense cedar forests.
A 200-meter hill with ponds on small plateaus will appear at a glance, and will no longer seem so huge, and the ruins of the ancient city will seem like a toy model. At the heights, there are more opportunities to explore the ancient amphitheater, the Necropolis, gates and arches, market squares and ancient baths.
Surrounded by flowering gardens and coniferous groves, Cleopatra's pool will delight you with the purest emerald water, in which fragments of columns and statues are clearly visible even from a kilometer height. Not only beautiful views will remain in your memory for a long time, but also the incomparable feeling of flying – peace and tranquility, lightness and freedom, dizziness from the fresh air and the sight of passing clouds that you can touch.
Take part in Bodrum Hot Air Balloon Tour, you will love Turkey with all your heart with its rich nature and centuries-old history, majestic monuments of ancient architecture and freedom-loving hospitable people.
Sights of Pamukkale from a bird's eye view
It is not for nothing that the Bodrum Hot Air Balloon Tour takes place in Pamukkale, this open-air museum is one of the most popular tourist destinations in the country and is a UNESCO World Heritage Site. A snow-white hill covered with calcium deposits and surrounded by 17 geothermal springs during the time of the ancient Romans became a popular health resort and one of the first spa resorts of the ancient empire was built in its vicinity.
The ruins of the city have survived to this day, and amaze with their large-scale buildings, so in Hierapolis there is the largest Necropolis in the territory of modern Turkey, accommodating 10,000 spectators of the amphitheater tr, market squares and temples.
No less popular among tourists are the legendary Cleopatra pools, which, thanks to their healing mineral waters and beautiful surrounding views of flowering gardens and green slopes, attract hundreds of thousands of travelers.
Bodrum Hot Air Balloon Tour is a unique experience that gives indescribable sensations and unforgettable impressions, remains forever in the heart and memory.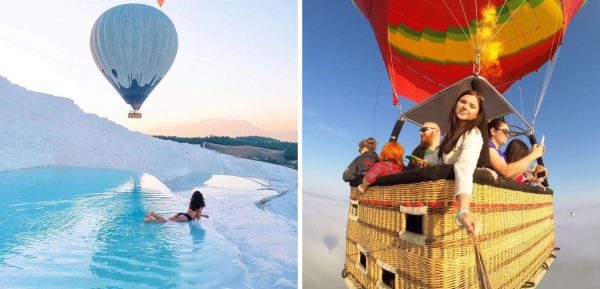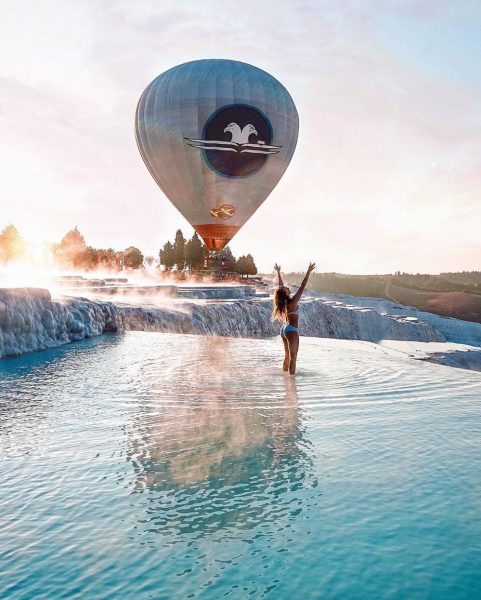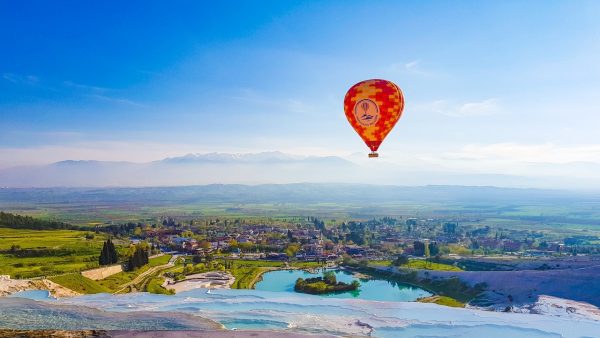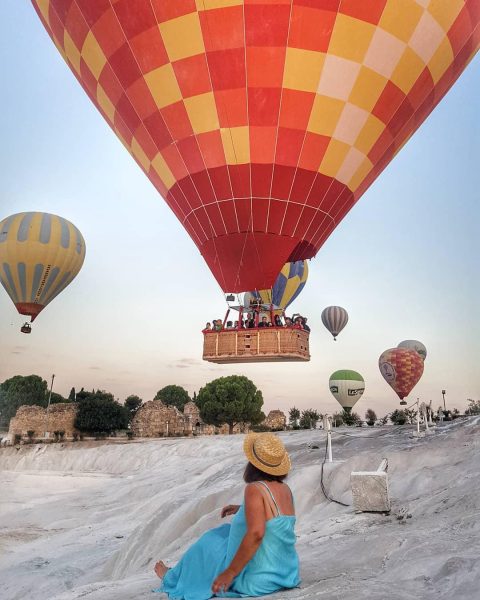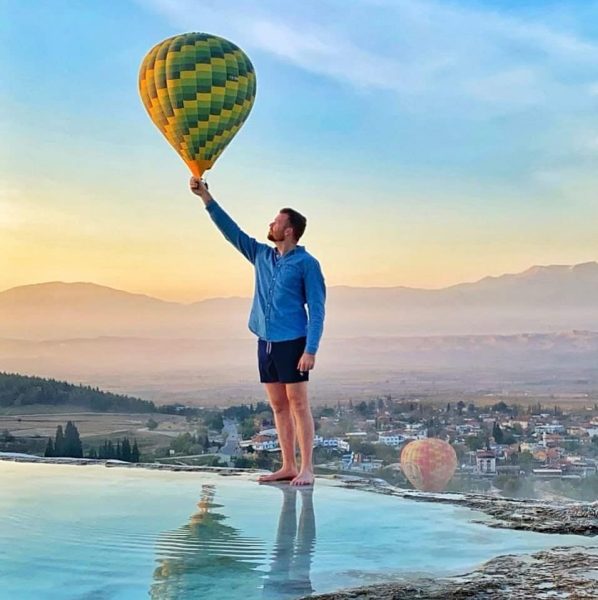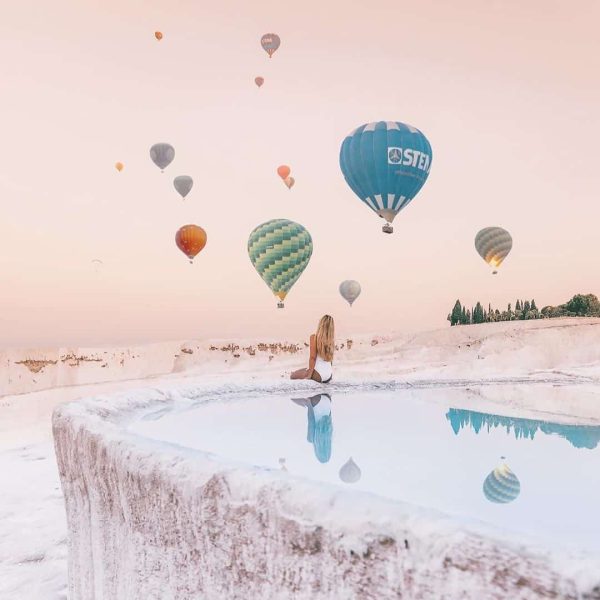 Included

Hot air balloon ride
Insurance
Hot air balloon certificate
Champagne after the flight
Breakfast

Not Included

Personal expenses
Photos and videos
Transfer from the resort where you are staying.
What to bring?

Money for personal expenses
Warm clothes
Sunglasses
Suncream
Hat

Similar excursion programs:

Pamukkale Tour from Bodrum
Diving in Bodrum
Paragliding in Fethiye from Bodrum
FAQ
Bodrum Hot Air Balloon Tour costs per person 130€.
Hot air balloon flight
Insurance
Hot air balloon flight certificate
Champagne after the flight
Breakfast