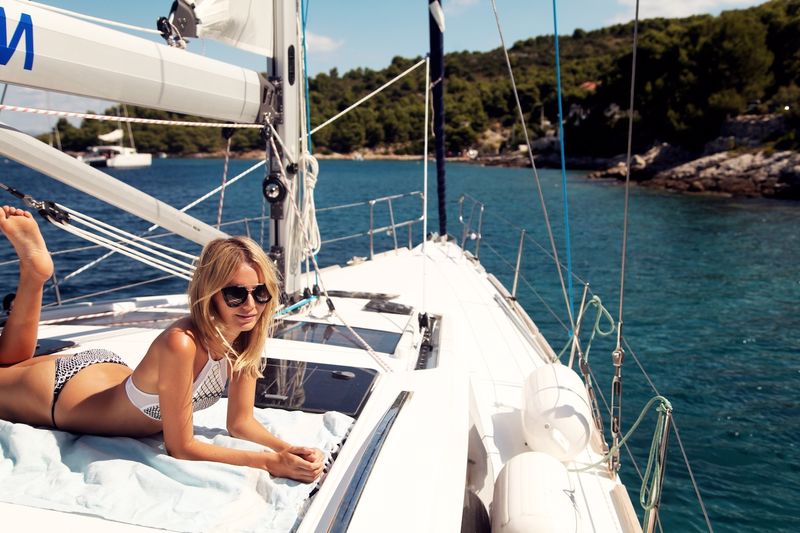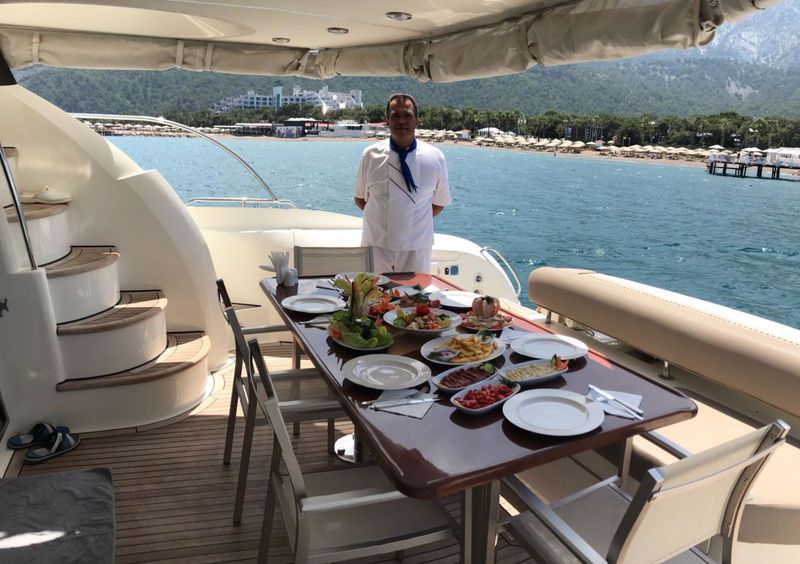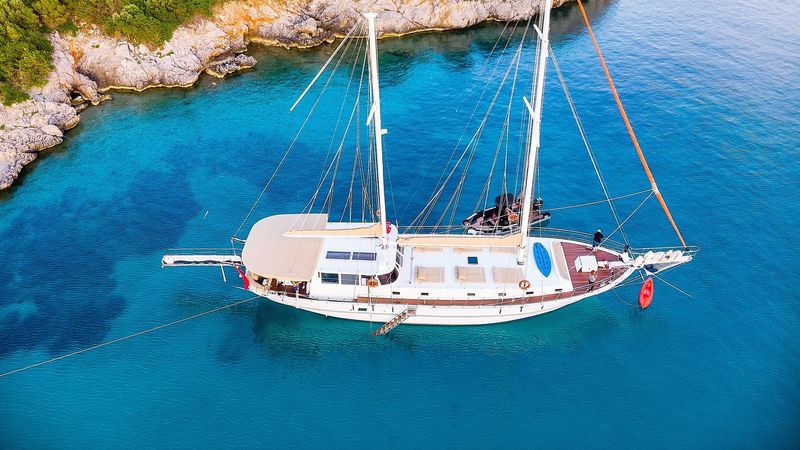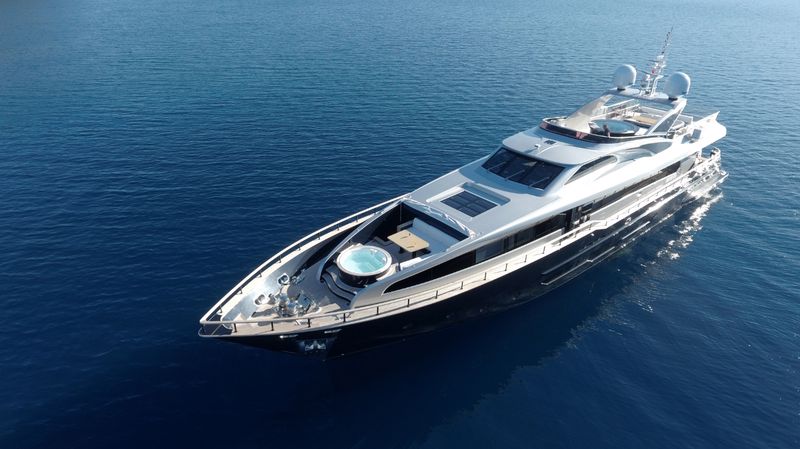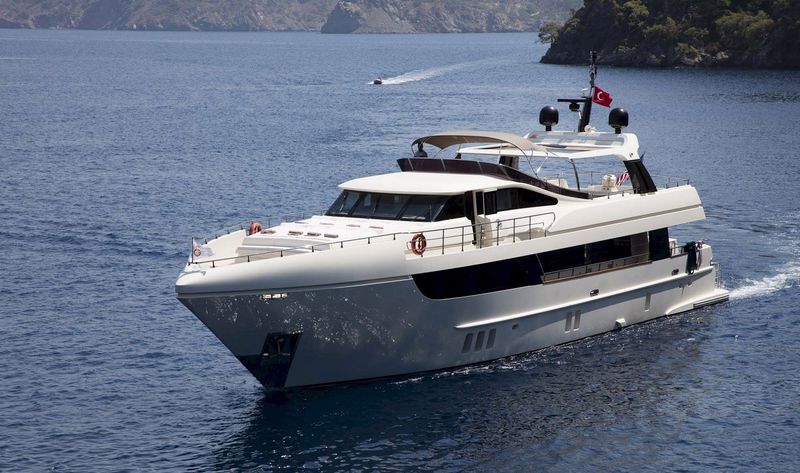 Included

Transfer
Lunch (drinks extra)
Private Yacht Trip

Not Included
Resting on the coast of the Aegean Sea, you cannot even imagine what new horizons a yacht charter in Marmaris can open for you, how many emotions and impressions a boat trip along picturesque bays and blue lagoons can give.

After spending a day on the open sea, stopping in beautiful bays and uninhabited islands, you will forget about all the problems and worries, you can enjoy peace and tranquility, fresh breeze and incredible views. Everyone probably dreamed of sailing the sea on board a snow-white yacht, swimming in the open sea, watching dolphins and admiring the slopes immersed in greenery and high sheer cliffs.
By renting a yacht in Marmaris, you can make this wish come true and feel like a brave captain and conqueror of the elements, a pioneer and an avid traveler. Nothing will stop you from exploring the lost bays and sea caves, basking in the sun and jumping from the ship into the sea abyss, go ashore and wander along the snow-white beaches and fragrant coniferous forests.
Excursion program – Yacht charter in Marmaris
Yacht charter in Marmaris has a lot of advantages, first of all, it is privacy and freedom. You yourself choose the appropriate route and can make stops in any places you like, you also determine the duration of the trip yourself – it can be a walk for several hours or days.
On board a private vessel, you can arrange a romantic dinner or a family weekend, go on a multi-day tour of the seas, or spend a full vacation on a yacht. On the high seas, you can arrange a fun party with disco and music, celebrate any event or turn an ordinary day into a holiday.
There are boats specially equipped for sea fishing, and allow you to accurately identify fishing spots, and there are pleasure boats with a transparent bottom.
The port has small ultra-modern yachts with spacious cabins and lounge areas, as well as multi-deck ships for large companies. You are free to decide how, when and with whom to spend time on the high seas, what to do and how to diversify your vacation.
Romantic day on a private yacht
Nothing can be more romantic and memorable than a dinner on the high seas, a relaxing holiday surrounded by waves and blue lagoons, a day spent with your soulmate in complete idyll and harmony.
By renting a yacht in Marmaris, you will not only surprise your partner, but also make an indelible impression and become famous as an incorrigible romantic.
On board the ship you can meet the sunrise, admire the incredible sunset, have a picnic or morning tea. The captain of the ship will be happy to help you realize your ideas, show you the most picturesque places and blue lagoons hidden from prying eyes.
Vacation on board a floating hotel
Holidays on board a floating hotel are no longer unusual, nowadays travelers are increasingly leaning in favor of secluded corners of nature rather than noisy hotel complexes.
Yacht charter in Marmaris is a great option for those who want to escape from civilization and spend a few days in an atmosphere of relaxation and tranquility, away from the bustle of the city, enjoy the pristine nature, gentle sun and fresh sea air.
For such purposes, yachts with one or more cabins are suitable, equipped with everything necessary for a comfortable stay – air conditioners and TVs, comfortable sun loungers and umbrellas, bars and lounge areas.
Bright holidays and private parties on yachts
The variety of modern yachts is amazing and satisfies the needs of the most sophisticated travelers. A rich selection of boats and ships allows you to play out your fantasies and realize any even the most daring idea.
A children's birthday and a corporate event, a business meeting and a wedding ceremony, a yoga class and an anniversary on board the yacht will be exciting and unusual, and, of course, will impress all guests.
The magnificent scenery of Marmaris
Marmaris is the pearl of the Aegean Sea and a popular tourism center, which has been chosen by European travelers for many years. The surroundings of the city are azure bays lost in a winding coastline, sea caves and small islands, green slopes and mountains high to heaven.
By renting a yacht in Marmaris, you can travel along the coast and visit the most picturesque lagoons in one day. Surrounded by perennial pine forests, the bays of Turunc, Selime and Akyaka will amaze you with the views of pristine nature and the purest air filled with aromas of pine needles.
In the cozy bays of Bozburun, Hisaronu and Icmeler, you can hide from the hustle and bustle and observe the measured life of the local population. In Kumlubuk Bay, lovers of historical monuments can go ashore and wander through the ruins of the ancient Greek city of Amos.
Travel safety and comfort
Safety is the main principle of any sea voyage, each trip to the sea is a thorough preparation and painstaking work of a professional team.
Not only underwater currents and the specifics of the seabed are investigated, but also weather conditions, the probability of precipitation and wind direction are calculated, so that nothing can overshadow your vacation on a yacht on the high seas during your trip.
Spending a day surrounded by the endless sea, among the waves and green shores, lost bays and blue lagoons is the dream of every traveler, so while relaxing in Marmaris, you can't help but take the opportunity to sail along the picturesque coast on board a snow-white yacht.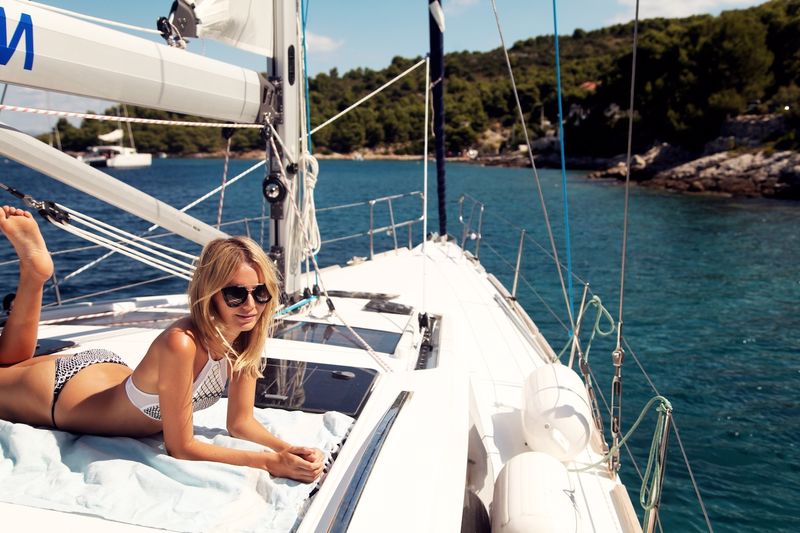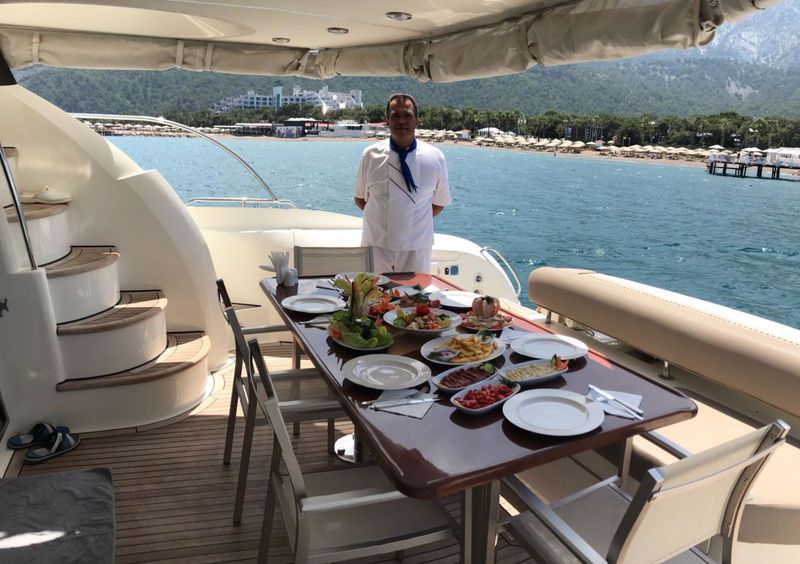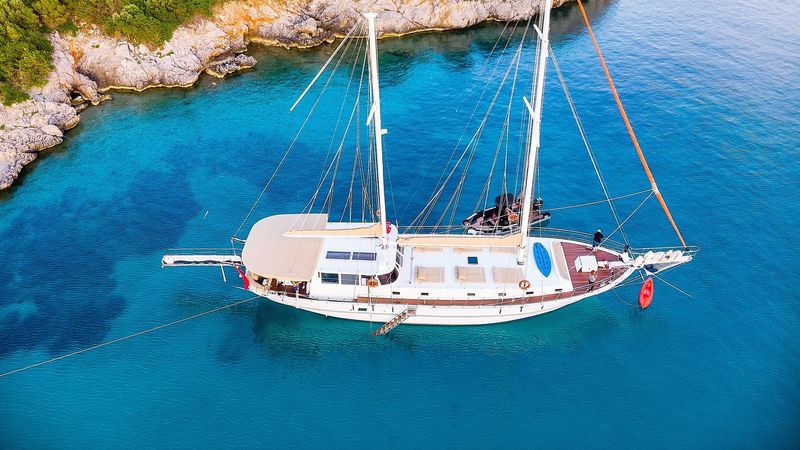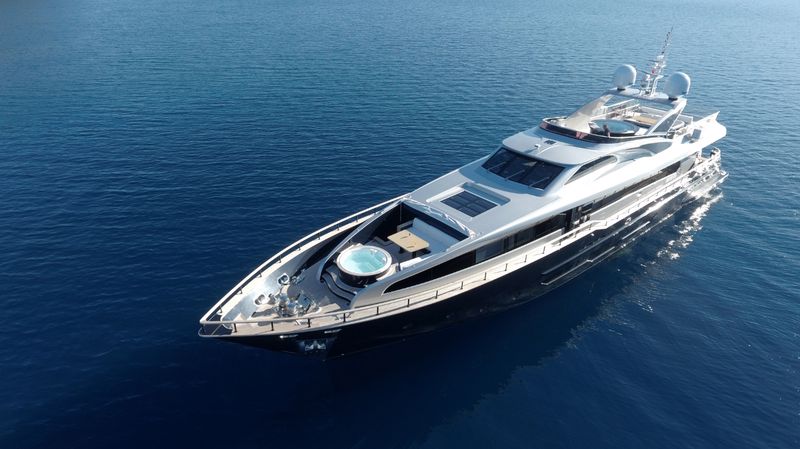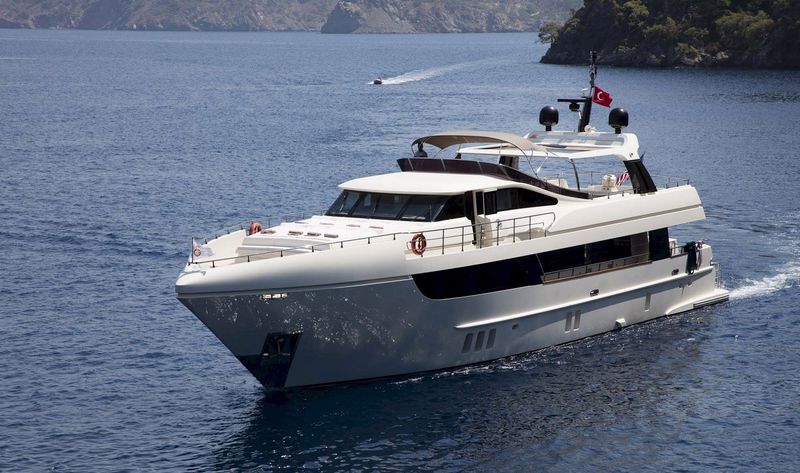 Included

Transfer
Lunch (drinks extra)
Private Yacht Trip

Not Included
What to bring?

Bring your sunglasses, sunscreem, hat and swimwear.

Similar excursion programs:

Big Boss Cruise in Marmaris
Diving in Marmaris
Excursion to Dalyan from Marmaris
Aegean Islands from Marmaris
Boat trip in Marmaris
FAQ
Yacht charter in Marmaris from €400.
Transfer
Lunch (drinks extra)
Private Yacht Tour