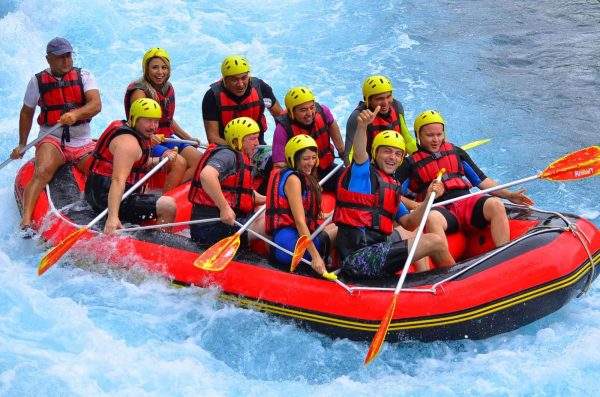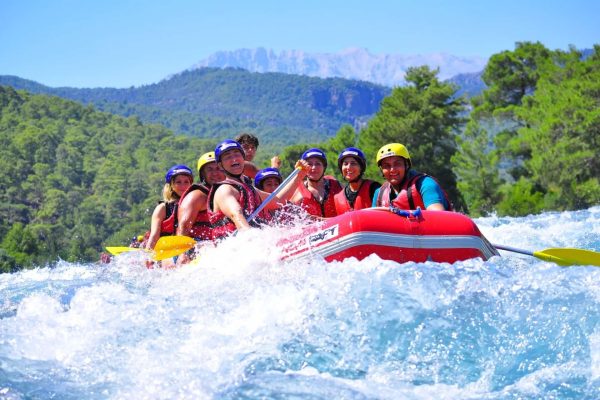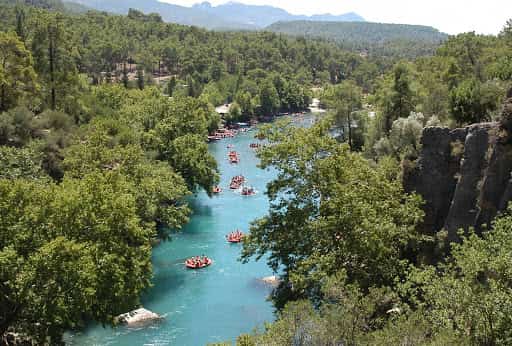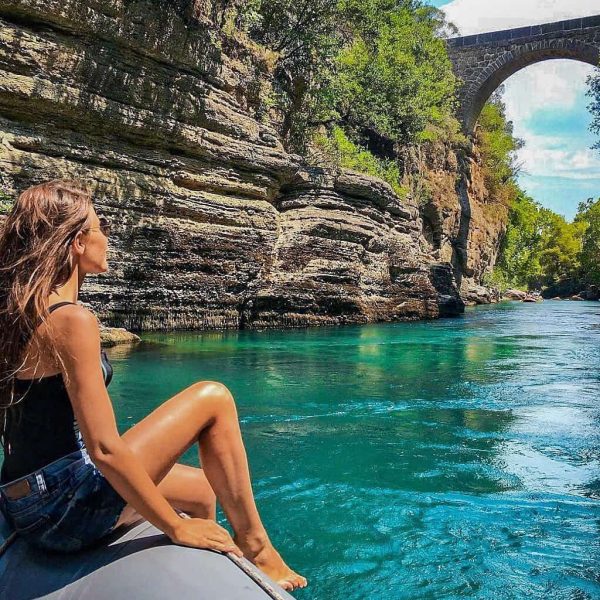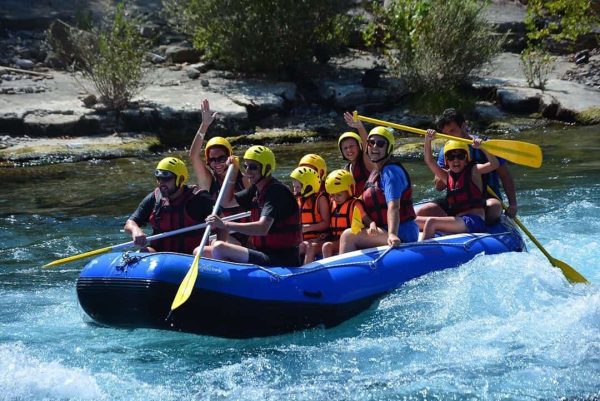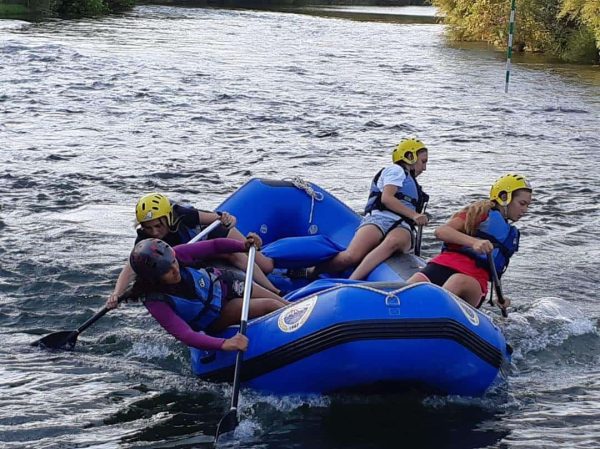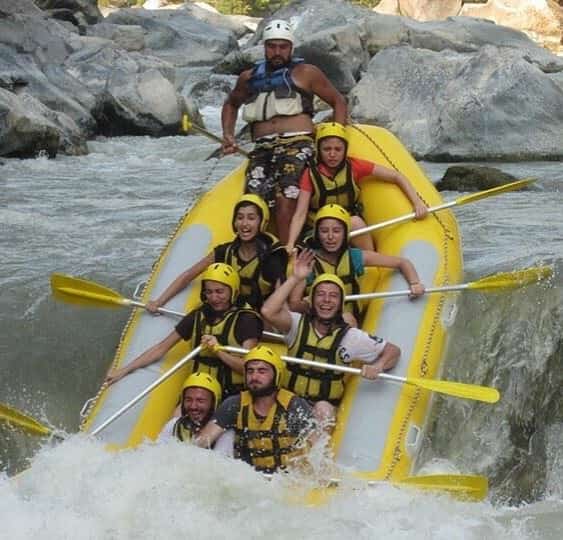 Included

Hotel transfer
Professional guides
Rafting
Lunch

Not Included

Drinks
Professional photos and videos (optional)
About Rafting in Side
You will see the most popular national park and reserve in the province of Antalya, in which the majestic Koprulu Canyon is located, one of the seven canyons formed by a mountain river, with a length of 14 km and a maximum depth of 400 meters, along the banks of which there are pine, eucalyptus and cypress forests.

There are numerous archaeological sites in the park. These are the ruins of a Greco-Roman theater, city walls, the temple of Zeus and Artemis, a Byzantine church, a cistern, an aqueduct. The highlight of Köprülü Canyon is the ancient Roman Oluk stone bridge, built in the 2nd century AD, which is 35 meters high and 2.70 meters wide!
Koprulu Canyon
Koprulu Canyon is the center of extreme rafting of the entire Antalya region!
The rafting season starts in April and ends in October. The length of the rafting route is 14 km, full of drive and vivid emotions!
We invite you to this adventure filled with adrenaline and we are sure that the impressions of such an interesting day will remain in your memory for a long time!
Rafting in Side – Transfer and start of the tour
Rafting in Side starts early in the morning, when our transfer picks up our thrill-seekers from any hotel and delivers them to Koprulu Canyon. 3 exciting sessions of rafting will be waiting for you. Professional and licensed instructors will give a detailed briefing on how to properly use the equipment (vests, helmets) and how to behave while rafting down the river, as well as give several lessons on rowing technique.
Good preparation and knowledge of the nuances that rafting professionals will share is a guarantee that you will have a great time! And do not be afraid that you will not cope, the instructor is always there.
Go rafting in Side with the family!
Rafting in Side is suitable for everyone, both young and middle-aged, but families even with children, but from 10 years old, will have fun here! People of various sports training will be able to go through this route and control a kayak! The most daring can choose a two-seat kayak, and those who still doubt their abilities a little, then together with an instructor in an eight-seat kayak.
Rafting in Side begins
In order for the body to get used to and prepare for the temperature, and it is in a mountain river from + 5 to + 15 degrees, a small swim will be organized first.
Then the instructors will distribute all participants into groups of 8 people in each boat. And everyone will go on the first exciting rafting along the upper reaches of a mountain river and actively overcome obstacles, rapids and thousands of water splashes!
After 40 minutes, a small halt is planned, during which you can relax, swim and dive in crystal clear water, ride natural water slides and soak in thermal springs, or simply enjoy the beauty of the Koprulu Canyon and the Kopruchay River.
About 100 species of various animals and birds live on the territory of this reserve. You will have a unique opportunity to see someone. For example, the barn owl bird, which with its singing will surely cheer up everyone or delight adults and children of the Carriage turtle. And the air of this place saturated with azone will strengthen your immunity!
Then it's time for the second rafting, during which you will already feel much more confident and experienced! You are already ready to fight more actively with obstacles and steep water slopes.
Lunch break
A lunch break will be organized in the middle of the route. Lunch will consist of fried chicken, rice and salad. You can enjoy lunch in an open-air restaurant, listening to the murmur of water, watching the birds and inhaling the scent of eucalyptus.)
After everything is refreshed, the group goes to the last, third, rafting! It lasts about 20 minutes, but it's so exciting.
After passing the next threshold, the river slows down sharply and this makes it possible to relax and slowly admire the majestic surroundings!
At the finish point of the rafting, a transfer will be waiting for you, which will take you back to the hotel.
Important information
Please note that it is not recommended to take with you things or electronic devices that can be damaged if they come into contact with water! The organizers are not responsible for damaged items! You can leave them on the bus.
Clothing should depend on the time of year and water temperature. It is better to wear clothes made of synthetic fabrics rather than cotton, because cotton becomes heavy when wet. On cold days it is best to wear wetsuits. They will be offered for a fee. It is best to have shoes that fit well on the foot, such as old sneakers; and flip flops can be easily lost.
Please use sunscreen on exposed areas of your body while traveling to avoid sunburn.
Photo and video shooting is organized throughout the route. Later, you can watch and, if you wish, purchase memorable footage of your adventure for yourself.
Rafting in Side is exciting, interesting and incredibly weight a white descent along a mountain river, surrounded by picturesque landscapes! How many impressions and positive emotions you will get! Beautiful nature. Fresh air. A little adrenaline so that life is not boring!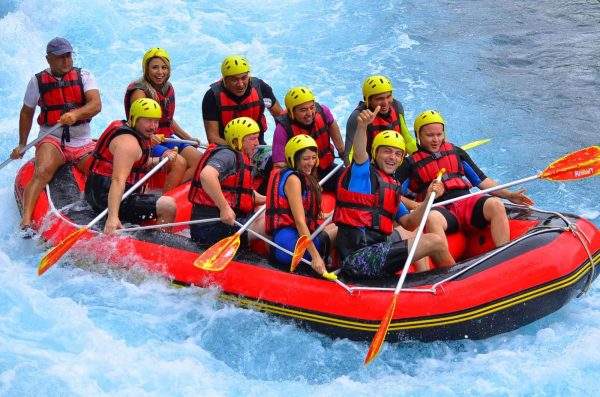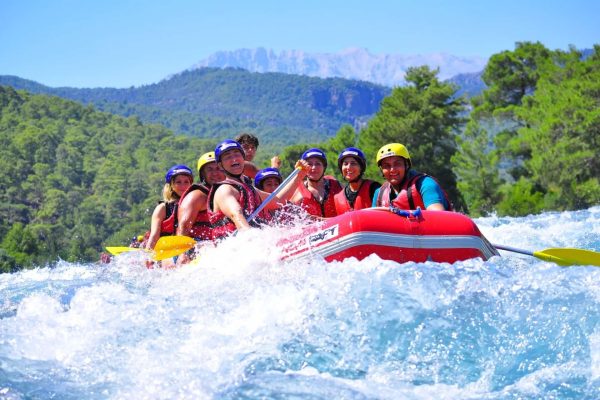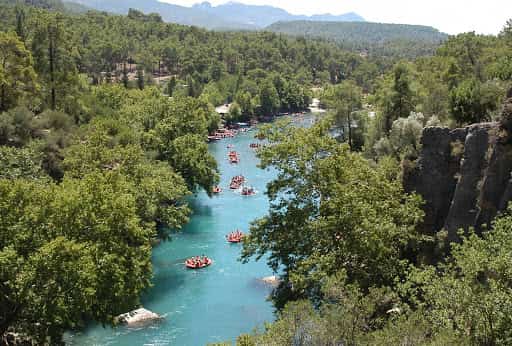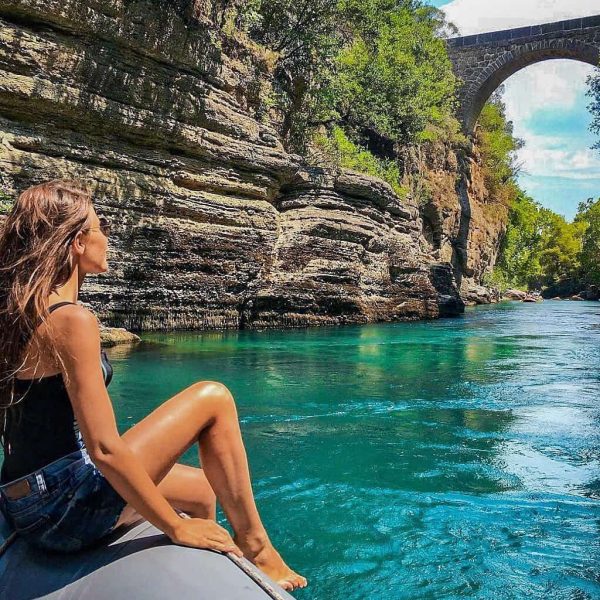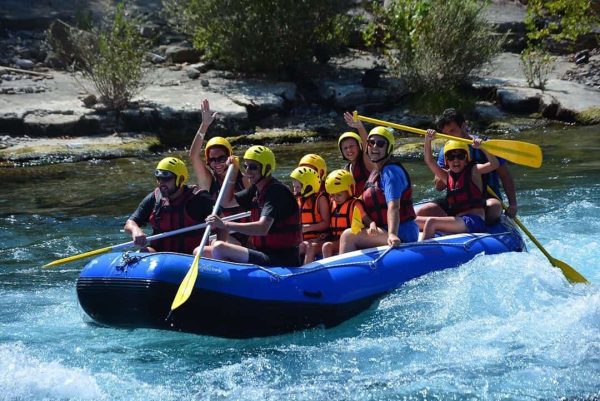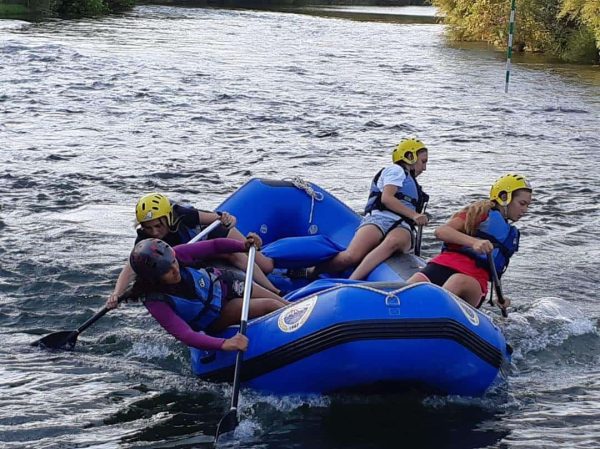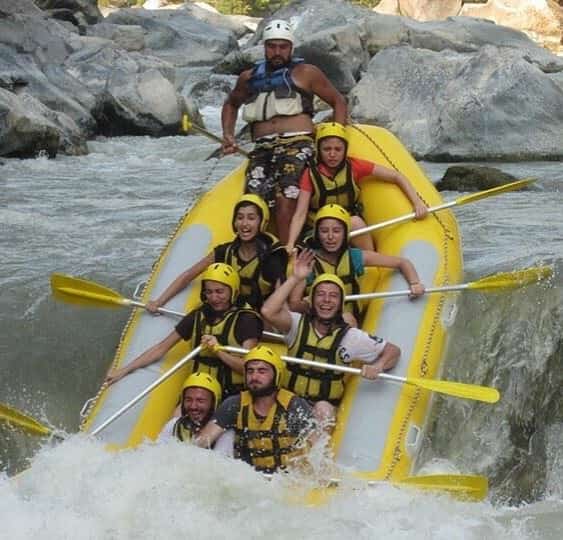 Included

Hotel transfer
Professional guides
Rafting
Lunch

Not Included

Drinks
Professional photos and videos (optional)
What to bring?

Swimwear
Towel
Sunglasses
Cream
Hats

Similar excursion programs:
FAQ
Rafting in Side 2023 – $18 per person. We have a transfer from all regions of Antalya.
The only known place for rafting in Side is the famous Koprulu Canyon in the city of Manavgat.
Distance from Side to Beshkonak Koprulu Canyon: 65 kilometers.
The age limit for river rafting is +10 years on rivers with a suitable flow rate and difficulty level of the route. Anyone who does not have serious health problems can safely join the rafting.
Our 14 km waterway to Koprucay, which gave its name to the Koprucay Canyon, takes about two and a half hours with breaks and animations.