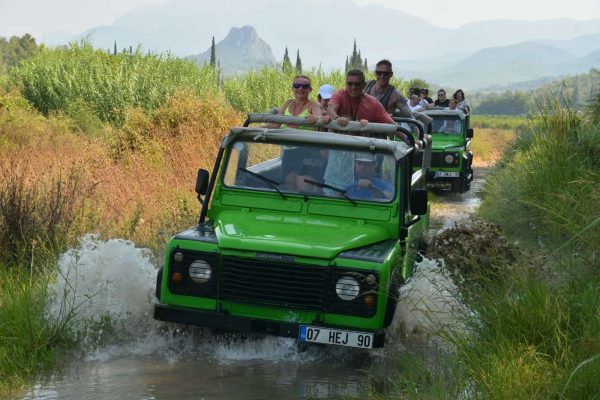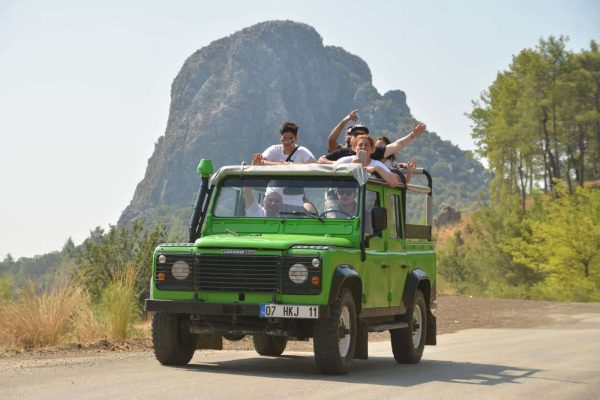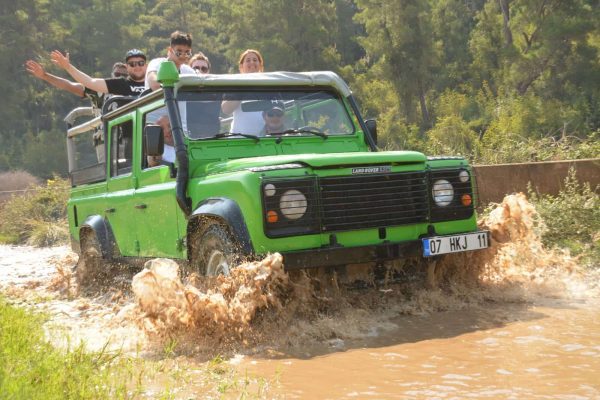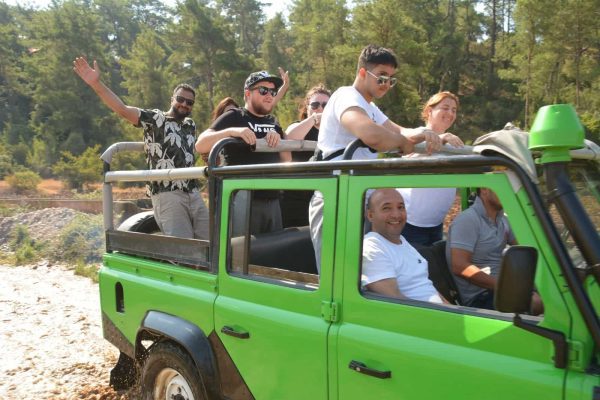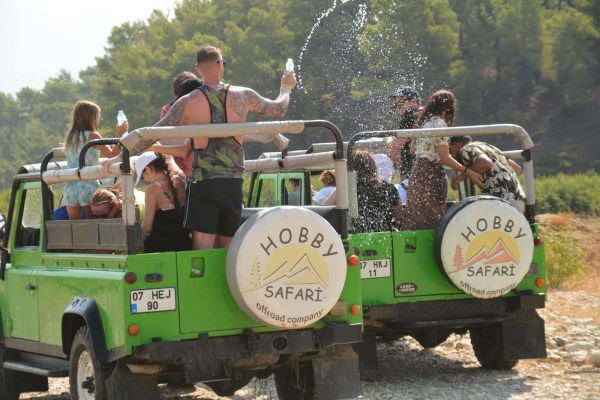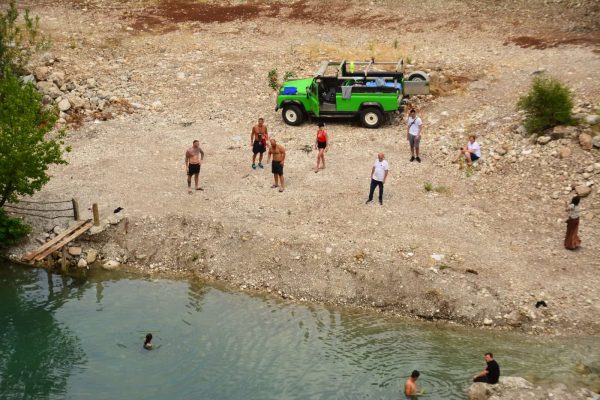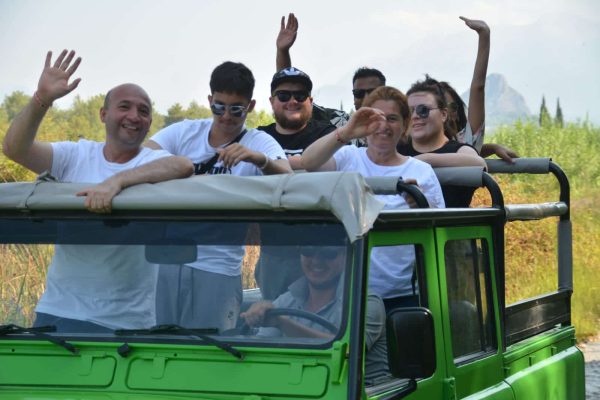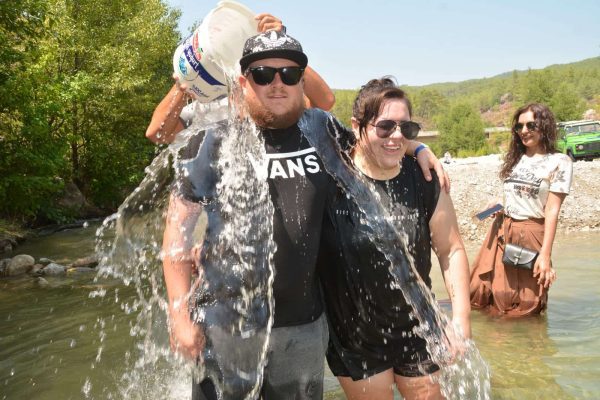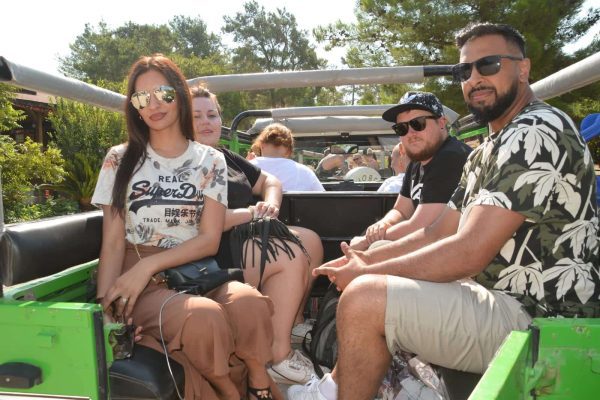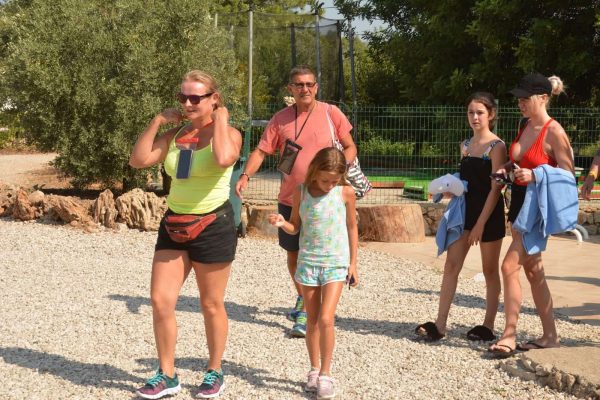 Included

Hotel transfer
Lunch
Full insurance
All entrance tickets
English speaking guides

Not Included

Drinks
Personal expenses
Souvenir photos (available for purchase)
Jeep safari in Marmaris is the best and fastest way to get acquainted with the beautiful nature of the coast, rich flora and fauna, wild animals and other inhabitants of the surrounding forests. During a breathtaking journey you will see orchards and olive plantations, laurel and juniper groves, centuries-old coniferous forests, pass by villages and farms, hunting grounds and fishing villages, get acquainted with the life and lifestyle of the local population.

Jeep safari in Marmaris is an exciting tour for both adults and children. Carefree pastime, extreme off-road driving, water battles, swimming in a cool mountain river, enjoying clean air and walking along forest paths will give vivid emotions and unforgettable impressions.
Admirers of pristine nature will make a lot of new discoveries and watch forest dwellers in their natural environment, while outdoor enthusiasts will recharge their batteries and adrenaline while overcoming obstacles in the form of mountain streams and steep cliffs.
Going on a jeep safari in Marmaris with the whole family, you will give your loved ones a holiday full of fun and joy, bright fireworks of emotions, an unforgettable day in the bosom of nature, surrounded by mountains and forests, streams and waterfalls. Each participant of the tour will be able to feel like a brave adventurer, pioneer and explorer of the most hidden corners of the coast.
Program of Jeep Safari in Marmaris
An unusual tour will begin right at the doorstep of your hotel, from where you will start your journey in jeeps to the mountains. Climbing the steep serpentines, you will look down on the coastlines and bays, city streets and the port pier, the old fortress and sandy beaches.
Stopping at the observation deck, you will see Marmaris from a bird's eye view, enjoy the panoramas of the old city and blue lagoons, shores surrounded by greenery and the endless blue sea. After overcoming a considerable distance and making your way through the impenetrable forest thickets, you will find yourself in a beautiful meadow with the purest mountain lake, into which the cool waters of 5 mountain springs flow in a noisy cascade of waterfalls.
Daredevils will be able to climb the rocks and jump into a refreshing crystal clear pond, and lovers of peace and quiet can walk along the paths and enjoy the surrounding nature, listen to the birds singing and the murmur of water, breathe in the air filled with eucalyptus and pine trees.
The next stop on the jeep safari route in Marmaris will be in a picturesque place with a panoramic view of the Kyz-Kumu spit, here you will have a rest and try national Turkish cuisine, drink a cup of strong tea or fragrant coffee. After lunch, you will have a unique walk along a narrow sandy spit, which goes 600 meters deep into the sea, practically connecting the shores of the bay.
From afar, it seems that people walking along the spit are walking on water or hovering above its surface, the sight is incredibly beautiful, and the photographs taken in this place evoke genuine emotions of surprise and delight. In the lagoon with azure warm water, you can sunbathe and swim, wander along the shore and arrange an unusual photo shoot so that when you return to the hotel, you can show off spectacular pictures and vivid videos.
Rich fauna and flora of the coast
A jeep safari in Marmaris is a charge of vivacity and energy, restoring peace of mind and inner balance, relieving stress and tension, because nothing has such a beneficial effect on the human body as communication with pristine nature.
The flora of the Aegean coast is unique and diverse, red pines and eucalyptus trees, oaks and cypresses, laurel and juniper fill the air with intoxicating aromas, every breath in this paradise can be safely equated with a full-fledged therapy, and contemplation of the surrounding landscapes can be compared to a relaxing procedure in the SPA salon.
During a jeep safari in Marmaris, you will surely meet the inhabitants of the surrounding forests – squirrels and foxes, martens and wild boars, lynxes and mountain goats, perhaps you will see falcons or eagles, pheasants or herons soaring over the plateau. Most of the coastal areas are a protected area and are under state protection, and some rare representatives of the fauna are listed in the Red Book.
Waterfall Turgut
The Turgut waterfall is located in a quiet picturesque park, hidden from prying eyes, surrounded by red pines and eucalyptus trees, perennial oaks and laurel trees. The fast waters of 5 mountain springs cascade into a small reservoir, the water of which is always crystal clear and cool. A special world of peace and relaxation has formed around the waterfall, where you can listen to the birds singing and the murmur of water for hours, enjoy the mountain air and the aroma of the forest.
Kız-Kumu spit – walking on the water
Surely everyone of you marveled at the movie scenes in which people walk on water, they look unrealistic and exciting. You will succeed in realizing this desire and walking barefoot on the surface of the sea surface on the picturesque Kyz-Kumu spit, which separates the bay from the Aegean Sea with a narrow strip.
In this unique place, you can swim in two different reservoirs at once – a quiet lagoon and a noisy sea, you can immediately sunbathe and relax, enjoying the panorama of endless waves and green slopes framing the harbor.
Jeep safari in Marmaris is a chance to escape for a day from the hustle and bustle of the city, summer heat and queues, it is an opportunity to stop the moment and enjoy the magical landscapes and untouched beauty of pristine nature, take a breath of fresh air and feel like a part of the vast universe.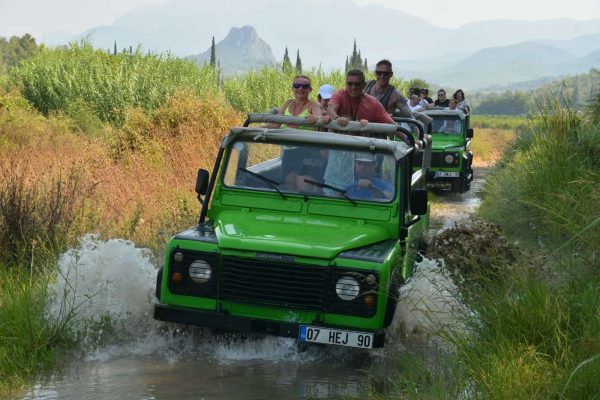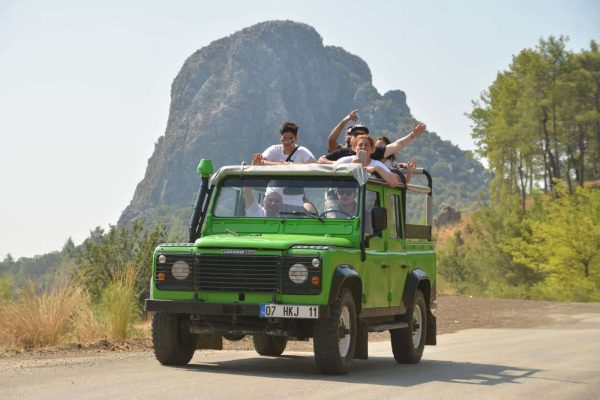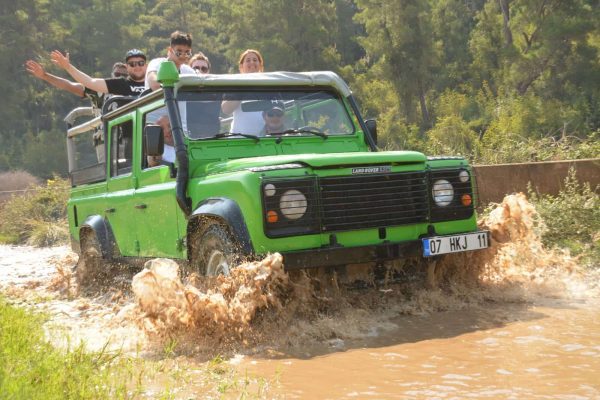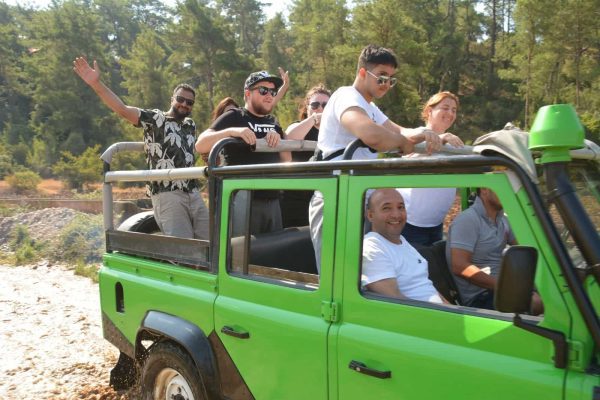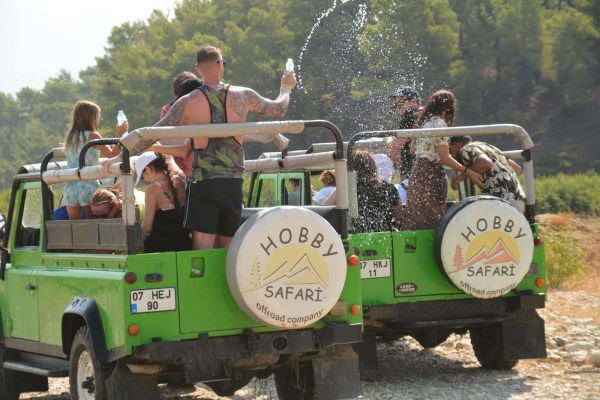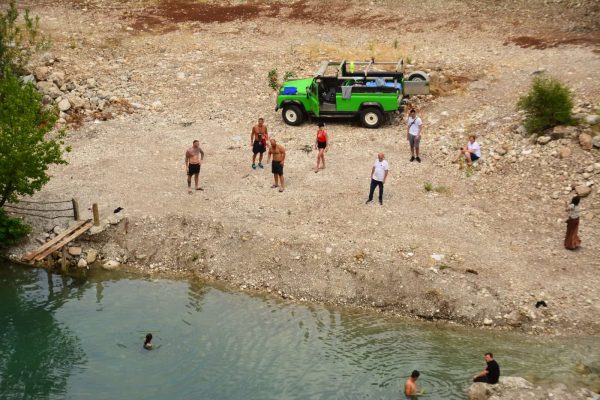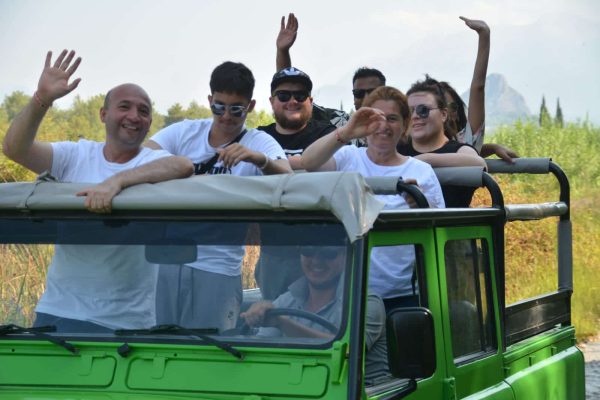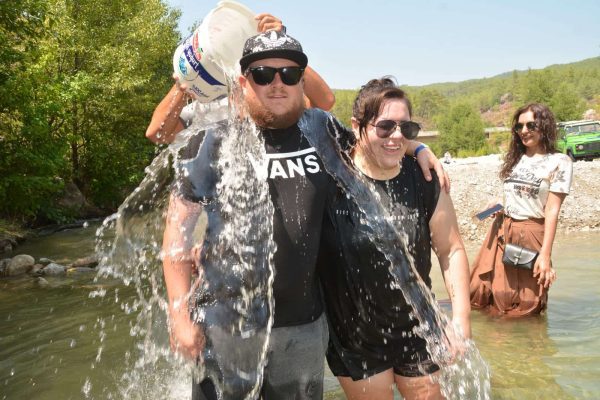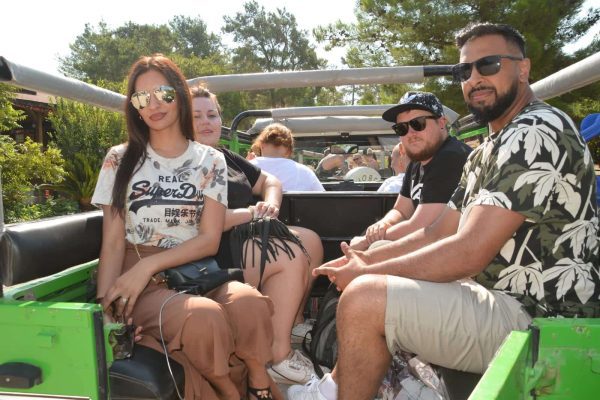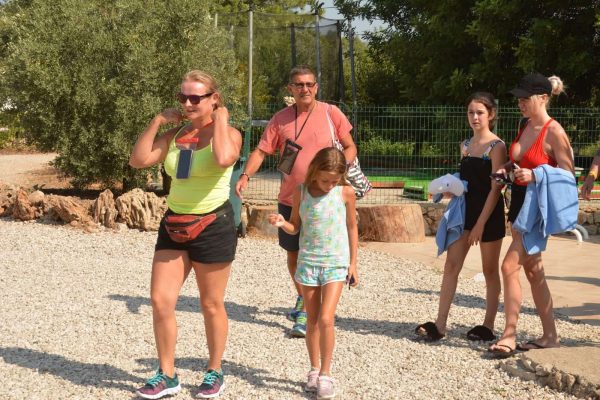 Included

Hotel transfer
Lunch
Full insurance
All entrance tickets
English speaking guides

Not Included

Drinks
Personal expenses
Souvenir photos (available for purchase)
What to bring?

Bring your hat, sunscreem and sunglasses, swimwear.

Similar excursion programs:

[at icon icon="td-link"] Marmaris Quad Bike Safari
[at icon icon="td-link"] Buggy Safari in Marmaris
FAQ
Jeep Safari in Marmaris per person 20€.
Transfer from / to hotels
Lunch
Full insurance
All entrance fees
English speaking guides