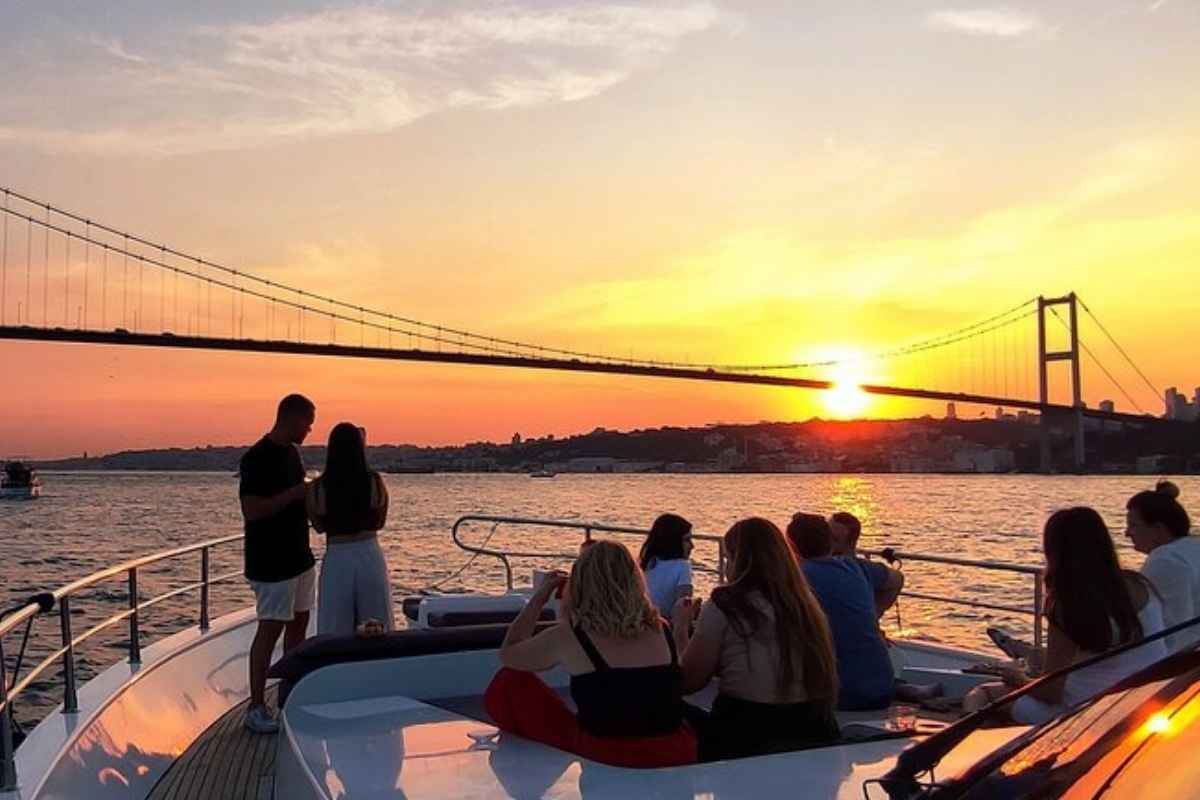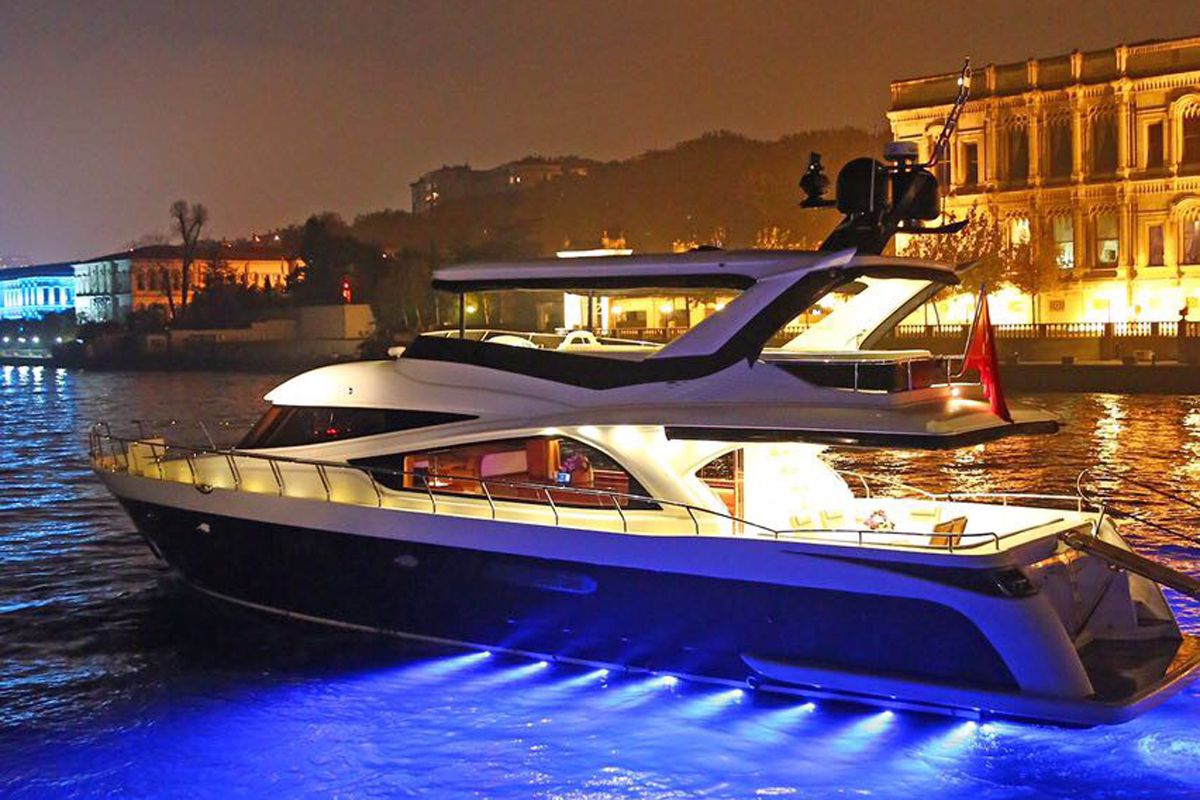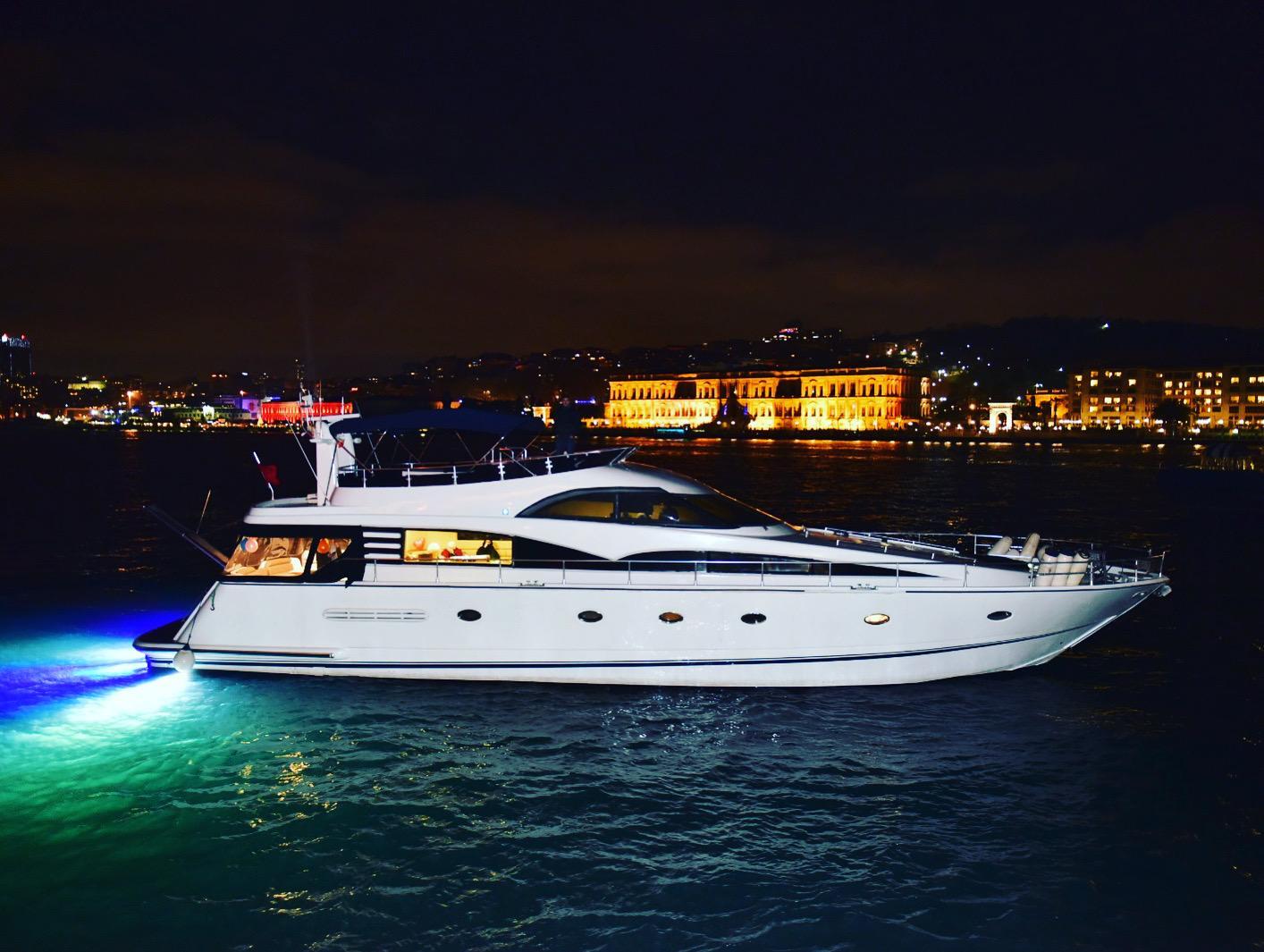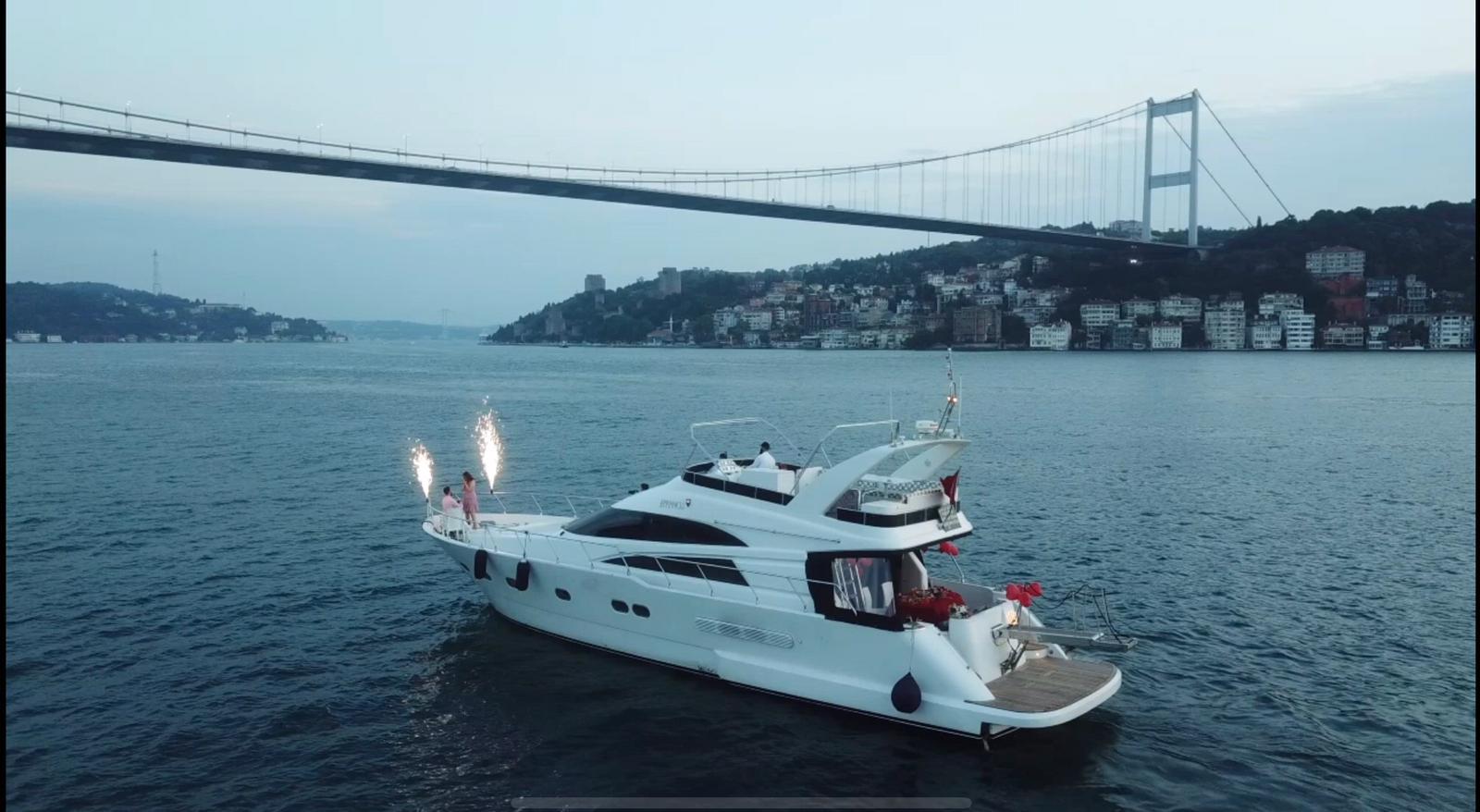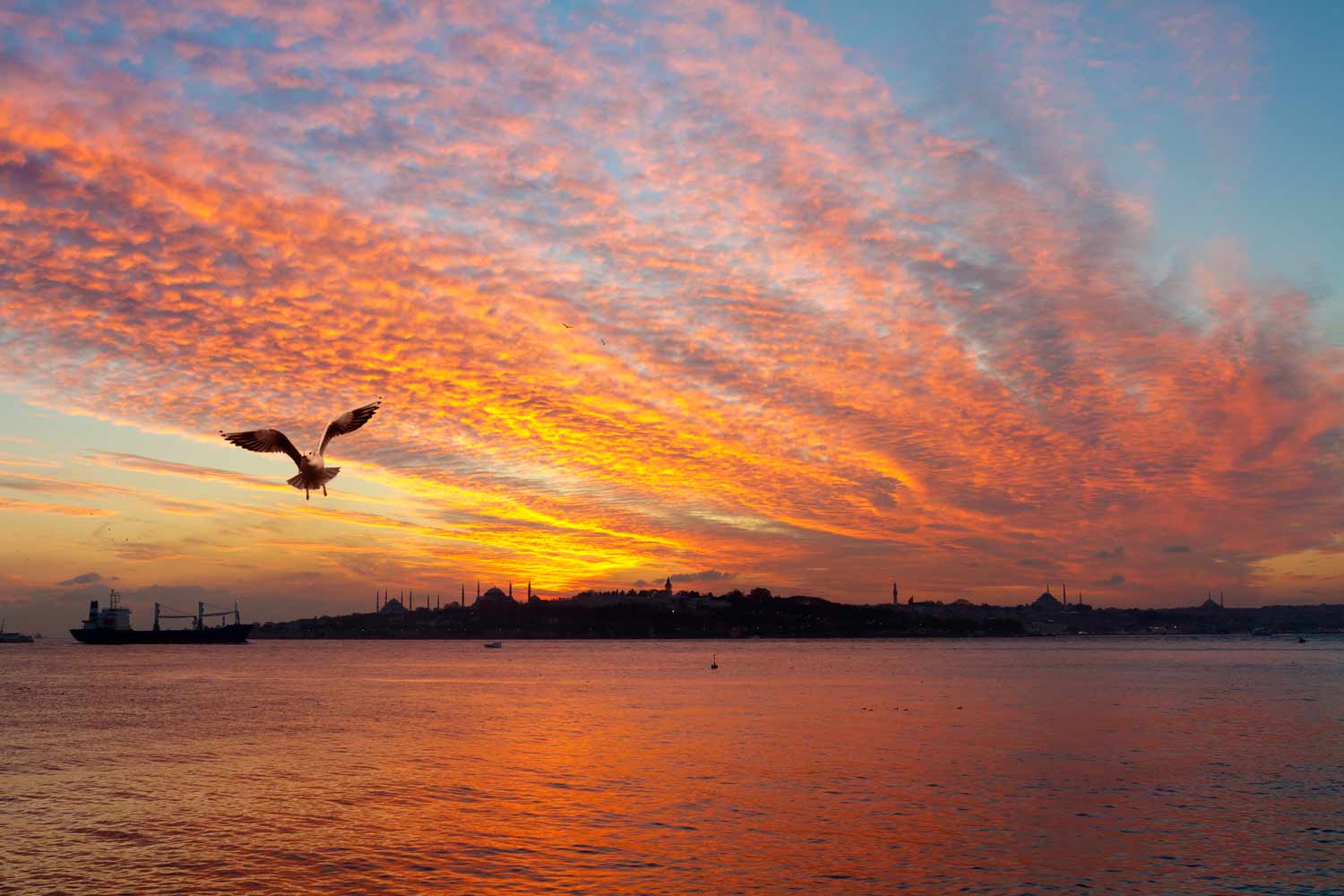 Included

Soft drinks
Snacks
Bottled water
Fresh Seasonal Fruits
Turkish delights and desserts

Not Included

Hotel Pick Up / Drop Off
Alcoholic Beverages
Imported drinks
Tips
Istanbul Sunset Cruise for 1 person will cost: 40 € for a 2-hour yacht cruise. Transfer from is not included in the price but if you want we can organise it wit an extra expense. When you arrive at the starting point of the tour, our assistant will already be waiting there to escort you to the yacht.

Evening hours, especially in the warm season, are in great demand among both locals and guests. If you plan to take a yacht cruise along the Bosphorus at sunset, use advance booking.
Istanbul Sunset Cruise
When you have already walked around almost the entire Sultanahmet, were fascinated by the grandeur of the Blue Mosque and Hagia Sophia, and even bargained at the Grand Bazaar, allow yourself to take a break from long walking marathons and slow down in the moment, feeling the subtle breath of the city.
But in Istanbul it is not the other way around. To understand his mysterious soul and penetrate into the very heart, you must definitely go on an Istanbul Sunset Cruise. Listening to the sound of water and the cries of loud seagulls, with a cup of hot tea on board a private yacht and admiring the views of the sleepless metropolis is the dream of every romantic.
The charm of the Bosphorus
The Bosphorus Strait is the artery of Istanbul and an important direction of maritime transport not only in Turkey, but throughout the world. The length of the strait is about 30 km, it originates from the Galata bridge. It connects the Black Sea with the Sea of Marmara, and the movement of ships never ends here. Here you can see huge cruise liners and steamers, small fishing boats and luxury yachts.
Istanbul Sunset Cruise
Istanbul Sunset Cruise is perfect for a romantic date, birthday, anniversary, proposal or any other important event with family and friends. Celebrate a special occasion on your personal yacht in the warm rays of the sunset as you watch the fireball hiding behind the 7 hills of Istanbul. This is remembered for a lifetime and, sometimes, happens only once.
Istanbul Sunset Cruise: general information
The yachts are in a convenient location, at the Halic Pier and your adventure will start from there
The Bosphorus Sunset Cruise is available all year round.
Istanbul Sunset Cruise lasts – 2 hours
The maximum capacity of the yacht is max 30 people
Istanbul Sunset Cruise is provided with all necessary security measures
Istanbul Sunset Cruise involves a small number of guests, so the tour can be said to be individual and limited.
Free drinks, fresh fruits, snacks and sweets will be provided to guests
It is possible to take food and drinks with you or entrust the entire organization of the company by writing about it when booking
A warm welcome and excellent service guaranteed
What time does the Bosphorus sunset walk start?
Istanbul Sunset Cruise takes place at different times of the year. So, for example, in order to better navigate the time of booking, it is better to take a tour:
November-February – evening tour on a yacht starts at 16:30 (ends at 18:30)
March-April and September-October – Sunset cruise starts at 17:30 (ends at 19:30)
May-August – evening tour on a yacht starts at 19:00 (ends at 21:00).
Istanbul Sunset Cruise tour program
Yacht tour starts from Eminonu Halic Pier. Graceful mosques and palaces of the 19th century will appear before your eyes. It was from these gates that for many centuries a bewitching view of the Bosphorus opened before the gaze of the sultans.
Moreover, you will see iconic sights such as Dolmabahce Palace, Baroque Ortakoy Mosque, Maiden Tower, Rumeli Fortress and much more.
Yacht tours in Istanbul
Summing up, I will say that early booking will facilitate your vacation plans and you will definitely be able to fulfill your wish list for Istanbul even in a short time. Just write to me on whatsapp
Only when you see with your own eyes the richness of the history of an incredible city in all aspects, which has experienced many events and a war, you will understand the admiration of others. Istanbul Sunset Cruise will give you a range of impressions that you will keep in memory with trepidation and warmth for many years 🙂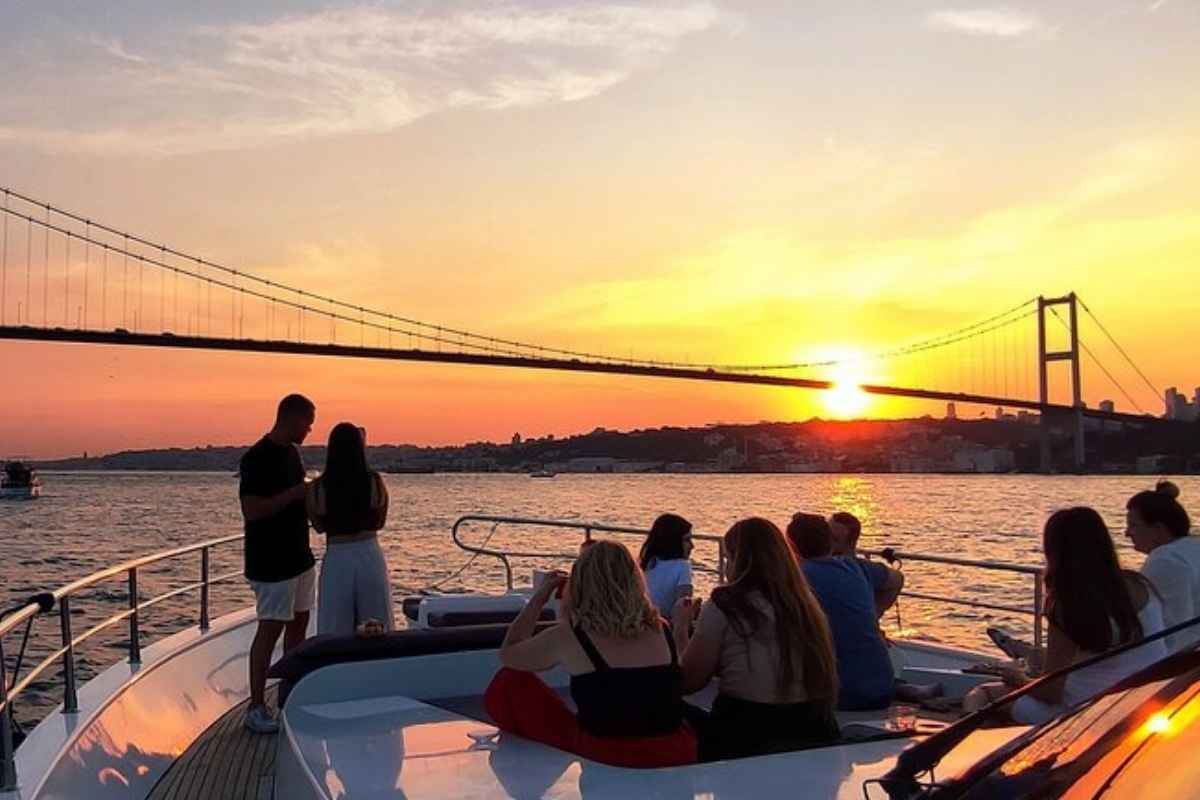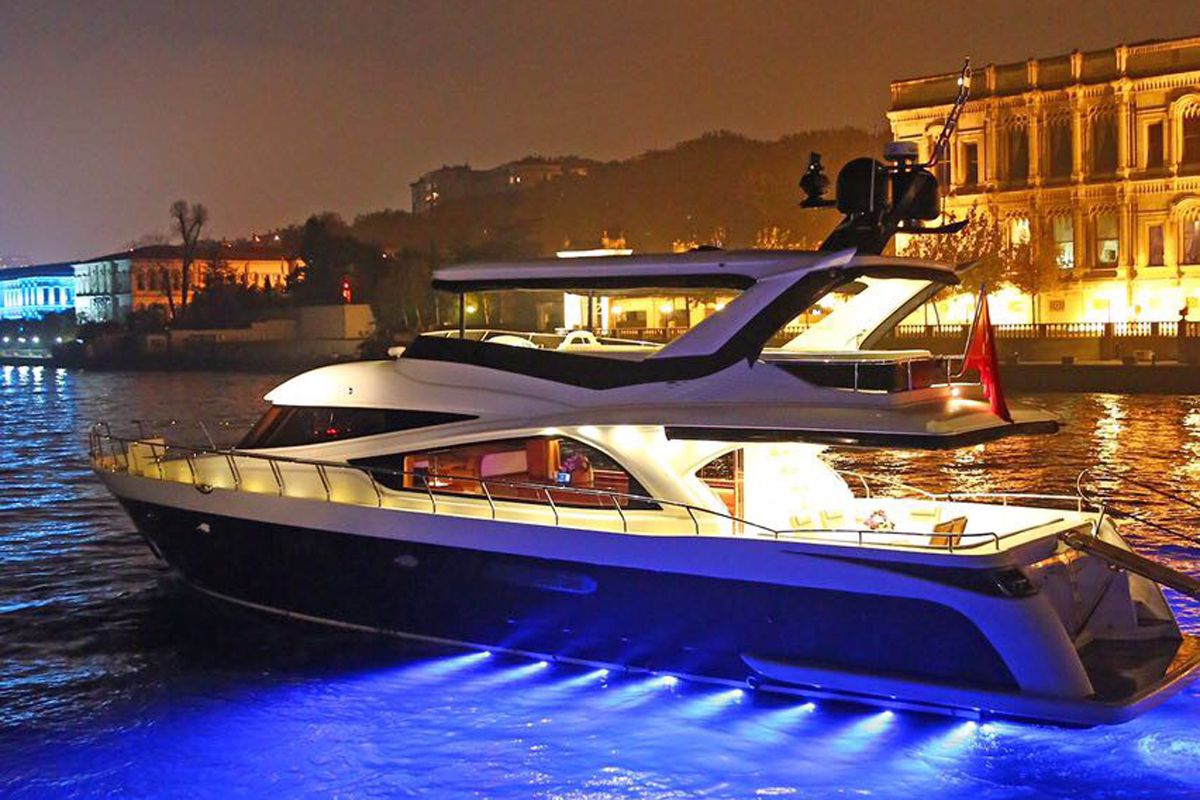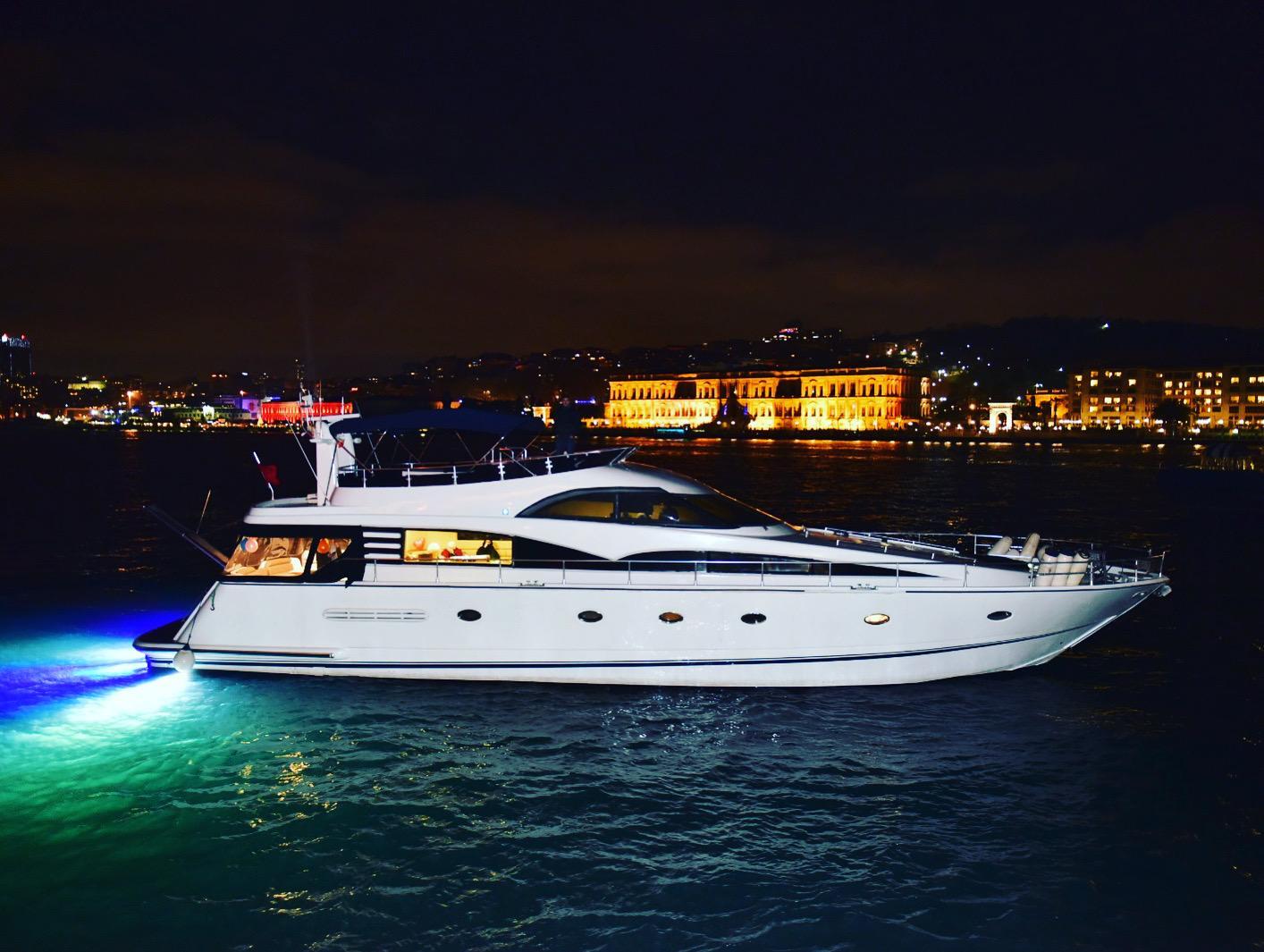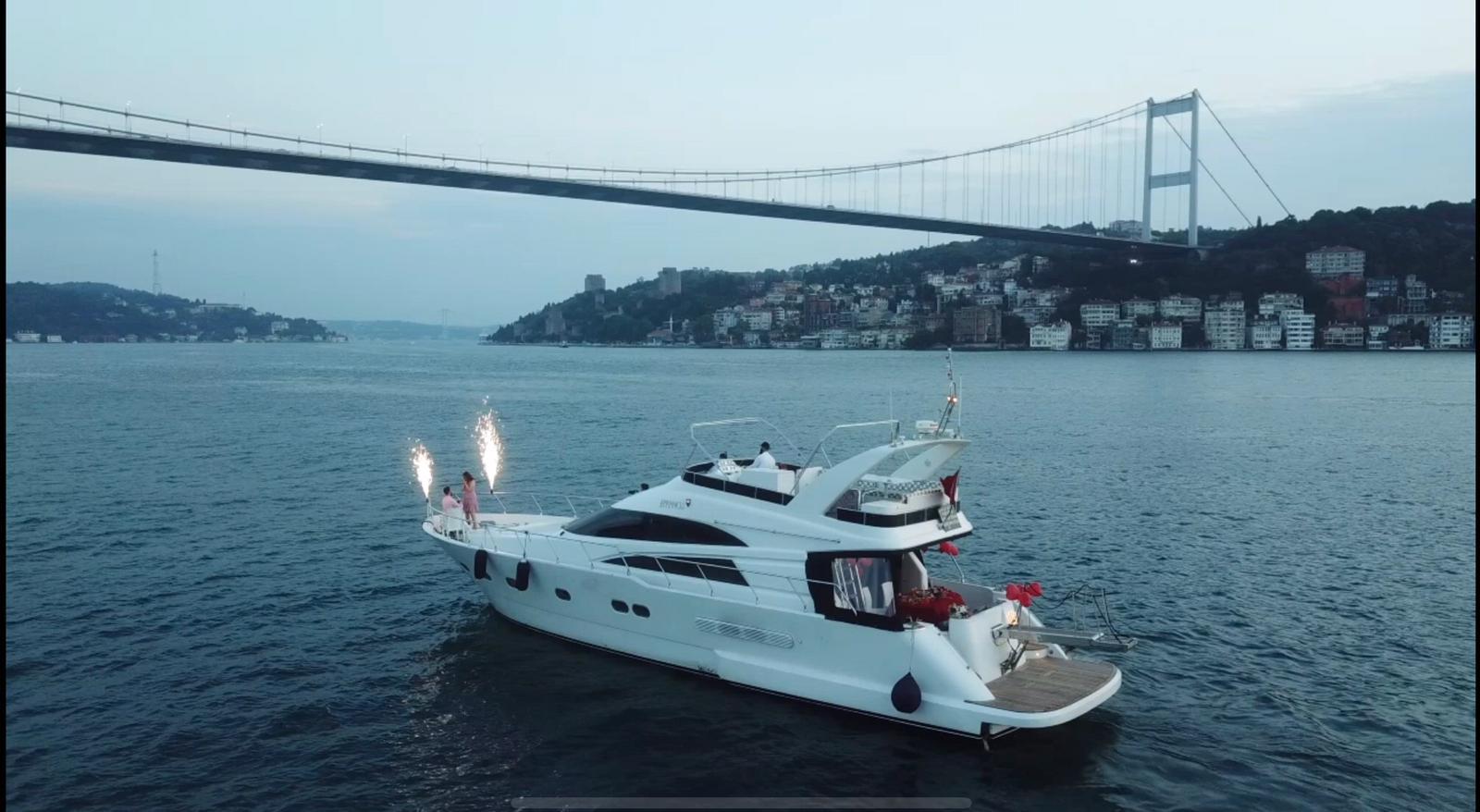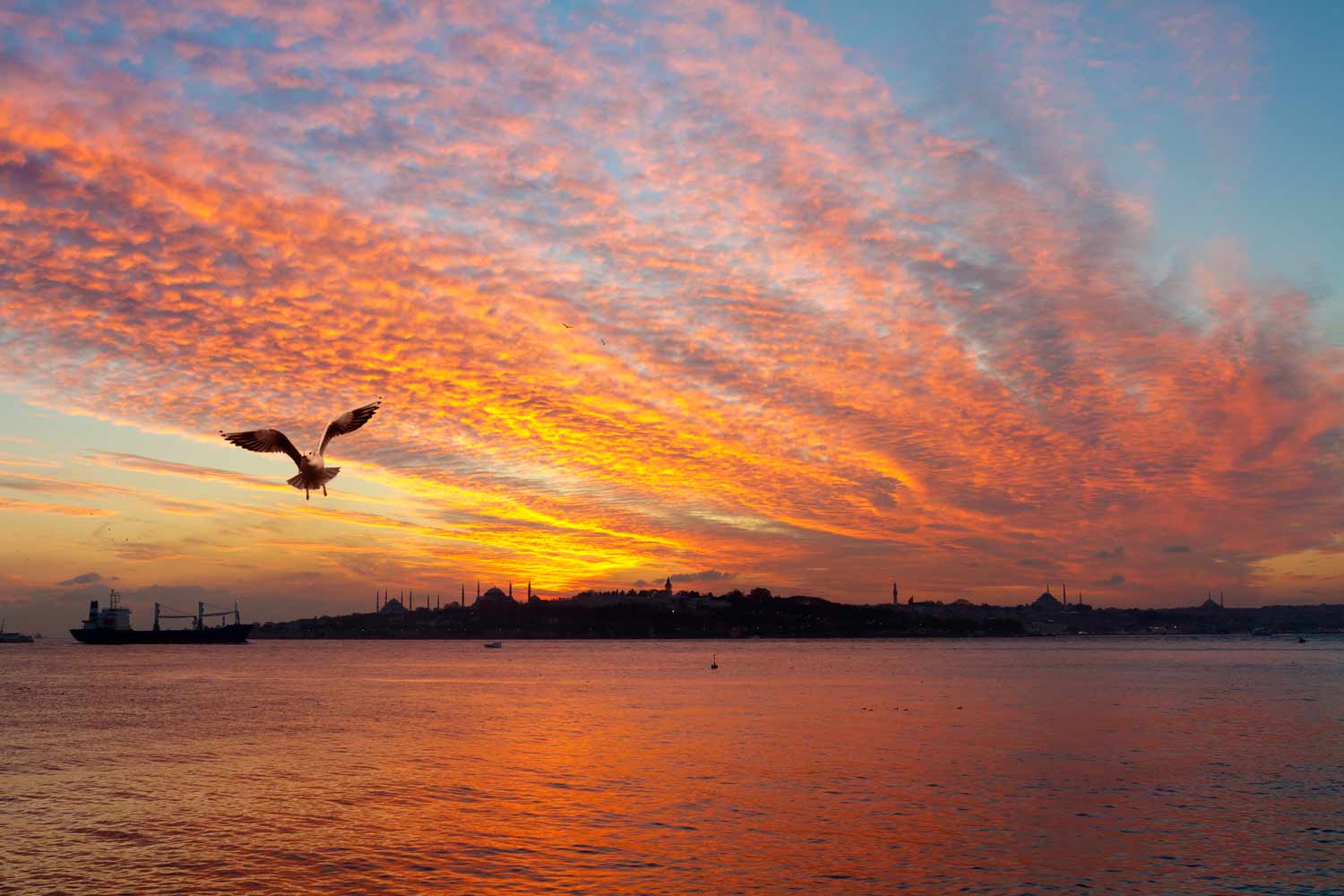 Included

Soft drinks
Snacks
Bottled water
Fresh Seasonal Fruits
Turkish delights and desserts

Not Included

Hotel Pick Up / Drop Off
Alcoholic Beverages
Imported drinks
Tips
What to bring?

You can bring a hat, sunscreem and sunglasses
Swimwear
Money for personal expenses

Similar excursion programs:

Private Yacht tour
Two Continents Tour in Istanbul
Dinner and Bosphorus Night Cruise in Istanbul
FAQ
Istanbul Sunset Cruise costs 40€.
Soft drinks
Snacks
Bottled water
Fresh Seasonal Fruits
Turkish delights and desserts