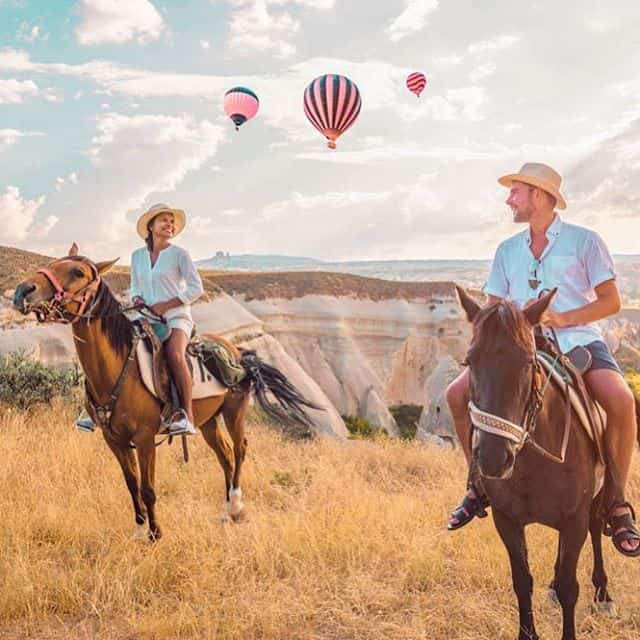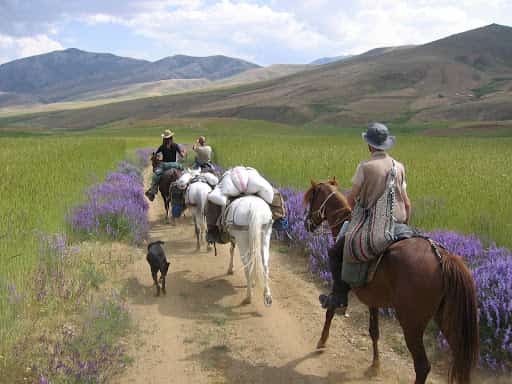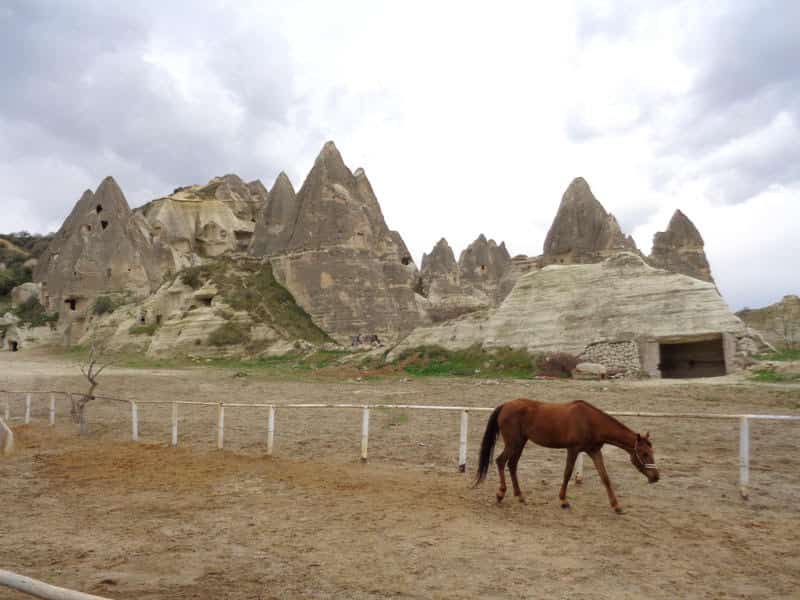 Included

Transfers from your hotel and back to your hotel
Hot air balloon ride
Flight Certificate
Champagne

Not Included

Drinks
Additional Services
During the Cappadocia horse riding tour, you will observe the natural wonders of Cappadocia and have a chance to understand why the Persians blessed these lands with this special title.

Moreover, fairy chimneys, impressive valleys, dusty roads, green gardens and lovely villages will accompany you. In other words, you will discover the classical beauties of Cappadocia while enjoying the horse riding experience in Cappadocia!
If you want to make a reservation to Cappadocia Horse Riding and get more information thanks to this exquisite program, take a look at our article.
Meeting and training
To start our Cappadocia Horse Riding program, we will pick you up from your hotel in Cappadocia with our bus. Then, we will have a comfortable journey until we reach our horse farm in GOreme.
When we come to the horse farm where our tour will begin, you will be warmly welcomed by our professional rider-trainers.
You will then receive detailed information on security procedures, equipment, routes and of course how to check your lovely friend. Then the best part will come: the chapter of meeting your friend (horse)!
We will introduce you to our friend who is the most suitable for your weight and height among the horses in the farm and we will start the program.
We recommend that you caress and show your love to your friend during this nice meeting; This will strengthen the bond between you. Also, you don't need to be stiff, our friends are extremely intelligent, well-educated and friendly.
After you put on your riding equipment and get on your horse, you will start exploring the lands of Cappadocia together with our trainer.
Cappadocia Horse Riding Program
You will leave the horse farm and enjoy a breathtaking route until the end of the tour. Depending on the package you choose, the route may vary. However, we can say that we will visit the most important regions of Cappadocia:
Valley of the Swords
Meskendir Valley
Rose Valley
Love Valley
Zemi Valley
Pigeon Valley will be on our Cappadocia Horse Riding route.
In these places you can see different types of fairy chimneys (capped, cone-shaped, mushroom-shaped, columnar and pointed), beautiful hills, cliffs, curving paths through rock formations, and more.
While enjoying being in such a peaceful and exotic environment, we recommend that you take as many pictures as possible!
A Beautiful End
Depending on the schedule you booked, we will return to the horse farm when your time runs out. You will say goodbye to our friends and trainers at the farm and get into our vehicle waiting to pick you up and take you to your hotel.
Join us!
If you like the content of our Cappadocia Horse Riding, you can order online or contact us for more information. You can also take a look at our other daily tours and activities in Cappadocia if you like. Whatsapp / Viber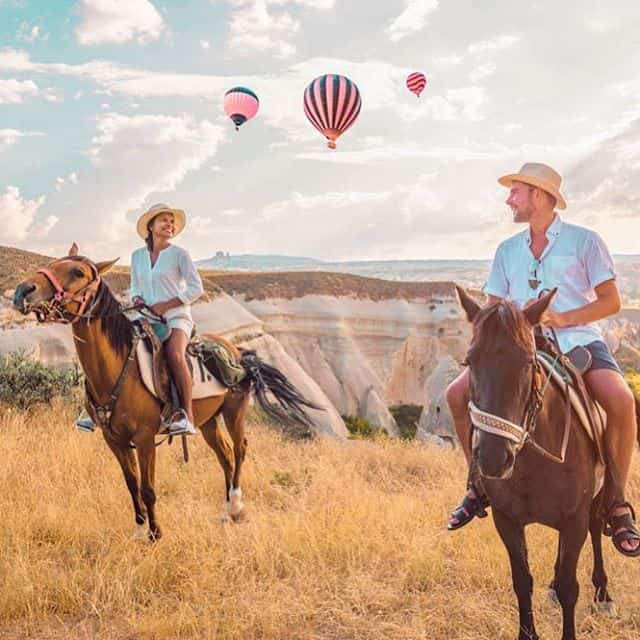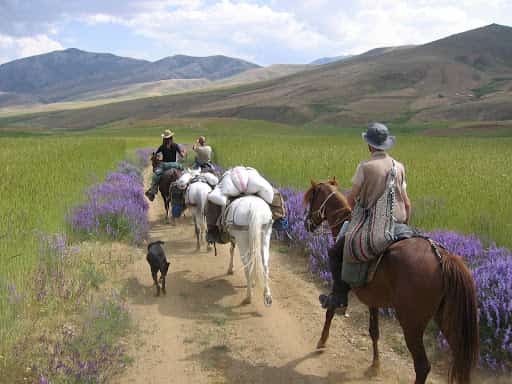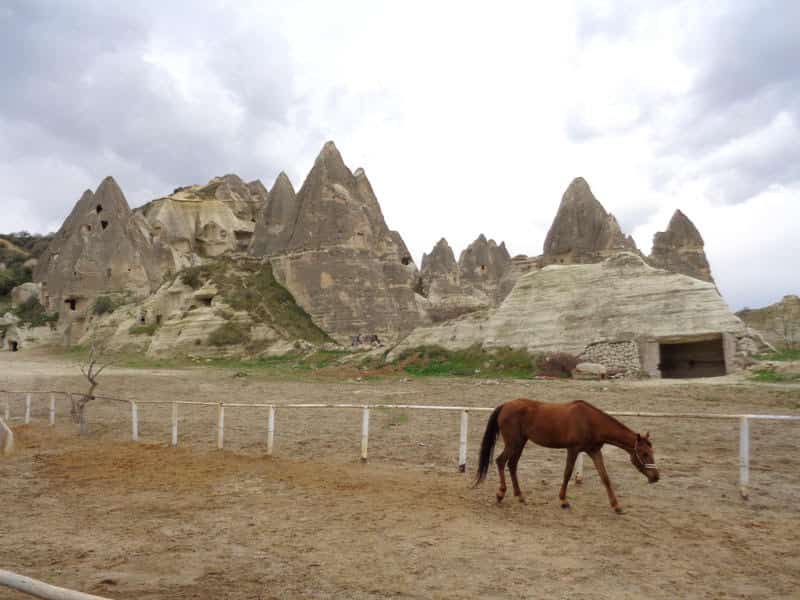 Included

Transfers from your hotel and back to your hotel
Hot air balloon ride
Flight Certificate
Champagne

Not Included

Drinks
Additional Services
What to bring?

Comfortable shoes
Warm clothes
Sunglasses
Hat

Similar excursion programs:

Cappadocia Quad Bike Safari
Camel Ride in Cappadocia
FAQ
Cappadocia Horse riding  for one person 25€.
Cappadocia Horse riding is organized as 1-2-4 hours.
Horse riding tour at sunset through the valleys of Cappadocia.
Horse riding experience through the beautiful valleys of Cappadocia
Cappadocia 4-Hour Horse Riding Tour
Cappadocia: Sunset Horse Riding Through Valleys and Fairy Chimneys